Dianne Feeley
Posted October 8, 2023
Going into the fourth week of the UAW strike, GM got serious when it dawned on them that workers at its most profitable plant, in Arlington, Texas, were about to join the picket lines. Instead of continuing to call the union's strategy mere, "theatrics" it offered to include electric vehicle battery production work in its master agreement with the union.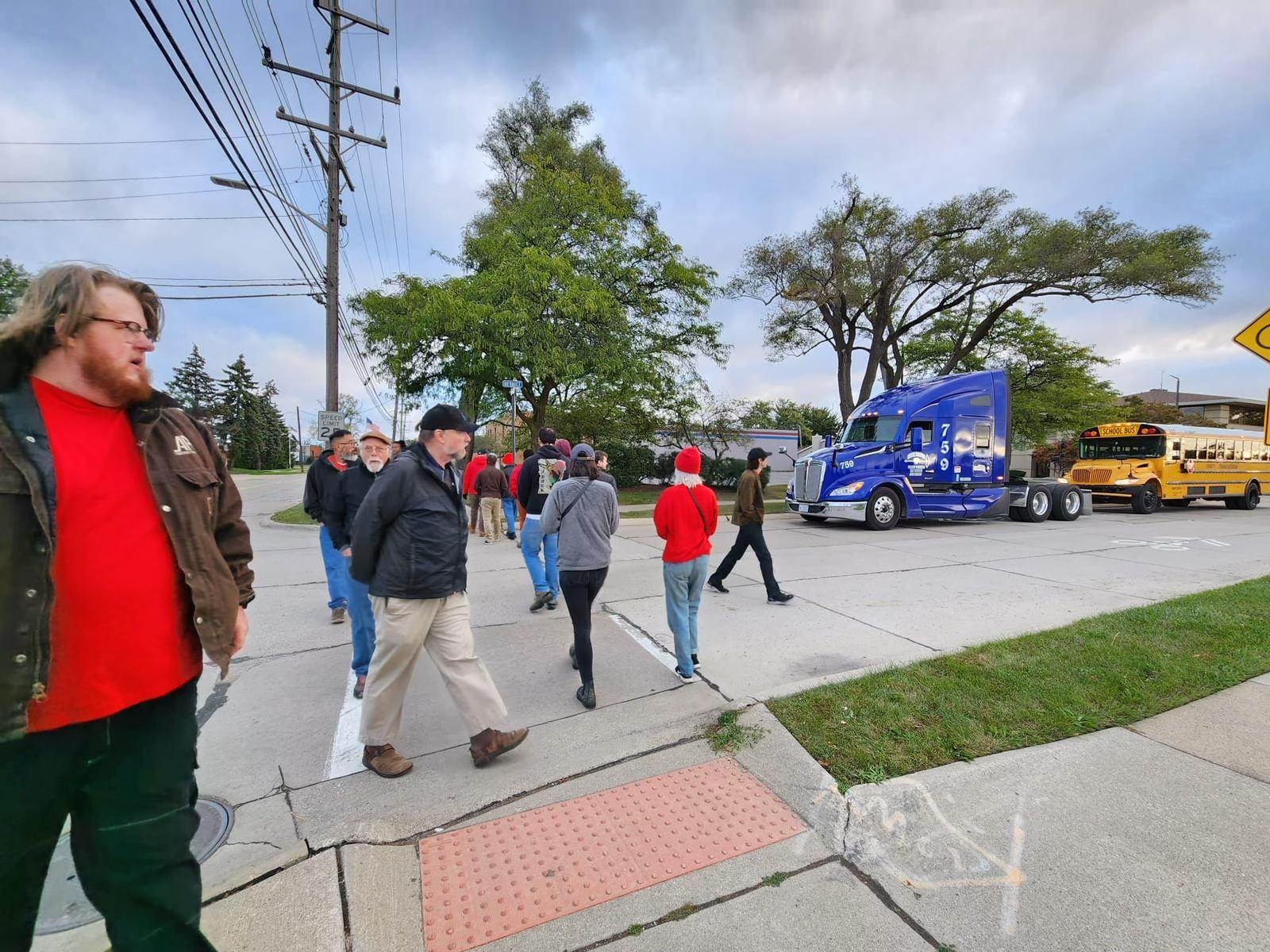 Given that the massive Arlington facility produced 345,000 trucks and SUVs last year — with an average profit around $10,000 per Tahoe, Suburban or Yukon — the strike threat caused GM to get serious. And their offer is a game changer.
President Shawn Fain's Friday update began by announcing this development. He said:
We have been told the EV future must be a race to the bottom. We called their bluff.

What this will mean for our membership cannot be understated. The plan was to draw down engine and transmission plants, and permanently replace them with low-wage battery jobs. We had a different plan. And our plan is winning at GM. And we expect it to win at Ford and Stellantis as well.
The update then outlined where negotiations stood across the board on the 10 demands the UAW prioritized. Except for health care and retiree benefits there have been partial steps forward. For example, both Ford and Stellantis have agreed to restore the cost-of-living-adjustment (COLA) suspended in the 2009 bankruptcy; both agreed to add the UAW's right to strike over plant closings. Many had predicted that COLA was gone forever while the right to strike has never been a part of the agreement.
For its part, Stellantis stepped back from its demand to close 18 plants, while Ford offered a two-year job security package when layoffs were to occur.
After summarizing how all three corporations have taken various steps forward, Fain did not target additional Detroit Three facilities this week. However, it is clear that whenever additional muscle is needed to advance negotiations with the Stand Up Strike strategy that can be done easily.
Wearing a T-shirt with the UAW logo and the slogan "EAT THE RICH," Fain said the strategy of escalation is working. Paraphrasing a Walter Reuther comment about negotiating with GM, Fain remarked that the strategy is designed to keep up the pressure so that the corporations will say YES when they want to say NO.
As negotiations continue, strikers and supporters maintain picket lines at 38 parts distribution sites and five assembly plants. The union is holding a major rally in Chicago on Saturday. As several locals and a couple of regional offices have set up food pantries, organizations and individuals are responding with food donations.
On October 5, early Saturday morning, two dozen DSAers went out for a jog in Metro Detroit. They jogged back and forth across one particular street, successfully stopping a bus with supervisors and a few scabs from reporting for work. Twenty minutes later police arrived and strike supporters, not pressing the point, agreed to move. Many then joined the picket line in time to slow the bus crossing the UAW picket line. These and other spontaneous actions of support are developing.