Dianne Feeley
Posted August 23, 2023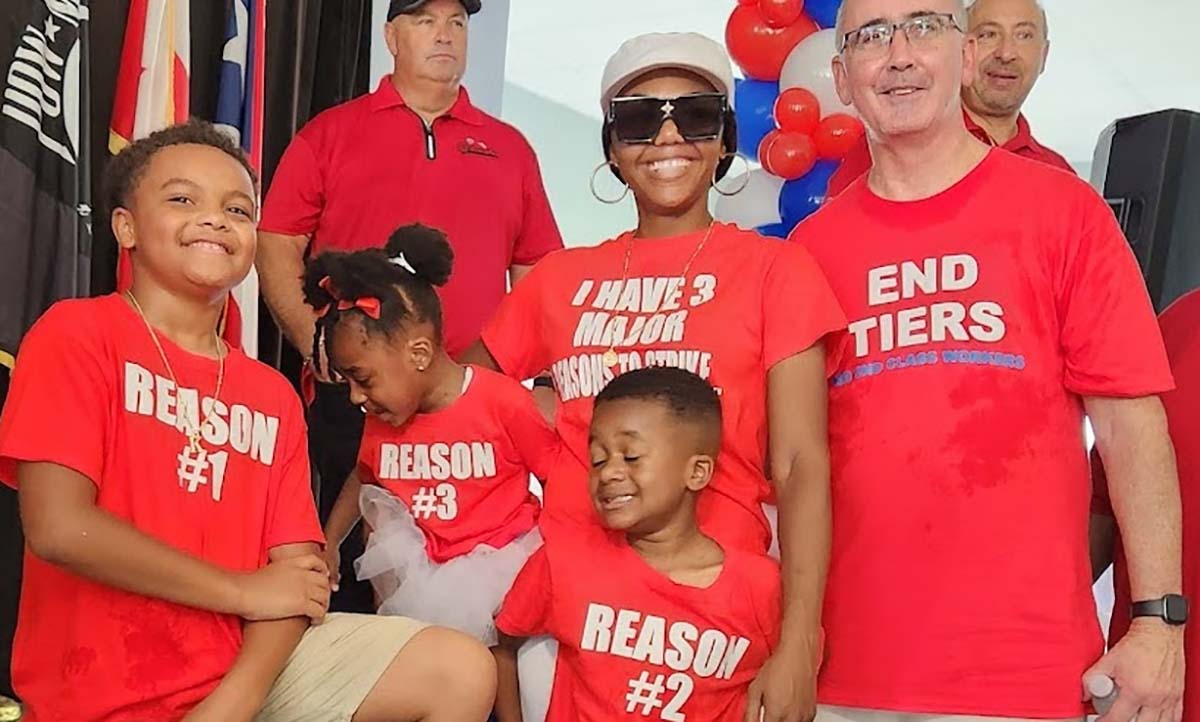 SEPTEMBER 24 UPDATE: With the auto strike entering its second week, UAW President Shawn Fain announced that Ford has been seriously negotiating with the UAW while Stellantis and General Motors continue to stall. As a result, the UAW expanded its strike by adding 38 GM and Stellantis' parts distribution centers to the three assembly plants already out. The first week targeted mid-size truck assembly plants, inflicting mid-sized damage on the corporations. But the distribution sites are cash cows; the economic impact on the companies will be much greater and more immediately felt than during the first week.
This innovative strike strategy, dubbed the "Stand Up Strike," recalls the sitdown strikes of the 1930s. It puts maximum pressure on the Detroit Three as the UAW chooses which plants to strike, leaving the corporations guessing. With about 20,000 workers out of the 150,000 workers out on strike, this obviously conserves the UAW strike fund.
The UAW is turning out a number of short videos where workers tell their story. Workers who signed up for strike updates receive text messages and emails announcing Facebook live events where Fain outlines the state of negotiations and unfolding strike strategy. Those not yet on strike are urged to continue wearing red T-shirts on Wednesdays, talk to their co-workers, organize rallies, refuse all voluntary overtime and report management harassment.
<p<Picket lines, in the words of one striker, are like family reunions with music and cook outs. Many supporters were coming to the picket lines, dropping off food, beverages and wood for the burn barrels. Locals were setting up food pantries. Within a few days jeep strikers organized a caravan to the picket lines at Michigan Assembly an hour away. By the end of the week, strikers there had returned the favor by caravanning to Toledo.
See articles on the Solidarity website providing updates and discussing issues that are inadequately covered in most media. While wage demands are easy to summarize in percentage terms with the union demanding a 40% increase over a four-year contract while companies stall at around 20%, underlying questions — making all "temporary" workers permanent after 90 working days, eliminating pernicious wage and benefit tiers, restoring cost-of-living adjustments (COLA) stolen more than a decade ago and raising retiree pensions for the first time in 15 years — receive less attention.
Canadian autoworkers are also in negotiations with the Detroit Three. Their union, UNIFOR, targeted Ford and negotiated a tentative agreement that 5,600 workers at three Ford plants are voting on. Details of the contract are similar to what Fain reported Ford offered the UAW. The Canadian tentative agreement has modified, but not eliminated, tiers. If the contract is not approved, negotiations would resume and there might be a strike. But if it is approved UNIFOR negotiators would then target a second company and try to win a pattern contract. This is the traditional way the UAW bargained.
* * *
AS UAW CONTRACTS with the Detroit Three expire at midnight September 14, it looks like the companies are far from settling. Having raked in over a quarter of a trillion dollars in the last decade, they are balking at newly elected UAW President Shawn Fain's demand that "Record profits deserve record contracts."
Wearing "End Tiers" and "No Concessions" T-shirts, hundreds of workers and their families turned out to demonstrate their willingness to fight for a good contract at the rally UAW Region 1 on Sunday, August 20. The short program featured Fain, Region 1 director LaShawn English, and U.S. Congressional representative Haley Stevens.
Fain took on the argument that the UAW has set expectations too high. Why is it okay that CEOs reward themselves with 40% increases in their benefits package but wrong for workers to make such a demand?
Wages have stagnated over a generation, the cost-of-living adjustment (COLA) given up during the bailout has not been restored, and a tiered workforce means some workers have drastically fewer wages and benefits. Those issues, along with an end to forced overtime, the right to have both job security and a life beyond the workplace, are essential to win as companies restructure.
Negotiations between the corporations and the UAW traditionally begin with the union president staging highly photographed handshakes with the CEOs of each company. That didn't happen this year. Instead, President Fain shook hands with workers at Ford, GM and Stellantis plants, listening to workers' demands and answering questions.
At the same time UAW staff passed out cards and encouraged members to sign up to receive weekly updates by text or email. Since then Fain has been holding short and weekly Facebook Live updates.
In addition to the Facebook Live updates, the UAW's website and Facebook pages have short videos that include workers' stories. The latest features a fourth generation Ford worker who describes her experience as a single mom working as a temp for six years in four different plants before becoming fulltime.
This inclusion and transparency is a sea change from how the UAW leadership functioned over the last half century. It used to be that negotiations were walled off from members, and the UAW Communications Department typically issued "no comment" responses to the media's questions.
In contrast, the newly elected UAW leadership — the first directly elected in a one-person, one vote mail-in ballot — developed a militant No Concessions, No Tiers strategy as the contract deadline rapidly approaches. They have provided a clear list of members' demands, taken on the companies' line, encouraged regions and locals to prepare a contract campaign, and through the union's Organizing Department set up online trainings so that members are empowered to develop actions with co-workers.
Borrowing methods developed during the Teamster contract campaign at UPS, these include having members sign cards in order to receive weekly updates, asking members to wear buttons and red shirts with slogans to work on Wednesdays, encouraging 10-minute parking lot rallies and practice picketing. Whether or not the local leadership is plugged into the campaign, autoworkers are encouraged to be actively involved.
Fain has called for locals to conduct votes to authorize a strike mandate if negotiations are not progressing. He added, "As a union, we have to lead the fight for economic justice — not just for ourselves but for the entire working class" matched the sentiment of the crowd. Clearly the slogan on the UAW website, "Our generation's defining moment at the Big Three" captures the the mood of autoworkers as September 15 approaches.
September-October 2023, ATC 226