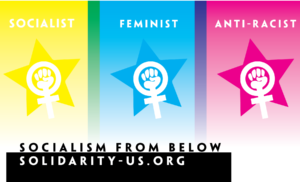 Solidarity is a US-based socialist organization. Members are active in a wide range of struggles and campaigns and want to join with leftists from all traditions in building "socialism from below"—socialism based on the self-organization of working people and democratic control of all major economic and social institutions. (See The Two Souls of Socialism and Socialism from Below)
Unified around 10 Points of Political Agreement, Solidarity is a multi-tendency organization. We are feminist, anti-racist and democratic.  Within our group, we are trying to foster cultural diversity, flexible practice, and straight-forward socialist politics.
If you're in political agreement and are interested in joining, please fill out an application by clicking here.
Want to learn more about Solidarity's work and politics?  Here are some resources:
Solidarity is independent of the capitalist class, their corporations, nonprofits and the governments controlled by them. Our funding comes solely from working class people like you, because our independence is critical in building power for the feminist, anti-racist and democratic world we envision.
Please make a financial contribution here. The funds you give help Solidarity maintain an active, robust website, develop and distribute position papers, fund organizers' salaries and organize Socialist schools. Thank you for your support. Donate online here! You can also donate by check – simply make out to "Center for Changes" and mail to 7012 Michigan Ave Detroit, MI 48210.
Questions? Contact us:  info@solidarity-us.org