Joe DeManuelle-Hall
April 16, 2021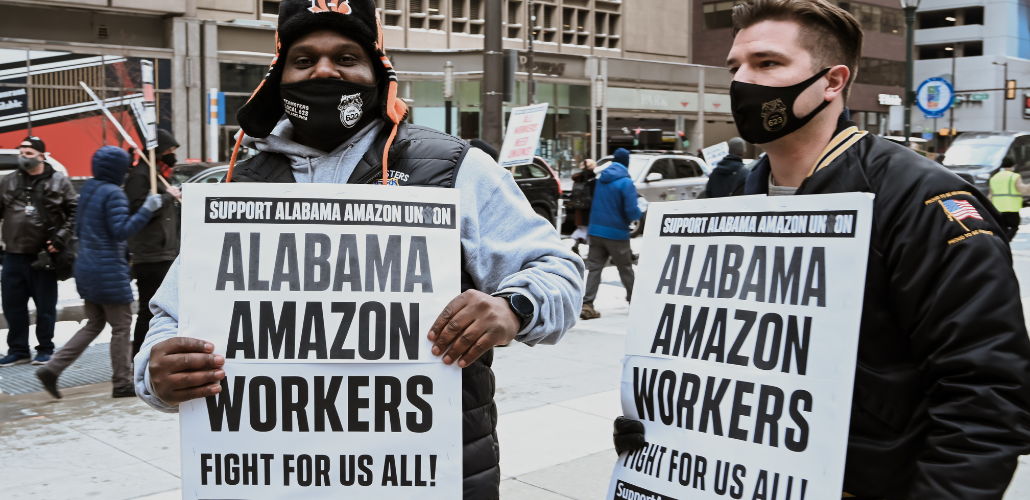 What can union activists across the country take away from the high-profile defeat in the union vote at Amazon in Alabama?
The National Labor Relations Board announced April 9 that workers at Amazon's fulfillment center in Bessemer, near Birmingham, had voted against joining the Retail, Wholesale, and Department Store Union.
The tally was 71 percent no to 29 percent yes—though it's possible the actual split was closer to 60-40, if you consider the large number of ballots that were cast but never counted because they were challenged by the company.
WHAT CAN WE LEARN?
Hopes were high. The drive had garnered enormous favorable press coverage and even support from the White House. Nevertheless, the loss was no surprise to many in labor. Amazon is one of the world's most powerful corporations, and organizing is notoriously difficult under U.S. labor law.
Some aspects of the campaign gave observers pause, like the shortage of workplace leaders who were willing to speak up publicly. From years of won and lost union drives, there is some accumulated wisdom about what it takes to overcome employer tactics.
At the same time, we should be wary of anyone who claims that a win is guaranteed if you just follow all the right steps. This was always going to be a tough fight.
It would help us all to know more about how it unfolded—especially since organizing at Amazon is likely to take many attempts.
Far too often there is a void of reflection in the wake of a union loss. Union staff and leaders like RWDSU's Stuart Applebaum will cry "Monday morning quarterbacking" at observers who try to make sense of why things went wrong.
But what do they expect? Labor can't afford to waste the opportunity to learn something new about how a particular strategy worked under particular conditions.
That requires honest reflection by those directly involved—rank and filers, officers, and union staff alike. I'm happy to see some early signs that this is happening.
LABOR LAW HOSTILE
Amazon fought...

Last month's murders of Asian women massage workers in Atlanta marked another devastating milestone in a recent wave of anti-Asian violence fuelled by pandemic racism and the Trump administration's Sinophobic rhetoric in its rivalry with China. With a hardline stance against China becoming, as one pundit quipped , one of the few major bipartisan...