Bill Resnick
October 18, 2018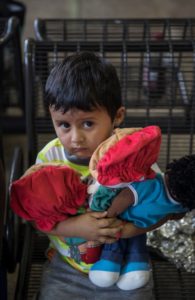 On July 14th  2018 the  The New York Times reported that holding facilities for immigrant children separated from their parents were enforcing a "no touching" policy: children, even siblings, were not permitted to hug, hold hands, or touch one another in any way.  It quoted a 9 year old girl not allowed to touch her baby brother. A Washington Post report quoted one staff worker in a toddlers room who had failed to calm a distraught child. The worker explained that she couldn't console the child because we're "not allowed to touch the children." Widely covered in media, a big story for a short time, it triggered a great public outrage that forced the administration to temporarily retreat.
The whole episode is quite revealing. One of its lessons is well known, the thoughtless depravity of Trump and his agencies and their baleful impact on public services. The other amounts to a revelation, less appreciated but profoundly encouraging especially for the left. For the episode demonstrates a transformation of child rearing values and practices over the last century, part of a broader democratizing movement in U.S. social life, with a long way to go.
What does this episode tell us? Part 1: The Depravity of Trump World
The no touching rule, which came from the top of the Federal immigration apparatuses (No one seems to be taking responsibility) amounts to child abuse. A considerable body of research documents that children, particularly the youngest, deprived of physical touch are diminished in every capacity -- physically, emotionally, and intellectually. In early studies so cruel they can't be repeated, "Harlow's monkeys," well...