October 5, 2021
On October 2, in cities small and large, people marched and rallied for reproductive rights with many home-made, creative and funny signs. Solidarity members were there to express our support for the broad range of reproductive rights including but going well beyond the right to access abortion care:
Chicago, Illinois
Chicago had a spirited rally and march with estimates of up to 7,000. Although nowhere near the size of the 250,000-strong rally on Jan 20, 2017, it was just one of 21 events held around Illinois that day to demand abortion access. A majority of the marchers were women, from women who fought in the 1970s for abortion access, to the large number of young women, who see abortion access as necessary for the real liberation of women, to families, including families of color, pushing strollers and walking with their children.
The mood was furious-- that in no way was this patriarchal control over women's body going to be tolerated! Chicago Teachers Union had a contingent and a banner.
---
Atlanta, Georgia
The multicultural march filled several city blocks.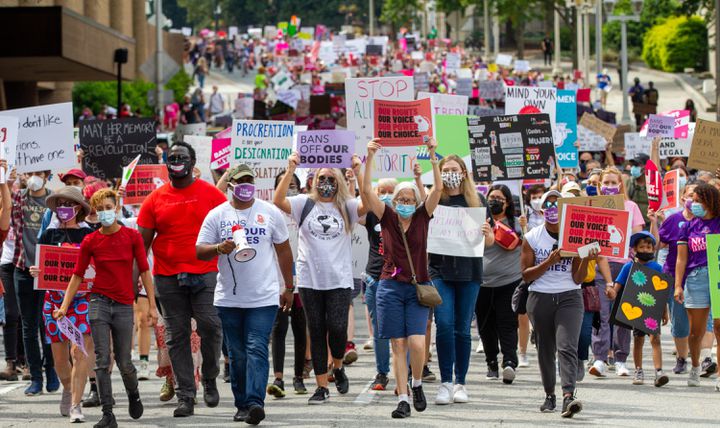 ---
Detroit MI
Built through Facebook, the Detroit rally against the Texas anti-abortion ban then marched and chanted two miles through downtown streets. The crowd of about 700 was primarily young, with a sprinkling of women who remembered when abortion was "illegal." Most of the cleverly designed handmade signs focused on abortion rights, Solidarity's banner called for reproductive justice, a slogan that combines a wide range of reproductive issues from birth control and abortion to opposition to sterilization abuse and the right to raise children in a healthy environment.