The Editors
October 8, 2018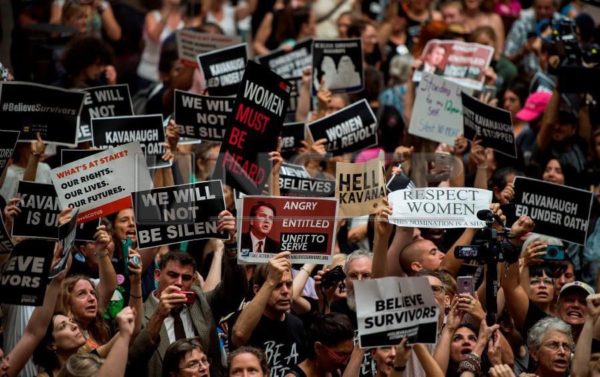 A Letter from the Editors of Against the Current
HE'S CONFIRMED, ALL right: A confirmed liar, confirmed nasty-drunk sexual predator and hardcore reactionary hand-picked for his confirmed anti-worker judicial record, Brett Kavanaugh is now a confirmed Justice of the United States Supreme Court. The whole spectacle became one of those moments that brought the country face to face with the real condition of its political system—and  the rage it's generated is the hope for the future.
While this was going on, much else was pushed to the outer fringes of the news cycle. North and South Carolina still wading hip-deep in polluted and hog waste-infested floodwaters of the latest climate change-driven hurricane.  Refugee families seeking asylum in the United States piling up in detention centers, with some launching a hunger strike, and children shipped to desert concentration camps. The United States preparing new "crippling sanctions" on Iran, including attempting to reduce its oil sales to zero – a step going right up to the line of an act of war that could consume much of the Middle East. American bombs supplied to Saudi Arabia incinerating the nation of Yemen—and U.S. action deliberately setting out to reduce Gaza and Palestinian refugees to the point of starvation.
On the positive side, world leaders assembled at the United Nations broke out laughing at Donald Trump as he boasted of "my administration's" brilliant accomplishments. But all this and more was blacked out as the Senate Judiciary Committee moved to complete the longterm Republican agenda of stacking the Supreme Court with a far-right majority.
There is much handwringing in the media and cable TV punditocracy over the "toxic" condition of American politics revealed by the Kavanaugh confirmation process. "Toxic"? You really think? Behold the least popular Supreme Court nominee in memory, appointed by the most unpopular and corrupt U.S. president in modern history, finally...