David Finkel
March 13, 2019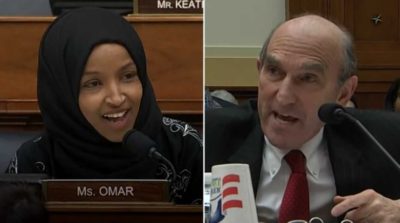 "THE VICIOUS, DIRTY — and bipartisan — smear campaign against the first two Muslim women in the U.S. Congress, Ilhan Omar (MN) and Rashida Tlaib (MI), is just beginning." That's the opening of a statement by the Steering Committee of Solidarity, posted February 14, 2019.
That's still true, following the big fight over a House of Representatives resolution that was first intended to isolate and humiliate Ilhan Omar, and potentially to lead to stripping her House Committee on Foreign Affairs assignment.
While the Democratic Congressional leadership might initially have been prepared to throw her under the bus over malicious and false charges of antisemitism, the attempt blew up in their faces when a huge outpouring of support for Ilhan Omar came from a wide swath of progressive Black, Arab-American, Muslim, Jewish and civil liberties sectors outraged that a newly elected Muslim woman, who came to the United States as a refugee from war-devastated Somalia, was being singled out.
Instead of the original draft resolution, a new text was hastily constructed that calls out all kinds of bigotry and the way white supremacist forces have "weaponized hate for political gain, targeting traditionally persecuted peoples, including African Americans, Latinos, Native Americans, Asian Americans and Pacific Islanders and other people of color, Jews, Muslims, Sikhs, the LGBTQ community, immigrants, and others with verbal attacks, incitement and violence."
Pretty strong stuff, and clearly not the kind of thing that Donald Trump had in mind with his presidential tweets demanding that Ilhan Omar be condemned and forced to resign. (In fact, Trump's antics may have...