Léon Crémieux
December 10, 2019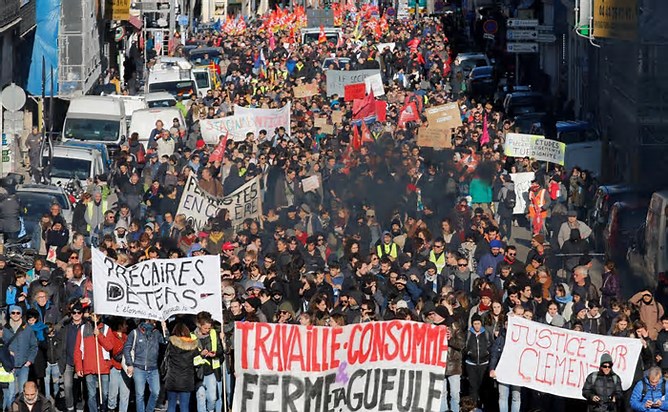 France has once again entered a phase of large-scale social confrontation.
A year ago, in November 2018, it was the Yellow Jacket movement that broke out on roundabouts and city streets across the country. Provoked by the government's decision to introduce a new fuel tax, the movement very quickly highlighted the need for an increase in buying power, particularly the minimum wage, the rejection of a society managed by and for the richest, the restoration of the wealth tax on the richest, the need for a democracy in which the working classes could be heard. The Macron government was facing the social exasperation created by the austerity policies suffered since the 1980s.
This exasperation had led to the corrosion and collapse in the 2017 presidential election of the two parties managing the system since the 1960s, the Gaullist (LR - Les Républicains) and Socialist (PS - Parti Socialiste) parties. Taking over the reins of capitalist management, Macron thought he had his hands free to show arrogance and class insolence and undertake systemic capitalist counter-reforms: to accentuate the intervention of a strong state and a liberal economic policy for the benefit of the large capitalist groups. He also thought he had his hands free to make reforms "Thatcher-style", where all previous governments had failed, without fear of social confrontation, in order to bring France into unison with its neighbours in terms of regressing labour law and social protection.
In the aftermath of his election in the fall of 2017, with too weak a response from the unions, five ordinances were issued. One of them broke the system of employee representation in companies, in particular by dividing the number of representatives in half. Another definitively broke the rule of priority to be given to branch [industry-wide] agreements in companies, favouring social dumping [employing lower-wage workers]. Another facilitated the use of dismissals by making it more difficult for employees to bring cases to the industrial courts.
A few months later, in the spring of 2018, it was the status of the SNCF [French National Railway] and that of the railway workers that was broken by the National Assembly. In 2020, SNCF was split into several public limited-liability companies [private corporations], the rail network opened to competition with the planned elimination of thousands of kilometres of lines. The status of railway workers dating back more than a century was abolished for new hires on 1 January 2020. This status, giving in particular the guarantee of employment, and a recognition of [demanding] nature of railway work by a retirement age of 52 for mobile workers and 57 for sedentary workers…