Robin Zheng
September 14, 2020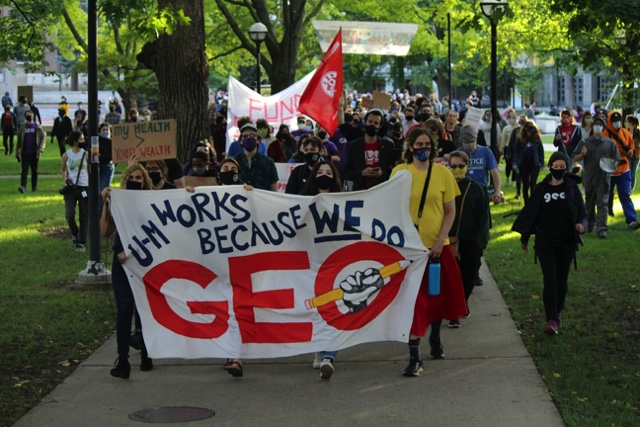 During the 1975 month-long strike that garnered the University of Michigan Graduate Employees' Organization (GEO) its first contract, agreements on affirmative action and non-discrimination were secured within the first week after more than half the undergraduate students boycotted their classes in solidarity.
Since then, GEO has maintained a consistent record of hard-fought, precedent-setting contract victories that prioritize the well-being of historically disadvantaged groups, both within and beyond its own membership. These include childcare subsidies (2002, after a one-day walkout), trans-inclusive and trans-specific healthcare (2006 onward, including significant gains in 2020), improved disability accommodations (2011), fertility treatments (2014, a benefit secured for employees across the university), and the creation of paid positions for graduate students performing Diversity, Equity, and Inclusion (DEI) work (2017, after a strike authorization).
On the picket line in 2020, GEO members regularly invoke this history of "bargaining for the common good" (or "social justice unionism") as part of their motivations for striking. Their demands for "A Safe and Just Pandemic Response for All" boldly address the two intertwined global crises that have come to define our times: the disastrous failure of our institutions to respond adequately to the COVID-19 pandemic, and the deadly state-sanctioned violence ceaselessly inflicted on communities of color by the police.
GEO's COVID-19 demands include a more robust testing and contact tracing program, a universal right to work remotely, more flexible subsidies for parents and caregivers, and support for international students; while their anti-policing demands include disarming and demilitarizing campus police, reallocating 50% of U-M Division of Public Safety and Security funds, and cutting ties with the Ann Arbor Police Department and ICE.
This is an abolitionist strike, a historic development unimaginable (and, to many, unintelligible) just a few years ago…