Dianne Feeley
Posted September 23, 2023
Friday, September 22 — As the UAW strike enters the second week, President Shawn Fain pointed to the enthusiastic picket lines at the three plants that are on strike. Strikers at plants within an hour of each other — Stellantis' Jeep plant in Toledo, Ohio, and at Ford's Michigan Assembly in Metro Detroit — organized caravans to each other's plants to express their solidarity.
Fain also noted the solidarity messages from around the world, with Italian Stellantis workers striking their plant and Mexican autoworkers holding a rally in Mexico City.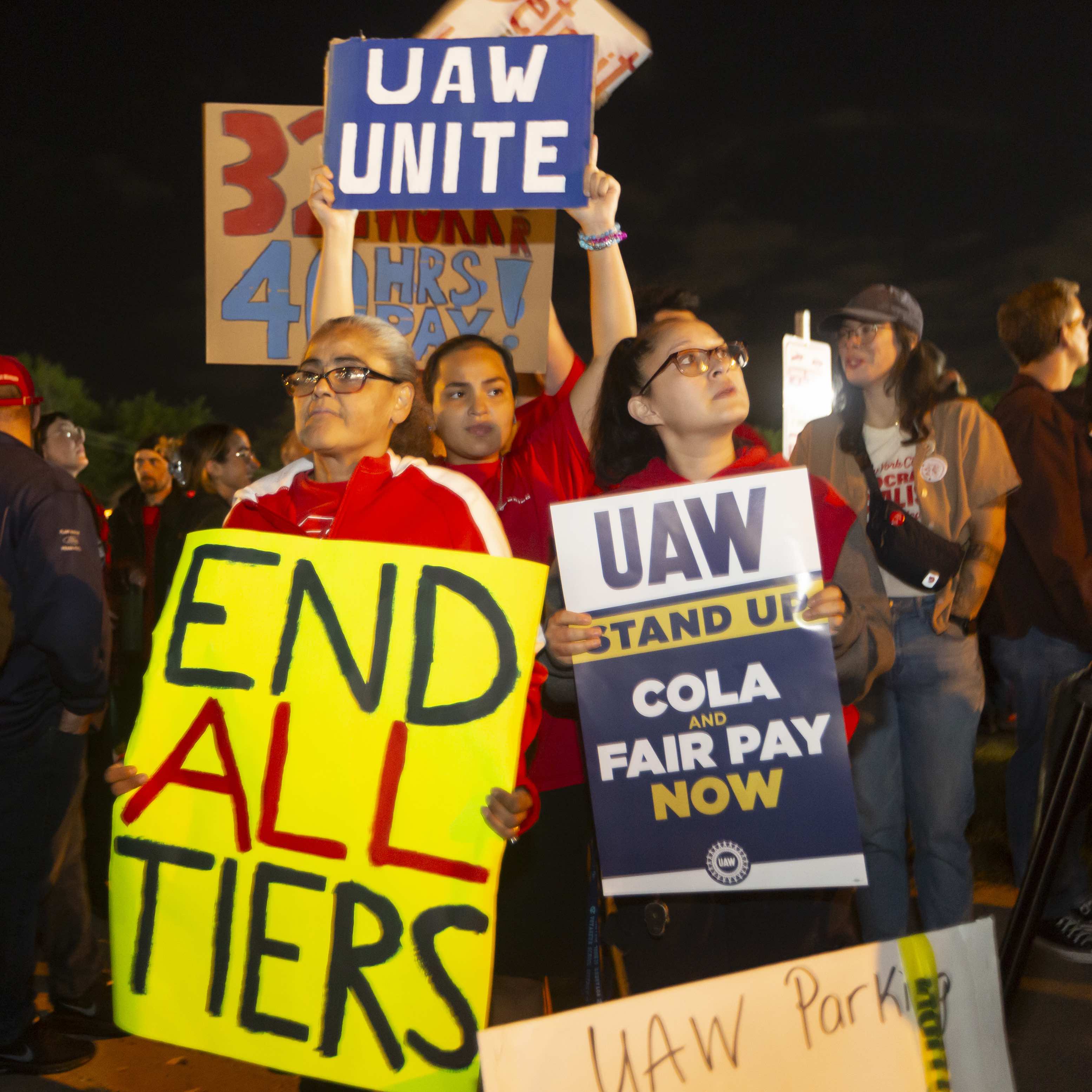 Fain then outlined the state of negotiations since the strike began and pointed to significant progress in the negotiations with Ford, while noting that GM and Stellantis negotiations barely moved.
So far, Ford has agreed to move all temporary workers to permanent status after 90 working days, eliminate the lower-waged tier in parts distribution, reinstate cost-of-living adjustment (COLA) suspended in 2009, and offered a two-year job security package for laid-off workers.
Perhaps most importantly, Ford was willing to include the right to strike over plant closings in an upcoming contract. While all these elements illustrate Ford's serious negotiations, Fain pointed out that there is still more on the table.
On the other hand, the only issue GM has moved on is agreeing that workers in parts distribution facilities can be paid the rate of assembly workers. In talks with GM and Stellantis there has been no movement on COLA, use of temporary workers or job security.
Striking the "Cash Cow"
As a result of this lack of significant progress, the UAW will strike all of GM and Stellantis' parts facilities as of noon today. This amounts to 5,625 workers at 38 locations across 20 states and nine UAW regions.
While the number of workers at each site is small in comparison to an assembly plant, this sector comprises an extremely profitable part of automakers' business. Some reporters have described the parts subsidiary, where the majority of the workforce makes less than assembly workers, as a "cash cow." (See Big 3 Focus on Auto Parts Centers in Strike Prep)
GM invested $20.5 million in three Customer Care and Aftersales (CCA) facilities in Tennessee and Michigan and recently announced another $100 million makeover for the Davison Road Processing Center (listed below), where 756,000 parts are packaged each day and 15,000 shipped, to increase storage capacity and speed in getting the order to the customer through upgrading the technology. (See GM to Invest More Than $100 Million in CCA Facility)
One illustration of just how profitable the distribution centers are, readers may also remember that in preparation for a possible strike, Ford planned to dispatch its salaried staff to operate 20 aftersales sites in 15 states, claiming they had an obligation to keep Ford vehicles on the road.
UAW workers will be going on strike at the following distribution centers:
GM locations:
Pontiac Redistribution, 1251 Joslyn in Pontiac, Michigan

Willow Run Redistribution, 50000 Ecorse Rd. in Belleville, Michigan

Ypsilanti Processing Center, 2625 Tyler Rd. in Ypsilanti, Michigan

Davison Rd. Processing Center, 4420 Davison Rd. in Burton, Michigan

Flint Processing Center, 6060 W. Bristol Rd. in Swartz Creek, Michigan

Lansing Redistribution, 4400 W. Mount Hope Rd. in Lansing, Michigan

Cincinnati Parts Distribution, 8752 Jacquemin Dr. in West Chester, Ohio

Denver Parts Distribution, 23400 E. Smith Rd. in Aurora, Colorado

Hudson Parts Distribution, 2200 Willis Miller Dr. in Hudson, Wisconsin

Chicago Parts Distribution, 1355 Remington Blvd. in Bolingbrook, Illinois

Reno Parts Distribution Center, 6565 Echo Ave. in Reno, Nevada

Rancho Cucamonga Parts Distribution, 9150 Hermosa Ave. in Rancho Cucamonga, California

Fort Worth Parts Distribution, 301 Freedom Dr. in Roanoke, Texas

Martinsburg Parts Distribution, 608 Caperton Blvd. in Martinsburg, West Virginia

Jackson Parts Distribution, 1500 Marquette Road in Brandon, Mississippi

Charlotte Parts Distribution, 10815 Quality Dr. in Charlotte, North Carolina

Memphis AC Delco Parts Distribution, 5115 Pleasant Hill Road in Memphis, Tennessee

Philadelphia Parts Distribution, 200 Cabot Blvd. E. in Lang Horne, Pennsylvania
Stellantis locations:
Marysville, 840 E. Huron Blvd. in Marysville, Michigan

Centerline Packaging, 26311 Lawrence in Center Line, Michigan

Centerline Warehouse, 26311 Lawrence in Center Line, Michigan

Sherwood, 21555 Sherwood Ave. in Warren, Michigan

Warren Parts, 21035 Sherwood in Warren, Michigan

QEC, 2021 Executive Hills Blvd. in Auburn Hills, Michigan

Romulus, 16950 Pine in Romulus, Michigan

Cleveland, 9777 Mopar Dr. in Streetsboro, Ohio

Milwaukee, 3280 S. Clement Ave. in Milwaukee, Wisconsin

Minneapolis, 13005 Hwy 55 in Plymouth, Minnesota

Denver, 10728 Troy St. in Commerce City, Colorado

Chicago, 1980 High Grove Lane in Naperville, Illinois

Los Angeles, 5141 Santa Ana St. in Ontario, California

Portland, 10030 SW Allen Blvd. in Beaverton, Oregon

Atlanta, 1149 Citizens Parkway, Morrow, Georgia

Winchester, 80 Tyson Dr. Winchester, Virginia

Orlando, 10300 Boggy Creek Rd. in Orlando, Florida

Dallas, 2205 E. Belt Line Rd. in Carrollton, Texas

New York, 108 NY 303 in Tappan, New York

Boston, 550 Forbes Blvd. in Mansfield, Massachusetts
Those still working are continuing to organize red shirt days, discussions with co-workers and practice pickets. Since they are working with an expired contract they are also turning down voluntary overtime, keeping track of any management attempt to change rules and many are also turning out at the strike picket lines.
With this escalation, more areas of the country can join the picket lines. The strike Is expanding as 75% of the public polled indicate their support to the strikers in their demand that "record profits mean a record contract."