Dianne Feeley
Posted October 16, 2023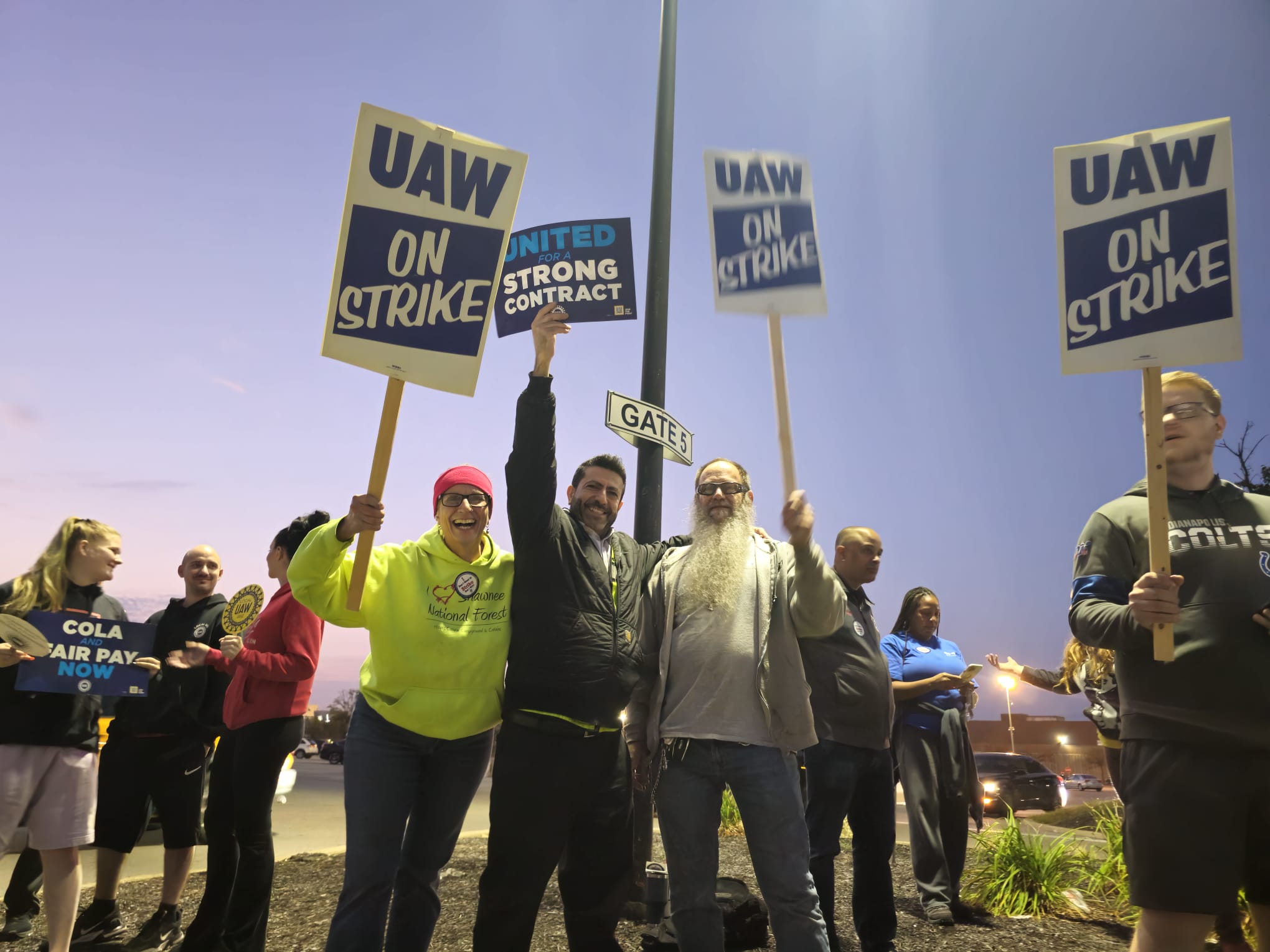 With the surprise strike that shut down the Ford Kentucky Truck Plant almost one month into the UAW strike against the Detroit Three, the corporation responded with a squeal that it had reached the limit of what it could offer. Given the profits Ford is reaping, strikers found that laughable. CEO Jim Farley's salary was $21 million last year while Ford temps make $16.67 an hour.
UAW President Shawn Fain pointed out that Ford had responded to the union's demands early and positively. But it didn't go far enough. Ford admitted it was working on proposals around pensions and battery plants but had nothing to show the UAW negotiation team. As the Detroit Free Press saw it, the strike "is a signal that hourly workers are willing to inflict – and sustain – increasingly serious financial pain to achieve their goals."
The Louisville-based facility builds the Ford Super Duty, Ford Expedition and Lincoln Navigator, generating a revenue of $25 billion a year. Each minute of production generates $48,000 in revenue. Eighty-seven hundred workers walked off their jobs in one of the world's largest plants. As an immediate result of the strike, Ford released a list of six facilities to be closed and 550 workers to be laid off, as their supply chain began to collapse. The corporation predicted that seven more facilities would be forced to close within days.
In his Friday update, UAW President Shawn Fain explained that since Ford had failed to produce a substantive proposal in the past two weeks it was necessary to act to prevent negotiations from stalling out. For their part, the Detroit Three have a small inventory and a robust demand, especially for particular models, so they were anxious to keep production moving. Their original plan was to raise wages but offer little else. Forced to more than double their wage offer — and with two agreeing to restore the cost-of-living allowance, they are stymied by having the other UAW demands still on the table. But the most important set of demands are ending a tiered structure that diverts more profit to CEOs and top stockholders and reinforces inequality.
The surprise action also sent a message to GM and Stellantis. Fain pointed out that the Detroit Three had begun to view the decision to call more UAW members out on strike as limited to Fridays. But the Stand Up Strike is designed to be flexible and innovative, giving negotiators maximum negotiating strength. Consequently, the call for more strikers will move off a weekly schedule.
With the Kentucky Truck plant on strike, there are now 35,000 UAW workers employed by the Detroit Three out on strike. Given the UAW strike fund, even with 50,000 workers out, the strike fund could cover more than 20 weeks.
Of course, UAW workers are also on strike in other industries. A thousand Blue Cross, Blue Shield workers have been out for a month, Four thousand workers at Mack Truck, rejecting a tentative agreement by a 73 percent majority, recently went on strike. Detroit's casino workers – a coalition of unions including UAW members – are posed to strike.
Saturday was a rainy day in the Midwest, but strikers and supporters were on the picket line. I talked with one young woman who is a "supplemental" at a non-struck Stellantis plant. She has no job security, earns $16.29 an hour and is ineligible for bonuses. To supplement her wage, she delivers packages for Amazon and Door Dash. She has no time to visit her family or hang out with friends.
Strikers thanked her for walking the picket line with them and promised that part of the reason they were out was to help the next generation have decent jobs. When she left, she said she'd be back on Wednesday to picket before going to work.