David Finkel
Posted September 30, 2021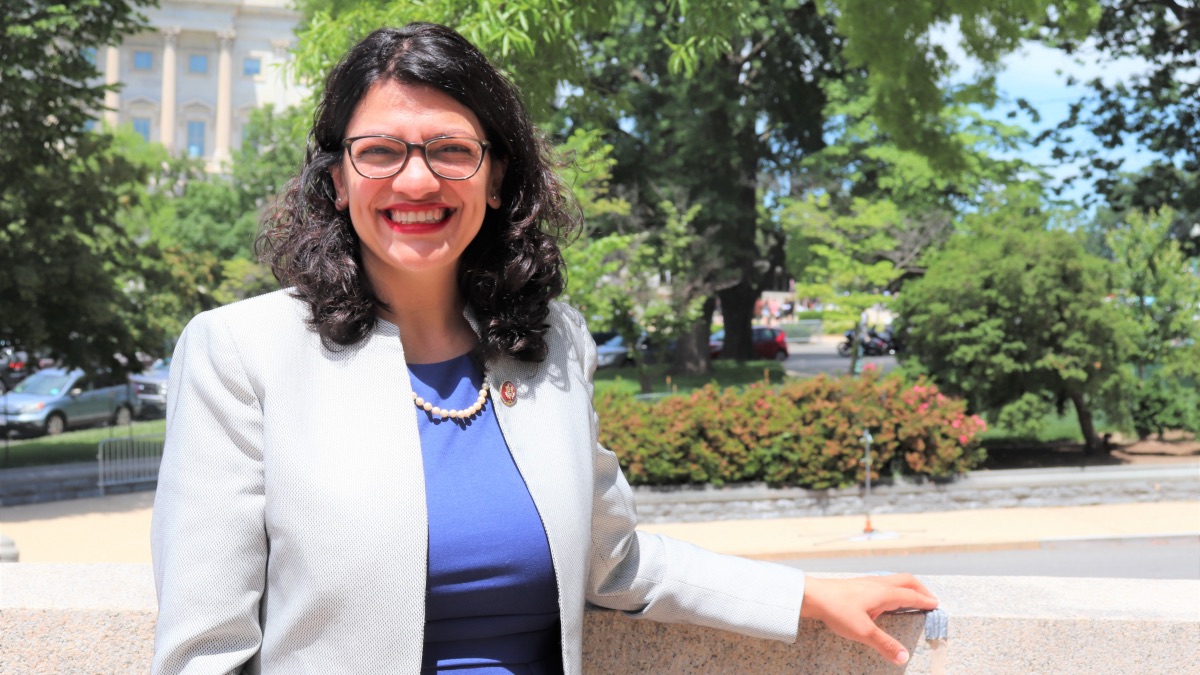 Even while scrambling to hold their caucus together for votes on infrastructure bills, the Democratic Congressional leadership displayed a distinctive approach to party "unity" when it comes to subsidizing Israel's war machine.
After Rashida Tlaib (D-MI) on September 23 made a courageous and principled one-minute statement opposing a $1 billion supplemental appropriation for Israel's "Iron Dome" system, she was immediately and viciously denounced by her so-called colleagues in almost unprecedented personal terms.
Billed as a defensive anti-missile array, Iron Dome enables the Israeli state to engage in offensive actions at will with minimal fear of retaliation. This expenditure is in addition to the annual $3.8 billion U.S. subsidy to Israel entrenched during the Obama administration.
"I will not support an effort to support war crimes, human rights abuses, and violence" by Israel against the Palestinian people, Tlaib proclaimed. She cited the Human Rights Watch report A Threshold Crossed. Israeli Authorities and the Crimes of Apartheid and Persecution as well as the Israeli human rights organization B'Tselem.
There wasn't the slightest doubt, of course, that the Iron Dome appropriation would pass (the vote was 420-9). But that didn't matter to Congressmen Ted Deutch (D-FL) and Chuck Fleischmann (R-TN), who immediately took the floor attacking Rashida Tlaib for the unforgivable crime of calling our ally Israel an "apartheid regime."
Said Fleischmann: "You just saw something on the floor I thought I would never see, not only as a member of this House, but as an American!" Since Rashida Tlaib is Palestinian-American, the racist subtext (if it's right to even call it half-disguised) of Fleischmann's "American" reference is crystal clear.
What's important, however, isn't so much the bigoted rants of a couple of Congress members eager to burnish their "pro-Israel" credentials. It's that not one single Democratic leadership type stood up to defend Tlaib's integrity and right to state her opinion, even if it's in the minority.
These so-called leaders, including Nancy Pelosi, know very well that Rashida Tlaib is the target of unceasing hateful smears on social media and elsewhere, including all-too-credible death threats. Their silence signals loudly that they take no responsibility for what the consequences of their members' vitriolic attacks might be.
To be sure, the small handful of representatives who voted "No" in Congress represent a much more sizable sector of the U.S. population that's questioning the unconditional support of Israel as it continues its "crimes of apartheid and persecution."
It will take much longer, though, for the change in public sentiment to penetrate the military, corporate and lobby-infested corridors of Capitol Hill. As of now, stating as Tlaib did that "Israelis and Palestinians are equal people" deserving security is beyond what you're allowed to think, much less say, in Congress — at least, not if you actually mean it.
For the record, the honor roll of progressive representatives who voted "No" consists of Rashida Tlaib as well as Ilhan Omar (MN), Ayanna Presley (MA), Cori Bush (MO), Chuy Garcia and Marie Newman (IL), Andre Carson (IN) and Raul Grijalva (AZ). (Another vote was cast by a quasi-"libertarian" Republican who opposes foreign aid across the board.)
Two "present" votes were cast by representatives Alexandria Ocasio-Cortez and Jamaal Bowman, both of New York, who pretty obviously were threatened with all-out campaigns to destroy them in next year's primary season.
Something must also be said here about the disgraceful "anti-semitism" slander that rears its head whenever Israeli "crimes of apartheid and persecution" come up for discussion.
When Human Rights Watch denounces, for example, the Chinese regime's violations of basic rights in Hong Kong or its crimes against the Uighurs, nobody (except Beijing's propaganda machine) calls it "anti-Chinese." Same thing if human rights are shredded by the governments of Iran, or Cuba, or Hungary…
But it's only when Israel's conduct is called out that "anti-semitism" is invoked to derail any substantive discussion. Talk about a double standard.
Outside the grotesque scenes in Congress, however, it's a pleasure to report that Rashida Tlaib has a strong support system. JVP Action, the political action arm of Jewish Voice for Peace (JVP), has issued an appeal thanking Rashida and the other "No" voters on the Iron Dome. JVP members in the Detroit area, including her home district, are stepping forward, as are other pro-Palestinian activists.
These events are taking place against a backdrop that reveals the Biden administration's policy to be as morally bankrupt and reactionary as many of us knew it would be. In an article titled Washington's Three Gifts to Naftali Bennett, Edo Konrad of the online +972 Israeli magazine sums it up.
In addition to the Iron Dome appropriation, Konrad cites the appointment of Thomas Nides as the next U.S. ambassador to Israel. Nides, formerly a managing director and vice-president at Morgan Stanley, is a strong supporter not only of Israeli "security," but of the so-called Abrahamic Accords which entrench its alliance with the most reactionary and anti-democratic Gulf Arab oil kingdoms.
Wrapping it all in a neat package was Biden's UN General Assembly speech, making clear that Washington's support on paper for a "two-state solution" (i.e. the corpse thereof) will remain just that, with no action planned — in other words, a dead letter.
A threshold was indeed crossed in Congress: The vicious attacks on Rashida Tlaib, and even more the silent complicity of the House of Representatives "leadership," say everything we need know about their pretensions.