Folko Mueller
Posted July 16, 2023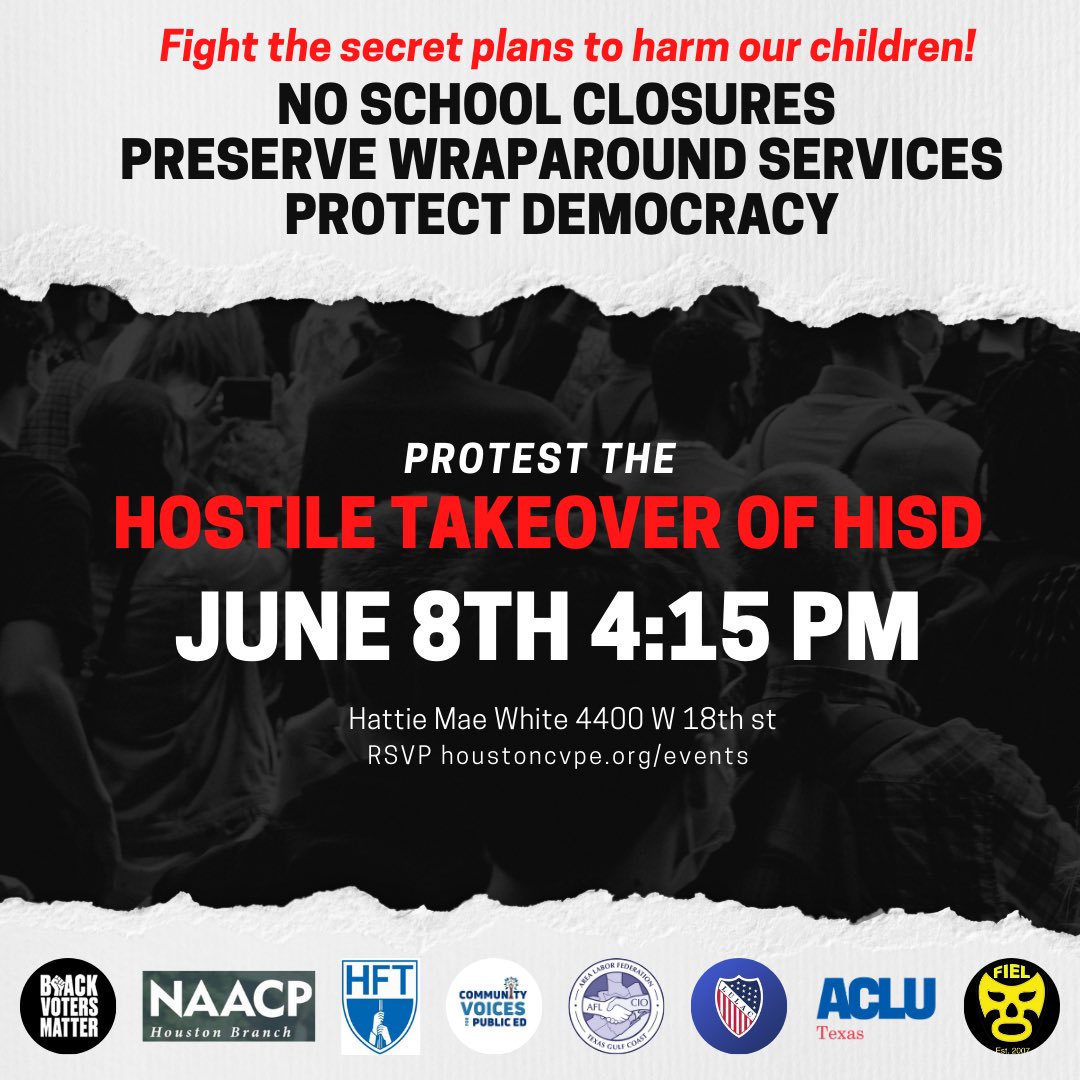 After a four-year legal battle that went all the way up to the Texas Supreme Court, the Texas Education Agency (TEA) seized control over the Houston Independent School District (HISD) on May 15th of this year. HISD is the largest school district in Texas, educating nearly 210,000 children in more than 280 schools.
While the school board members of HISD are elected officials, TEA is a body directly appointed by Texas's Republican governor, Greg Abbot. The takeover gives TEA considerable power over key decisions affecting all schools in the district, including budgets, policies around curriculum and library books, and the hiring and firing of staff (including the superintendent), among many others.
The process was detonated in 2019, when Wheatley High School failed to meet accountability requirements for several years in a row. A six-month TEA special investigation resulted in accusations of alleged misconduct by several school board members and a recommendation that a state-appointed governing team replace Houston ISD's locally elected school board.
However, at the heart of this battle, race and class play an undeniable central role for both supporters and opponents of the takeover, as a Houston Public Media article of March 15, 2023, correctly points out. What's happening with Wheatley must be viewed in the context of a socio-economic environment that has roots in century-old segregation. In the school year before the takeover attempt, 94% of the 873 students at Wheatley's were classified as "economically disadvantaged," 16% were "English learners" — and 79% were considered "at risk." Almost a century earlier, the HISD school board opened Wheatley High School as a "Colored" secondary campus, replacing what had been a white elementary school in the integrated Fifth Ward community. It was a blatant attempt to undo residential integration through school zoning and discriminatory funding practices, which unfortunately succeeded. 

At the time of the takeover, Wheatley's special ed population was also significantly higher than district and statewide averages — more than 20% of the student population at the school was in special education, compared to 7% across the district and 10% across the state. 95% of the 179 special education students were included in the state's accountability rating. Yet despite all these obstacles, students and teachers worked to bring Wheatley's state score up to a C in 2022. Since 2015, HISD reduced its number of low-performing schools from 58 to 9, which is fewer than are found in Dallas ISD. Furthermore, HISD received a B grade in the most recent state school ratings and is AAA bond-rated, yet the politically motivated takeover went ahead anyway.
As Ruth Kravitz, a teacher and organizer with Community Voices for Public Education, a Houston-based pro-public-school nonprofit, reminds us, there is a real possibility that schools could become privatized and handed over to charter school operators. Charter schools often purposefully under enroll students with disabilities and other at-risk children, inflating their state accountability ratings. Should this occur in Houston, the state will likely take the credit in its accountability shell game.
In addition, the governor and the TEA commissioner have changed the rules in the middle of the game repeatedly. In 2019, Wheatley High initially received a passing grade from the TEA, but the agency later changed its scoring criteria and applied them retroactively. In January of this year, TEA publicly announced more rule changes that will be implemented immediately and applied retroactively to last year's seniors, whose data is counted in this year's accountability rating. At the high school level, schools that were projecting a B rating are now projecting a D.
Ruth Kravitz concludes: From Beaumont to New Orleans to Detroit, takeovers—which disproportionately target districts with high Black and Brown political participation—do not improve student achievement and experiences.
Despite some ultra-conservative board members winning school board positions running on non-local trigger issues like opposing mask mandates and the teaching of critical race theory, the board was very mixed politically, also including independent progressives like the Houston DSA-endorsed Elizabeth Santos. Once the Texas Supreme Court ruled in favor of the takeover, those board members were rather deflated initially.
Needless to say, with this much at stake, there continues to be a pushback.
On June 8th, a spirited crowd of about 150 organized teachers, school administrators and many community members held a demonstration at the Hattie Mae White Educational Support Center, the headquarters of HISD to protest the first public meeting of the newly appointed board. While this number may seem small for a city the size of Houston, I nonetheless count this as a success, since unfortunately, the protest potential in this city is very low. A number of speakers voiced their discontent with the takeover. There was also significant local media coverage, which included interviews with participants. Throughout the event chants of "TEA, go away!" and "Taxation without Representation" could be heard. The demonstration ended up inside the building where the board meeting was essentially disrupted. A teach-in is scheduled for later this month, and, I hope, more protests will follow.