Dianne Feeley
Posted March 12, 2023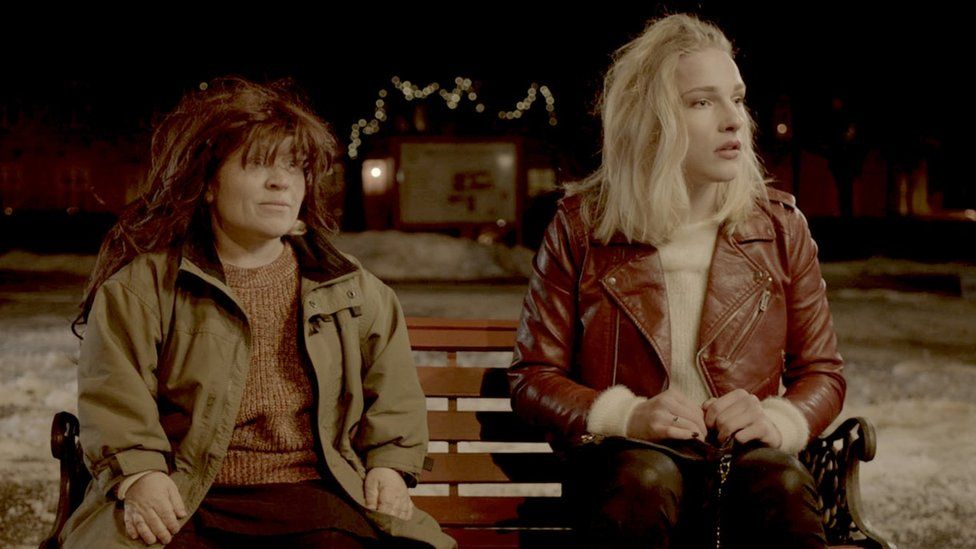 Be sure to catch Norwegian filmmaker Eirik Tveiten's "Night Ride" ("Nattrikken"), one of five nominated in the 2022 Oscar's live action shorts category. The film begins on a cold wintry night, with Ebba (played by Sigrid Kandal Husjord) waiting impatiently for a tram. But when it arrives, the driver says he'll be back in a half an hour, locks the doors and goes off.
The unpredictable story takes off as Ebba decides to find a way to wait inside the tram. As she climbs aboard, the audience discovers she is a "little person," probably someone whose needs are often disregarded.
Once inside the tram she manages not to find the button that closes the doors but the start button. The tram is on its way!
Ebba does manage to bring the tram to stop and pick up passengers who assume she's in charge. As the tram continues along Ebba notices a passenger sitting nearby. Ariel (played by Ola Hoemsnes Sandum) might be a sex worker on her way home. Quickly an obnoxious guy leaves his buddy in the back of the tram to start a conversation about going home with her. A bit standoffish, she makes a comment that tips off the viewer who didn't already realize she is a trans woman. Intrigued by her remark, but never suspecting the reality, he puts his arm around her and her wig falls. Stunned, the guy turns hostile and before long his equally obnoxious friend comes to find out what's happened. As the other passengers look on in discomfort, no one intervenes, the two trap and taunt her.
At first Ebba tries to ignore them in various ways but finally she stops the tram, gets out of her seat and faces them down. They may loom tall and beefy but her demand is they sit in another area. They refuse, telling her to do her job and drive the train.
She asks if they are so concerned about the tram running why doesn't one of them drive. When the chief harasser insists she drive the tram, she taunts him: Isn't he man enough to do the job?
He springs toward the driver's seat and as he prepares to take off, Ariel and Ebba jump out the back door. They sit on the nearby bench and laugh about their encounter only to see a police car rushing past with its siren on and lights flashing.
The tall tale could have turned violent but didn't. Instead the hilarious 16-minute film suggests that the bad guys will be interrogated for stealing the tram while the two often discriminated people have a good laugh.