Shannon Carter
May 1, 2018
Increasingly, leftists in North Texas are finding one another and, in doing so, discovering ways to work together to fight ongoing injustice and oppression in all its forms.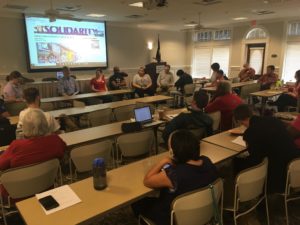 Nowhere in this notoriously conservative area has this alliance-building seemed more evident than Solidarity Day School in Dallas, Texas, on Saturday, March 10, 2018, the first in what we hope will become a quarterly series of Day Schools for local leftists, movement activists, and organizers, all with differing levels of familiarity with Marxist theory. In doing so, we hope to demonstrate that our theoretical tradition arose from revolutionary organizing, and that same tradition is crucial to today's leftist activism and organizing.
The event took place in two parts–the first held from 8:00 AM-4:00 PM in the Meadows Convention Center, a space designed to serve community organizers and area non-profits at no cost; the second at the Pan-Africa Connection from 7:30-9:00 PM, an amazing bookstore, art gallery, and cultural center in South Dallas. Participation in this inaugural event was based on intentional outreach rather than broad promotional efforts, including representatives from area community organizations, movement groups, and other organized socialists (especially the International Socialist Organization and many more from the North Texas Democratic Socialists of America). Most significantly: participants also included community members whom we met in the process of collecting signatures, riding the trains and talking to passengers to fight Dallas Area Rapid Transit (DART)'s proposed fare hike.
Organizing from a Socialist Perspective
Topics discussed included black liberation (Jules Clain, Solidarity Steering Committee member from Milwaukee), fighting capitalism with regard to fair housing (Ryne Poelker, Solidarity Staff organizer, from Chicago), the history of socialism (Dan La Botz, New York), socialist feminism (Zoe Holden, DFW Solidarity and DSA), the BDS Movement and solidarity with Palestine (Maddie Fenn, ISO Denton), the necessity of labor unions in the struggle for socialist revolution (Ryan Haney, DFW Solidarity and DSA), strategies for building a local power base for socialism (Robert Caldwell, DFW Solidarity), ecosocialism (Gary Stuard, DFW Solidarity), trans solidarity and an introduction to trans politics (Max L., Trans Pride Initiative, Dallas), and a history of socialism, communism, and the civil rights movement in Texas (Dick Dick Reavis, DFW Solidarity and the North Texas Transit Riders).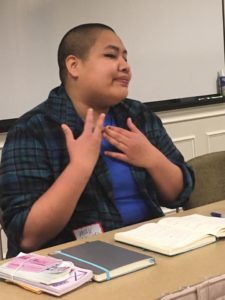 In our evening session at the Pan Africa Connection, we turned to the ways in which capitalism in America developed through genocide, slavery, and unspeakable brutality with a panel entitled "Understanding the Past, Confronting the Present, and Building a Socialist Future." Jodi Voice Yellowfish spoke on First Nation struggles for social justice, especially with regard to reclaiming sovereignty over lands stolen by the US. Joining us via electronic technology, Kali Akuno, organizer for Cooperation Jackson in Jackson, Mississippi, discussed local struggles in Jackson, and confronting the far right and the new confederacy, and a comrade from the Mexican PRT reflected upon a recent, contentious election.
Local Movements
Throughout the day, topics also included ongoing, local movement organizing like the North Texas Transit Riders (NTTR), a rapidly expanding, deeply collaborative effort across multiple leftist organizers and activists and community members to fight DART's (Dallas Area Rapid Transit) proposed fare hike. Robyn Kirk (of DSA) described the ways she and Alex Teleky (of DFW Solidarity and the Green Party) worked to establish NTTR as a direct challenge to the logic of capitalism infiltrating every aspect of public transportation in Dallas. To date, NTTR petitions include almost 7,000 signatures. Before NTTR began their efforts several months ago, the DART Board strongly supported the proposed fare hike. NTTR efforts have made a significant impact, however. Last month, the DART Board passed the proposed fare hike by a very narrow margin. NTTR efforts continue in an attempt to overturn this unjust decision.
Participants praised the event for the urgency and interest of its session topics, the variety of its discussion formats (fishbowls, roundtables, panel presentations, concurrent sessions), and the opportunities that it afforded to meet and build alliances with other area activists and groups. Some of these meetings developed into concrete plans for political action; three people voiced interest in joining Solidarity.
Dallas Schools Living Wage Campaign
Looking back on the Day School, one of the most significant outcomes was the opportunity it provided to expand existing projects, including a collaboration with the American Federation of Teachers (AFT) and the North Texas DSA to fight for a living wage for support staff employed by the Dallas Independent School District. Following a hallway conversation between Andrew Kirk (DSA and AFT) and Shannon Carter (DFW Solidarity and the Greens), Shannon met with union staff and membership at the AFT Offices in Dallas in an attempt to complement their ongoing campaign with a community organizing tool designed to facilitate storytelling (Roadside Theatre's "Story Circle"), which she has used successfully in other contexts (with incarcerated women and seniors in Dallas and with social-justice oriented academics in Boulder, Colorado). For months, this fight has been a priority among North Texas DSA membership, with Andrew Kirk (DSA and AFT) and Zoe Holden (DFW Solidarity and DSA) taking lead. A key strategy has been to gather testimonials from cafeteria workers, custodians, and support staff to present at upcoming DISD Board meetings.
This has been difficult, for a variety of reasons–some logistical, some concerns among staff members about repercussions and need for anonymity, and other issues not at all uncommon in this kind of work. Together, we've forged a new path: Shannon will join an AFT field organizer to visit support staff at their schools, in collaboration with a bilingual DSA member who, coincidentally, spent several years on the DISD support staff himself. Time is short. DISD trustees will make their decision in June. Without the conversations and alliance building this event made possible, this next phase may have taken longer to begin.
A Fight for Paid Sick Leave
Additional joint actions include a fight for paid sick leave for all workers in Dallas, following the lead of Austin, which recently became the first city in the south to pass such an ordinance. To this end, DFW Solidarity hosted a public educational in Dallas on April 1, 2018, with Sarah Swallow (Fight for the $15, Work Strong Austin, Young Active Labor Leaders), a key organizer in the Austin campaign. Sarah spoke about her work in our state capital and how we might bring that fight to Dallas. AFL CIO-Dallas recently launched a similar campaign, as has the Workers Defense Project. DFW Solidarity have reached out to them to stand in solidarity and collective action.
Next Day School: June 30, 2018
We have reserved the Meadows Convention Center for our second Texas Day School on June 30, 2018. Organizers have high expectations for this next day school and are eager to share their experience with comrades who are planning similar events in their communities. Look for another report in these pages this July.
Shannon Carter is an English professor at Texas A&M University-Commerce and a member of Solidarity living in McKinney, Texas, where she organizes the People's Left Alliance of North Texas (PLANT) and serves as Co-Chair of the Collin County Green Party.