Joan Lichterman
September 18, 2018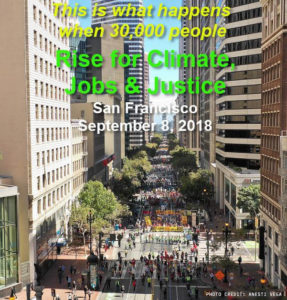 This September 8 more than 900 climate actions took place on seven continents and in 95 countries as people worldwide demanded climate action from their local leaders. As noted on the Rise for Climate website, "Rise is a global moment organized by hundreds of local leaders and dozens of partners. It's coordinated by a global steering group in conjunction with our global and national partners…. Every individual action is different, but most are organized by local groups who are leading the way for climate action in their communities."
In San Francisco more than 30,000 people marched from the foot of Market Street up to the Civic Center to Rise for Climate, Jobs + Justice.   A broad, multicultural coalition involving 301 local groups–spearheaded by the Peoples Climate Movement, 350.org, Sierra Club, SEIU, the California Environmental Justice Alliance (CEJA) and dozens more—began planning more than a year ago. Its goal was to "call on leaders and elected officials to invest in real solutions to the climate crisis that prioritize the most impacted and vulnerable of our communities, like a massive, just transition to a 100% clean and renewable energy economy that ensures safe and healthy communities, the right to organize for all workers, and millions of family-sustaining jobs."
I went to my first overall planning meeting in May 2018, two weeks after a "Real Climate Leadership Panel" in Oakland on May 14, 2018. This panel, in turn, built on educational events and actions in 2017 and earlier: annual New Moon Ceremonies by Indigenous Women of the Americas Defending Mother Earth Treaty; Idle No More SF Bay's annual Refinery Corridor Healing Walks; a Labor, Climate, and Jobs forum on April 8, 2017 at the IBEW local 595 Zero Net Energy Center (which provides electrical training for sustainable careers) in San Leandro; a march in April 2017; and various webinars, meetings, and protests organized by people in frontline communities and local supporters.
Maya Bhardwaj, national coordinator for It Takes Roots, set the tone for the planning when she stated that "Climate action cannot be top-down, market-based, or removed from frontline solutions. Our organized communities–Indigenous, Black, people of color, working class, immigrant, women, LGBTQ people, all those on the frontlines of climate change and economic exploitation–are those who should be leading the solutions we need. Any approach to tackling climate change must acknowledge this and recognize that this is one symptom of systems crisis, interlinked with militarization and violence globally as a product of capitalism, institutional racism and patriarchy."
Indigenous groups wanted their voices to be uplifted at the Rise march. Isabelle Zizi, an organizer for Idle No More SF Bay, said "Many of us have a deep understanding of the balance of life on Earth, and many intact traditional Indigenous communities continue to maintain the knowledge of how to live within the natural laws of our planet. We understand that the false solutions by elected officials are not in alignment with what is necessary for life to continue. As an Indigenous person growing up near a refinery, the impacts I have faced daily are alarming. Even more so because of the false solution of carbon trading, which allows refineries like Chevron in Richmond, CA to continue to harm my community and the climate."
Planning for the September 8 march identified topics and groups with which to work: logistics; arts; elders; digital and communications; statewide engagement;  frontline/indigenous mapping project; outreach/street team; labor; youth; faith; health; language liberation; women; and families. Overall planning meetings to inspire and check in with each other were held monthly or bimonthly; individual groups met monthly and more than once a month as September approached.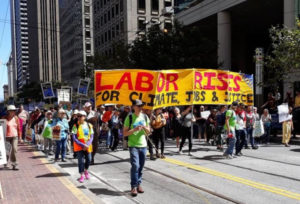 In all, more than 50 local unions and other labor organizations and three county labor councils endorsed the march, which drew an estimated 700 or more participants to the Labor Contingent. The labor group first met once a month and then once a week working to get union and county labor council endorsements, union member commitments to participate, and participation by music and street theater groups.
The Labor Contingent, led by the ILWU Local 10 Drill Team, included a fire engine honoring first responders. Driven by members of Firefighters Local 798, it also served as a speakers platform for a pre-march labor rally that included Lizzy Tapia from Local 2 HERE, and John Avalos from NUHW, with labor songs led by Susan Peña and Kathe Burick, AFT locals 1481 and 2121, chants led by SEIU and AFSME members, and a skit performed by members of La Colectiva de Mujeres. The Brass Liberation Orchestra provided the marching band.
The order of the march followed four themes, or story sections:
1 – We Rise for Survival
The front of the march was led by some of the groups most affected by the climate crisis, including Indigenous Peoples, environmental justice communities; communities affected by fires, droughts, and other climate disasters; a Pacific Islander Climate March Contingent; and migrants seeking justice.
2 – We Rise With People Power
People-powered campaigns that are focused on climate justice, including youth/students; Brown's Last Chance; women for climate justice; elders; labor for climate, jobs & justice; etc.
3 – We Rise for Democracy
Reflecting the broader progressive movement working towards justice, groups included faith communities/rising in prayer; parents, kids and families; Queers 4 Climate Justice; plant-powered planet protectors and other vegan groups; No Nukes! No Wars! No Warming!; Democratic Socialists of America groups; and more.
4 – We Rise For Our Future
Freedom songs/ecstatic dance healer responders; renewable energy / clean technology clean transportation; 350 local groups; electric vehicles; bikes.
Unlike any other marches I've ever attended, the only speeches were held by the labor contingent during a brief pre-march rally, mainly to keep people involved as groups organized. Prior to the march people had been participating in "art builds" for months to prepare signs and banners, and practicing in music groups, including the Choral Majority, Occupella and others.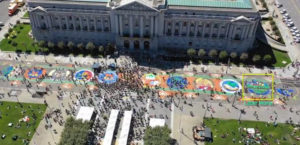 One highlight of the day was creation of what may have been the largest street mural ever painted, in the streets surrounding SF Civic Center in front of City Hall. Teams of artists had outlined the murals in advance, and painting was completed by volunteers from among the marchers as they arrived. One of the murals was created by the Labor Contingent.
The march felt inclusive, festive, serious and full of people being the change we want to see in the world.
Joan Lichterman is a retired member of University (of California) Professional and Technical Employees, UPTE-CWA 9119 and an environmental justice activist.