Malik Miah
Posted February 21, 2022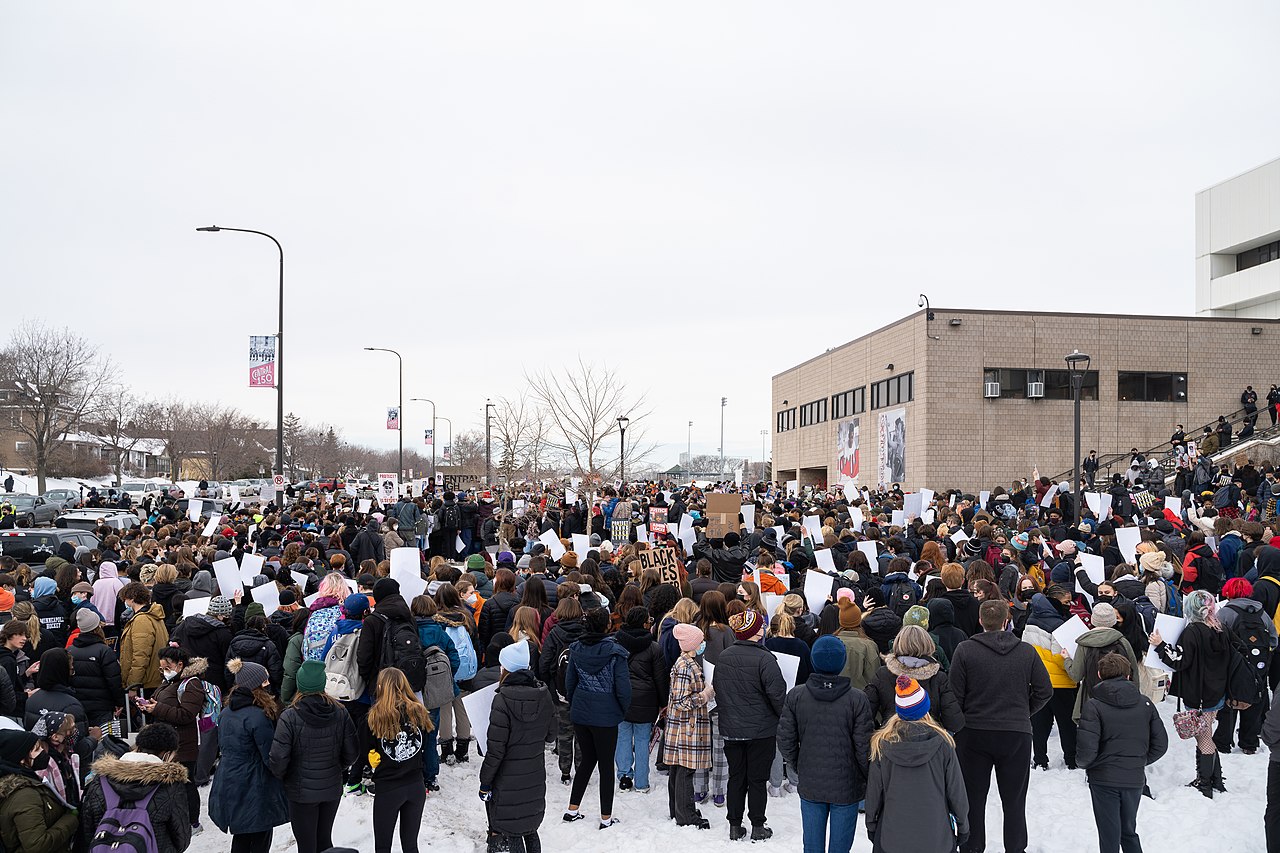 Once again, protesters gathered in Minneapolis demanding justice for a young Black man killed by the police. The victim was sleeping on a couch.
Amir Locke, the 22-year-old man, died on February 2 after being shot by SWAT officers during the execution of a "no-knock" warrant. Locke was not named in the warrant itself, nor was he a suspect in the case being investigated. Locke was in the apartment staying with a cousin who was not present.
Protesters marched in downtown Minneapolis, demanding the cop (now on paid leave) be fired and prosecuted for Locke's murder.
After the shooting, Minneapolis Mayor Jacob Frey put a pause on "no-knock" warrants in the city. After George Floyd was murdered, promises were made to reform the police.
Many Black Lives Matter activists call for defunding the police and shifting resources to help save Back lives. The mayor and other politicians, including President Joe Biden, oppose those demands.
A review of the shooting is underway by the Hennepin County attorney's office, with Minnesota attorney general Keith Ellison joining in. Ellison is African American and spearheaded the conviction of the cop Derek Chauvin, who killed Floyd in 2020. Chauvin was only arrested and charged after massive protests in all 50 states demanding justice.
This new cop shooting of a Black man is all happening as a trial is underway for three former Minneapolis police officers who watched and assisted Derek Chauvin as he knelt on Floyd's neck, causing his death.
Legal gun owner
Locke had a registered gun by his side. That gun became the justification for his murder within 10 seconds of the police entering the apartment just before 7 AM on a no-knock warrant.
The police in their initial report said that a male armed with a handgun pointed it in their direction. Their initial press release included photos of the gun the "male suspect" was allegedly pointing at the officers. Body-cam footage, however, shows some inconsistencies with these claims.
On February 4 the Hennepin County medical examiner released its official findings, ruling Locke's death a homicide, and the Minneapolis Police Department released body-cam footage from the shooting.
The short video released includes the first 10 or so seconds of the raid, ending abruptly after the shots are fired. The officer who shot Locke appears to be just out of frame, and the moments just before the shooting have been slowed down at multiple speeds.
The video also shows police entering the apartment, announcing their presence only when they have already entered. Once in the apartment, one cop kicks the couch where Locke was sleeping, prompting him to wake up, seemingly confused. Wrapped in a white blanket, you can see Locke holding a gun, though it does not appear to be pointed at any officers in the frame, nor does it seem that Locke even knew he was being surrounded by police.
Attorney Ben Crump released a statement on behalf of the Locke family relating the video to the death of sleeping Breonna Taylor in Louisville, Kentucky, in 2020. She was killed during a similar no-knock warrant. "Like the case of Breonna Taylor, the killing of Amir Locke shows a pattern of no-knock warrants having deadly consequences for Black Americans," Crump said to National Public Radio.
Parents demand prosecution
Amir Locke's parents also confirmed that he owned a legal firearm. Speaking with Don Lemon on CNN, Karen Wells, Locke's mother, said that her son "made sure that he did his research, everything was going to be legal." Wells also added that she worried about Locke owning a gun specifically because of what the police might do if they saw him with it.
Locke's father, Andre Locke, also spoke out saying, "It hurt me to see my son executed." Referencing the body-cam video, he added, "He never even got the chance to get the cover off his head. He was startled. He did what any reasonable law-abiding citizen would do. White or Black." He said that they had many family members who were in law enforcement, saying, "We're not against police officers. We just want accountability."
Minnesota governor Tim Walz issued a statement supporting a potential review of the "no knock" warrant policy. "To ensure the safety of both residents and law enforcement, we need to make additional changes to policies and practices regarding the execution of search warrants," Walz said.
Other government officials are calling for more permanent change. State Senator Omar Fateh told the Daily Beast at a protest that he hoped to end the no-knock practice once and for all across the state. "I'm hoping with this break-in and murder that we witnessed on camera, I hope we can at least ban no-knock warrants."
St. Louis African American Congresswoman Cori Bush called on the Senate to act on no-knock warrants, noting that in the two years between Taylor and Locke's deaths "the Senate didn't even bring the bill to ban no-knock warrants to a vote." She added, "The entire system is guilty."
Biden's pro-police response
The Biden administration has failed to protect Black victims of police violence. His administration defends the current police system, saying only that there are a few bad cops. He advocates a law-and-order agenda, while supporting modest changes. Biden publicly opposes reducing police budgets as a way to protect Black lives.
Biden recently joined the new Black mayor of New York City, Eric Adams, a 22-year veteran of the police force who retired as a captain. Biden came to the city after a police officer died in a domestic shootout.
Adam opposes liberal bail reform and supports prison incarceration, including use of long-term solitary confinement. He cynically told reporters, "Food is doing more of an injustice than mass incarceration, They are both bad, but the number of lives we are losing from bad food are X times the number lost to mass incarceration."
After his election, Adams doubled down on his campaign pledge to get tough on crime and has plans for a plainclothes anti-gun unit to come back and patrol the streets of the city, targeting gangs in communities of color.
Biden and his vice president, Kamala Harris, a former attorney general in California, supports Adams and politicians who oppose demands to defund the police force and other radical reforms to protect the African American community.
The Amir Locke protests shows that thousands are not waiting for Democrats, including Black elected officials, to bring fundamental change, so that Black men and women are not killed by the police.
Mass protest is the only power the Black community has to win allies and pressure governments and the institutions of the state to act.