Posted September 3, 2007
August 25, 2007, Newark, New Jersey
by César Rosado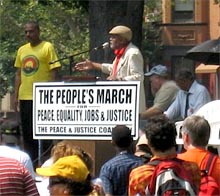 The sweltering, above 95-degree heat did not deter the about 1,000-1,500 people that congregated today at Lincoln Park, in Newark, New Jersey, for the "People's March for Peace, Equality, Jobs and Justice." The march commemorated the 44th anniversary of Martin Luther King, Jr.'s March on Washington for Jobs and Freedom, the 40th anniversary of the Newark Rebellion, and the second anniversary of Hurricane Katrina.
The main themes of the march could be clearly read in posters and banners carried by its scores of upbeat, racially and ethnically diverse group of marchers: "Bring the troops home now!," "People power!," "Billions for endless wars, pennies for human needs. Impeach them now!," "Support the troops. End the war," "They say cut back, we say fight back!," "What do we want? Justice! When do we want it? Now!", "Hey-hey, ho-ho, the racist system has got to go!," among many others. The clear message was therefore, that the U.S. pull out of Iraq and concentrate its resources at home, for "jobs and justice," linking the war "abroad" with the war "at home" against oppressed minorities –-principally African Americans—the working class and the poor.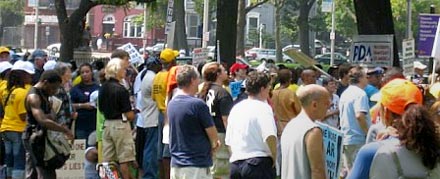 What made this anti-war march particularly powerful, in contrast to most big anti-war marches that have taken place in the heart of global cities such as New York, Sydney, London, Washington D.C. or San Francisco, was that the march was called by a coalition of more than 150 grass roots organizations, called the "Peace & Justice Coalition," where one particular organization, the People's Organization for Progress (POP), a predominantly African-American community-based organization of Newark, shouldered most of the mobilizing for the activity.
The city of Newark, as many other Northeast and Midwest, urban areas of the United States, has still been unable to properly rebuild and create jobs after manufacturing industry left the city more than 40 years ago to either offshore locations or the U.S., non-union South. POP's hundreds of organizers, members and sympathizers wore golden t-shirts which made them stand out as they walked with the rest of the marchers down the streets of the city, demanding attention to their social and economic needs. Hence, the march's organizers and audience were the people most affected by the war at home and abroad, both in terms of those most likely to be sent to war, and die fighting, and those most likely to be left further behind at home due to lack of public funds for job creation, educational opportunities, or social services –the working class, the poor, and oppressed minorities.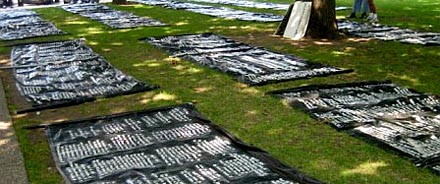 Present in the march were also members of other political and social organizations, such as the NAACP, the Green Party, the Socialist Party, Solidarity, New Jersey Peace Action, several labor organizations, among many other organizations.