Posted December 10, 2008
Here's some updates on the heroic and inspiring occupation of the Republic Window and Door factory in Chicago. This will be a rushed post because I need prepare for a radio appearance plugging a solidarity picket in Atlanta, in about one hour.
Stay up to date with news from the workers by texting the words "follow UEunion" to 40404. This seems to be mainly Chicago-specific, but it adds you to a twitter feed, where workers in the plant send out updates. The other best official news source is United Electrical Workers website, ueunion.org. I've found that the Facebook group In Solidarity with the Chicago workers of Republic Windows and Doors has also been a good news source, as well.
A reminder about which side the corporate media are on. Following on the first point, yesterday, the AP put out a story saying that it was over; Bank of America had caved. But the story only quoted Bank of America's side! The story ended with "A union spokesperson says meetings between the company, Bank of America and workers are still ongoing at the plant, and that people there were unaware of the bank's move." This (and the 'timely' arrest of Rod Blagojevich who had postured in support of the sit-in) are diversions to get the story out of the headlines in Chicago and elsewhere. The media is the mouthpiece of capital. Nothing is over until the workers vote to leave the factory.
Organizing a solidarity picket is easy. If you've never organized a demonstration of any kind, then you have that in common with 99.9% of people in this country. But don't worry! If you've organized anything (a party, a family reunion, an after-school study group) – those are very similar to organizing a demonstration. The workers in Chicago didn't accept Republic's attempt to close the plant and didn't wait for union go-ahead to occupy their factory. Most major cities have demonstrations planned. Wherever there is a Bank of America, people can and should organize a picket outside: call friends, coworkers, and political contacts; make signs; print out a leaflet to pass out and bring into the bank. In Atlanta, we had a small emergency picket Monday morning; there was no time for a press release but the bank sent out a security guard – so they did know we were there. There's a second rally planned for Thursday which is better prepared, if any of these ideas seem good to you, copy them:

Outreach: we put out a press release [see below under "resources"] and called to get radio spots on labor, Latino, and Black radio shows. We've been circulating an email announcement [below] widely over various local list-serves. We've done announcements at an event around proposition 8 last night, will be leafleting a Human Rights Day event tonight, and created a Facebook event.
Political message: Bank of America is one of the worst offenders of steering poor and Black homebuyers into sub-prime mortgages; Atlanta has been one of the hardest-hit cities outside of California, Nevada and Detroit. Connecting the layoffs in Chicago with local grievances is important. We'll have a bullhorn for chanting and soapboxing about Bank of America's profiteering around housing and their overdraft scams. There's a sign making party later tonight for people to make placards and banners.
Street theater: It's too short notice to do anything really creative, but we will have a giant letter to Bank of America CEO Ken Lewis, mounted on cardboard, for passers-by to sign; we'll deliver it to bank management at the end of the action. The Coalition of Immokalee workers has used this tactic a lot in their successful corporate campaigns around fast food giants.
Some resources to use:
Letter
Here's the letter we'll be using; I modified a letter used by UE in Charlotte, on Monday, to be more general so that others around the country can use it. (click for a pdf)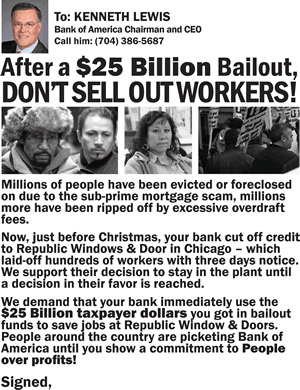 ---
Button
Here's a button that you can order in bulk from Solidarity – for now, email solidarity@igc.org with your request; there will be an order form on the front page later today.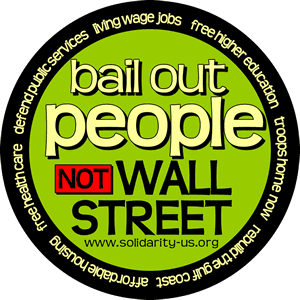 ---
Press Release
Atlanta Rally to Support Chicago Workers' Sit-in

Wednesday, December 10, 2008

FOR IMMEDIATE RELEASE

Contact: [your contact info here]
ATLANTA – Atlantans will rally at noon Thursday, Dec. 11 outside the Bank of America building, Marietta and Broad streets, in support of workers who have occupied the Republic Windows and Doors plant in Chicago.
About 250 workers began their sit-in last Friday, Dec. 5, the last scheduled day of the plant's operation, after plant owners failed to show up for a meeting with them. The workers, who are members of United Electrical Workers Local 1110, say the company failed to give 60-days notice of the plant closing or 60 days pay, as mandated by state law; had canceled their health insurance; and was refusing to give them earned vacation or severance pay.
The company says it was forced to close the plant after Bank of America refused to extend them any more credit. BoA has received billions of dollars of taxpayer money in the last 3 months in government bailouts, supposedly to ease the credit crisis of small businesses like Republic.
"Bankers get bailed out – Workers get sold out," read signs carried by the Chicago workers, who are overwhelmingly Latinos.
Sponsors of the Atlanta action include the International Action Center, Task Force for the Homeless, Solidarity, Georgia Peace and Justice Coalition/Atlanta, Jobs With Justice, Georgia Progressive Student Alliance and the Georgia Green Party.
Solidarity demonstrations with the Chicago workers are occurring in numerous cities this week, including Chicago, New York City, San Francisco, Los Angeles, Buffalo, Boston, Detroit, Cleveland, Baltimore, Charlotte, Greensboro, Raleigh and elsewhere. (www.bailoutpeople.org)
---
Email Announcement for activist lists
Friends:
The actions of the workers at Republic Windows and Doors in Chicago who have been occupying their factory since Friday are sparking intense interest across the country – everywhere that workers are losing their jobs or being evicted or foreclosed on, the take-over of the plant by the largely Latino workforce is a hot topic of conversation. Members of UE Local 1110, they have galvanized the labor movement and forced the issue of massive job losses into the mainstream media by their heroic resistance.
Solidarity demonstrations are occuring in numerous cities this week, including Chicago, NYC, San Francisco, Los Angeles, Buffalo, Boston, Detroit, Cleveland, Baltimore,Charlotte, Greensboro, Raleigh and elsewhere.

Here in Atlanta, there will be a protest outside the Bank of America building at Marietta and Broad on Thursday, Dec. 11 from 11:30-1pm.

As one of the financial institutions that has received billions of dollars in tax-payer money, supposedly to help ease the credit crisis of small businesses, BoA played a role in the closing of the Republic Windows and Doors factory by cancelling its line of credit.
The slogan carried on picket signs by the Chicago workers "Bankers Get Bailed Out: Workers Get Sold Out" could not be more true.
Come help the Republic workers win their battle to not only get their back wages and severance pay but to save their jobs and benefits.
Sponsored by the International Action Center and Solidarity.