Posted December 9, 2008
This afternoon, Troy Davis defense lawyers presented arguments to the 11th Circuit Court of Appeals – the latest stage in a dramatic tug-of-war between the state of Georgia and broad public opinion that asserts Troy's innocence. Three times in the past two years, Davis come within days, even hours of execution – only to have the state back down from the pressure of a massive movement.
Well over one hundred people lined up outside the court, where Troy's supporters had gathered in vigil the previous night, to witness oral arguments (some photos from the vigil are below. No photos from today because cameras aren't allowed in the court building. I can tell you the moulding on the courtroom ceiling has exactly 397 flowers, though… hey, gotta pass the time somehow…)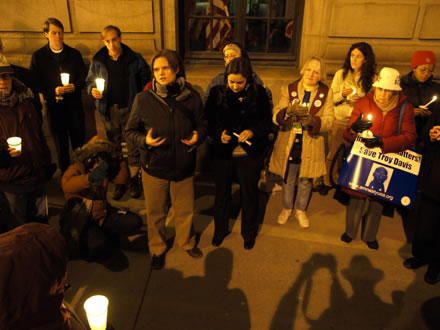 Laura Moye and Sarah Totonchi of Georgians for Alternatives to the Death Penalty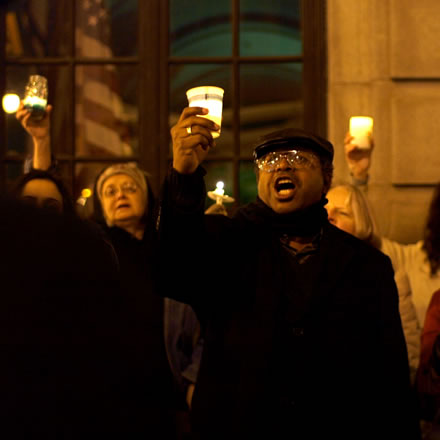 Rev. Tim McDonald sings "This Little Light of Mine"
There's no word yet on what the court's decision will say. But, things seemed hopeful for winning a new trial (the goal of the defense.) Spectators were treated to a great display of the mental and ethical gymnastics necessary to work with the United States legal system. The precedent claimed by the defense centers on the execution of an innocent person constituting "cruel and unusual punishment." Apparently, the process of lethal injection magically transforms into a just and humane punishment when the inmate in question is found guilty. Whatever. The immediate stage of the struggle is to win a new case where Troy Davis' innocence can be demonstrated; this will be an important step in the movement for abolition of the death penalty.
Outside, Troy's sister Martina Correia ably cut through the prosecution's bullshit in a press conference – their attorney had dismissed recanted testimony because it came from "people with parole violations." Yet their testimony is valid when it claims Troy is guilty? Dynamics of the Jim Crow-era South hang heavy over this case in a way that is hard to put down into words; you really had to hear the derision dripping from the prosecution arguments whenever they focused on the poor and Black.
I'll post an update when word comes from the Court.
Meanwhile, here's a letter from Georgians for Alternatives to the Death Penalty:
On behalf of the Board of GFADP, we write to express our gratitude to all the folks that came out in support of Troy Davis this week. We had a moving vigil on Monday night led by Rev. Tim MacDonald, Rev. Raphael Warnock, Rev. Canon Debra Shew, Brother Utsumi and Sister Denise from the Atlanta Nipponzan Nyohji Dojo. Between 75-100 people gathered outside the 11th Circuit Court of Appeals with candles to set positive intentions for Tuesday's arguments despite the chilly temperature. Creative Loafing's Joeff Davis posted some great pictures which can be viewed at: http://blogs.creativeloafing.com/freshloaf/2008/12/09/troy-davis-vigil/
On Tuesday, about 200 people created a long line to get into the oral arguments delivered by the Troy Davis' lawyers. As always, Troy's family members were pinnacles of strength and hope that continue to move and inspire us to keep struggling for justice for Troy. We are grateful for the hard work of Troy's legal team, led by Jay Ewart. The arguments ended on a positive note with Attorney Tom Dunne articulating the stories of each of the witnesses' recantation in a thorough and until now unprecedented way in this case. Today's hearing was an important step in progressing towards a full hearing on the new evidence that raises serious doubts about Troy Davis' guilt.
The judges did not make any decision today and there is no timeline in which they must. We will keep you posted about any further developments on the case as soon as we learn them.
Thanks again to all who came out and showed their support for Troy Davis and in opposition to the death penalty. You all inspire us.
With hope,
Sara and Laura for the Board of Georgians for Alternatives to the Death Penalty