Posted July 28, 2008
After reading an article in the NY Times and subsequent googling, I discovered a proliferation of local organizing efforts and blog campaigns to save some of the 600 stores Starbucks announced it is closing due to falling revenue.
How absurd?! The comedian Lewis Black has a brilliant routine where he puts forth that an undeniable sign of the end of the universe appeared to him in the form of two Starbucks DIRECTLY ACROSS THE STREET from one another. New Yorkers know the corner, St. Marks Place. He then joked that such a marketing strategy could only be geared to ("and I mean no harm by this" he says) a community of people with alzheimer's. It certainly does suggest a civilization off its rails.
The local Starbucks in my neighborhood, with it's pay-by-the-minute wifi service and $4 coffees, serves as a kind of ad hoc public (but all-too-private) house. There is a community of people who assume their tables every morning and work there for hours at their computers. I personally don't know how they stand it- the ambience of these places is awful, what with the stupid videos playing on the flatscreens and dreadfully hip narcotizing 'cafe' music (for sale too!). It'd be hard to imagine places with less personality. But this ersatz community office stays packed, as it probably provides more services and better hours than the perpetually-downsized-and-underfunded local public library.
The commodification of daily life knows no bounds. How many local cafes, old bookstores, and colorful meeting places – businesses too, but it's never the same – have been annihilated by the Starbucks/Borders/BarnesandNoble's empire? What happens socially and psychologically to such neighborhoods and communities? What's happening to our public libraries and other relatively non-commercial places of gathering and learning?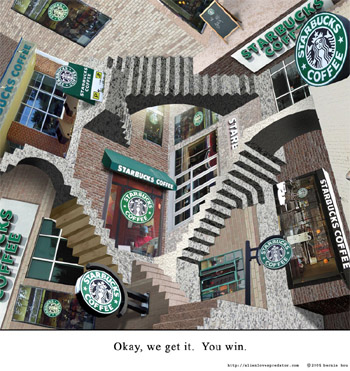 Now, the Times article quotes folks in Newark who are concerned that their Starbucks is really the only appealing place in the area, and raise the issue that a lot of the closings are happening in poorer, non-white neighborhoods. Anti-redlining campaigns are justified, but what kind of world is it where we are summoned to fight to preserve these awful entities? Where we – as in the "save YOUR Starbucks" slogan – actually identify with and take ownership of these beasts that eat away at us and our communities?
(Full Disclosure – While some appear addicted to the burnt grounds served by the Empire, I can't stand the shit. And everytime I relent and enter a Starbucks I have to stand behind 8 people ordering an array of coffee drinks like double non-fat mocha frappachinos that take forever, while all I want is simply cup of – undrinkably charred – coffee. If "my" Starbucks is saved, I at least want two lines – simply coffee and whatever else, dammit!)