Posted July 11, 2008
This is an article I wrote for a local Bronx freebie paper, the Norwood News.
Role of Private Equity Worries Tenant Advocates
by CHLOE TRIBICH
On Feb. 7, 2008, The Pinnacle Group, a real estate firm, added 10 Bronx buildings to their 420-building New York City portfolio. This was the most recent in a spate of Bronx property acquisitions by landlord groups backed by what tenants and organizers are calling "predatory equity."
In 2005, when Pinnacle first roused the ire of tenants for aggressive housing court tactics, landlords funded by unregulated capital were an anomaly. (The Norwood News was the first news organization to highlight Pinnacle's practices.) More common were the likes of Nicholas Haros and Frank Palazzolo, owners reviled for their determination to squeeze rental income from deteriorating buildings.
Pinnacle is backed by the Praedium Group, which is in turn controlled by the Caisse de depot et placement du Quebec, one of the top 10 real estate pension fund managers in the world. No longer the province of local landlords, rent regulated Bronx real estate has whetted the appetite of international finance.
Pinnacle has been joined in the northwest Bronx by Ocelot, backed by the Israeli-owned Eldan Tech Ltd.; SG2, backed by Blackrock, of which Merrill Lynch owns 50 percent; Urban American Management, created by the Ramius Capital Group; and Normandy Investment Partners, which is funded primarily by international investment and corporate and state pensions. These firms have purchased portfolios of properties from New York-based landlords such as Nicholas Haros, the Palazzolo Investment Group, Jacob Selechnik and the Bodak family. The University Neighborhood Housing Program estimates that over 14,000 apartment units in the Bronx are owned by private-equity-backed landlords.
The management style of these firms – including level of commitment to repairs and aggressiveness in housing court – varies. But they share the basic perspective that rents in regulated buildings can be increased significantly through "value enhancement" and "aggressive management" – catchphrases that reflect a strategy of capitalizing on vacancies to increase rents and carrying out Major Capital Improvements.
From the landlords' perspective, gentrifying neighborhoods, where regulated rents are far below market, are the most fertile grounds for this strategy. In Urban American's Sunnyside, Queens properties, for example, new renters are paying upwards of $1600 for two bedrooms, most of which underwent improvements or repairs during vacancy. Some apartments have even surpassed the $2000 rent deregulation mark.
Gentrification on Kingsbridge?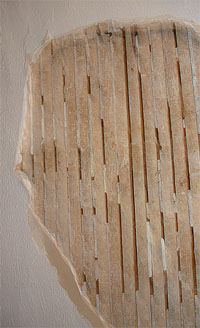 But gentrification feels a long way off from 131 W. Kingsbridge Rd. According to city public records, this building was purchased by SG2 for just over $100,000 per apartment in February 2007. There are 384 violations in this 31 unit building, 239 of them documented since May 2007.
Gladys Cardona has lived at 131 W. Kingsbridge Rd. for 10 years. When her bathroom ceiling fell, exposing wooden slats and pipes from the apartment above, SG2 didn't respond to her phone calls. Only when HPD threatened to deploy its emergency repair unit did the landlord order the ceiling patched, she said.
"I'm tired of this," said Gladys, who is 60 and still battles vermin infestation and lack of hot water. "But the costs of moving are very high."
Miguel Jimenez, Gladys' neighbor, shares her concerns. He says he called SG2's Walton Avenue office four times last month about the hole in his bedroom ceiling and didn't receive a call back. Finally he visited the office in person and secured a commitment from manager Evelyn DeJesus to address the problem. Jimenez never heard from her again and DeJesus did not return two voicemail messages or an e-mail from the Norwood News.
Jimenez's rent is $922, but Section 8 pays the majority. Like Cardona, he would like to move, but cites fees for credit checks, moving costs and security deposits as expenses he can't afford. For now, the two are staying where they are, hoping that organizing assistance from the Northwest Bronx Community and Clergy Coalition will help to force repairs.
Cardona and Jimenez are not alone. Their neighborhood, Kingsbridge Heights, is one of the poorest neighborhoods in the poorest borough in the City. According to the Furman Center, 59 percent of households in this community district make less than $35,752 a year; 31 percent make less than $16,556. Though rents here are low by city standards, the median proportion of income tenants pay for rent – stands at 37.8 percent. Thirty percent is considered acceptable by HUD.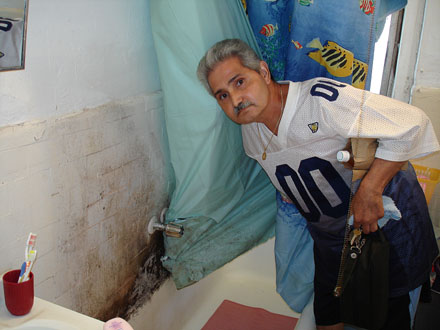 Further east, at the SG2-owned 750-760 Pelham Parkway South, tenant association president Ray Ruiz lists broken front door locks, malfunctioning boilers and rent overcharges as persistent problems. This building has nearly 140 units and 768 housing maintenance code violations, 687 documented in the past year alone. "We thought Michael Goldberg [the previous landlord] was bad, but at least they answered the phone," says Ruiz, who has lived in his apartment since 1997. "SG2 people just have voicemail that they never check."
Some improvements
In some SG2 buildings, however, tenants have seen improvement. Charles Long, a fire safety inspector and 10-year resident of 1212 Grand Concourse, joined with members of Community Action for Safer Apartments (CASA) to meet with SG2 manager John Sutherland. Long was mostly pleased – management responded quickly to concerns about inadequate outdoor lighting and elevator breakage.
"In some ways SG2 is a saint compared to the previous landlord [Jacob Selechnik]," said Long. "But they're in business, and they wouldn't be curing these violations if they didn't expect to get their capital improvement increases."
Long counts on continued maintenance improvements and hopes that noise pollution and late-night partying will come under control as well. But he is ambivalent about what these changes will mean for the poorest tenants – those on public assistance and Section 8 – who he is certain will be pushed out. "I have never seen such an army of workers sent to renovate vacant apartments," Long says.. He has not met any new tenants yet, but believes they will pay significantly more.
These observations have not escaped community groups and local leaders. Fernando Tirado, district manager for Community Board 7, held a meeting with SG2 managers in February 2008. "We wanted to meet with them because we were concerned about the number of properties they had purchased – 23 in our Community Board alone and 75 in the whole Bronx– but we got a good response. They assured us that they were not there to push people out, that they were there to improve the properties and that this was an investment that they cared about." Tirado reports that they have not heard complaints from tenants of SG2 buildings in recent months.
In 2005, the University Neighborhood Housing Program noted that purchase prices of Bronx buildings were increasing disproportionate to rental income, sometimes to as much as $67,000 per unit. UNHP worried that landlords' inability to make mortgage payments on overleveraged properties would lead to another wave of disinvestment and property deterioration.
According to City records, in 2007, SG2 paid $6,632,467 for 1212 Grand Concourse — $108,729 per apartment. There is little in the data, it seems, to justify SG2's enthusiasm. According to the Rent Guidelines Board, Bronx landlords' net operating income increased only 3% from 1990 to 2006, far less than the other boroughs.
And unlike poor renters in Washington Heights or Sunnyside, Bronx tenants live far from Starbucks and other markers of middle class desirability. It is unclear where – if tenants like Cardona and Jimenez were to leave — their higher-paying successors would come from.
"The prices being paid for Bronx apartment buildings are out of step with the buildings' actual profitability," said Greg Jost of UNHP. "Landlords' expenses are increasing faster than rent income, but these sales seem to assume that either the building can be flipped for a higher amount, or that rents can be driven way up, or both. But residents' incomes here are among the lowest in the city and I don't see any higher income folks moving to our area."

Chloe Tribich is a free-lance writer who also works for Housing Here and Now, a Brooklyn-based tenant advocacy organization.