Posted January 24, 2008
Monday evening I called to chat with my friend, "Alice", who works at a university hospital, and asked how she celebrated the holiday:
Alice: "uh, by working."
Kate G: "Working? Seriously? They don't give you the day off?"
Alice: "Well, yeah. I could have taken it off, but it would just come out of my 'paid time off'. I only get twelve days, and I'm pretty much out. I thought about calling in sick, but that would have just been PTO, too. But I did think about calling in. Does that count?"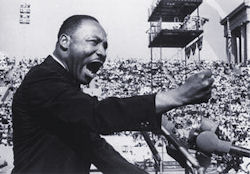 I don't think Alice is the only one. I went out to a club Sunday night, expecting a "second Saturday" full of dancing, flirting, drinking and fun on the part of folks happy to have an extra day to devote to the business of being human. Instead, I found an empty dance floor and a playlist that sounded just as tired-out as all the people who stayed away in deference to their work schedules.
Its a shame. The fight to get MLK day as a national holiday, led by labor unions, was a long one, only fully realized in all 50 states in 2000. Since then, my anecdotal evidence suggests that bosses have been increasingly free to decide that it isn't so important after all. To me, its the opposite of what MLK's legacy is all about. I, for one, was hoping for a different kind of rememberance.
Maybe it's because we're so worn down by working that MLK day reflections this year weren't all they could have been. Maybe that explains how our politicians and can get away with "honoring" Dr. King by deemphasizing his legacy and importance of the freedom struggle in the the south.
Maybe its why liberals and conservatives, newspapers, schools and churches are free to remember King as an advocate for a "color-blindness" divorced from the realities of racism, oppression and murderous U.S. foreign policy that continue to plague us.
Whatever the reason, it really is a shame. King died standing up for Black workers' (and all workers') rights to dignity and respect– for the basic human right not to be worked literally to death.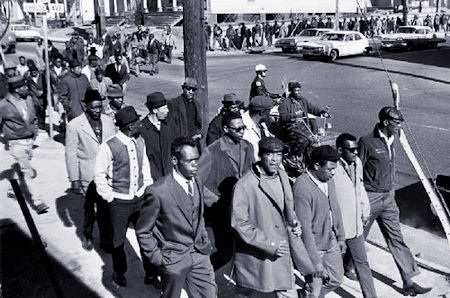 MLK died wanting to be remembered as a fighter for racial justice, for our rights to have our basic needs for food, housing and shelter met, for the right to access to our own humanity, and as an opponent of senseless death and destruction on a global scale.
Dr. King put it this way:
"If any of you are around when I have to meet my day," King told the congregation of Atlanta's Ebenezer Baptist Church on February 4, 1968, two months before his assassination, "I don't want a long funeral. And if you get somebody to deliver the eulogy, tell them not to talk too long. Tell them not to mention that I have a Nobel Peace Prize — that isn't important. Tell them not to mention that I have three or four hundred other awards — that's not important. Tell them not to mention where I went to school. I'd like somebody to mention that day that Martin Luther King Jr. tried to give his life serving others. I'd like for somebody to say that day that Martin Luther King Jr. tried to love somebody. I want you to say that day that I tried to be right on the war question. I want you to be able to say that I did try to feed the hungry. I want you to be able to say that I did try in my life to clothe those who were naked."
Thankfully, before I went to sleep, I ran across a few who've managed to honor King the way he would have wanted, and my real purpose here was to share them with you. The quote above was borrowed from Alas a blog.
More thoughts on King's radical legacy: