Posted January 2, 2008
Liberation movements in the United States lost a brave and vibrant participant in the death of Bob Kohler, a leading figure of the American Gay Liberation Movement.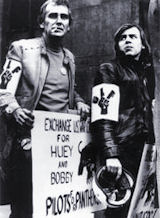 Bob Kohler, 1926-2007
Bob lived dozens of lives in his 81 years on the planet. Although Bob was best known as an early leader of the Gay Liberation Front he was also a talent representative for mostly Black artists in the early 1960's, a vintage clothing store owner, World War II veteran, a talented and empathetic listener, bath house proprietor, peoples' historian, Stonewall uprising participant, and a link between the gay struggle and other liberation struggles.
Much like the late New York activist and fellow Irish-American George Harrison, Kohler was a figure whose work touched on a wide range of social movements. His movement work stretched from CORE in the early 1960's to ACT-UP in the 1980's and 1990's. Perhaps more than anything he want gay people who wanted freedom to link their struggle with all other people who want freedom. Beyond his extensive involvement with CORE and later the Black Panthers, Bob championed the struggles of New York's Puerto Rican community, fought for immigrant rights, animal rights, and was last arrested at a demonstration against the police murder of African immigrant Amadou Diallo in 1999.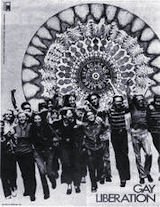 GLF Poster
He was the first to build a bridge between the GLF and the Black Panthers, and he also led a demonstration against sexism inside a Panther meeting. He was determined to both challenge the left and radicalize it. The GLF pushed the issue with the left by refusing to be sidelined in the movement. In the late 1960's Bob organized pickets against the Village Voice and won his demand for the right to use the word 'gay' in an advertisement.
An oral history from the early 1990's speaks vividly to the era:

"Basically, we went where angels feared to tread… We organized marches and participated in other people's marches. We had fistfights with the Communist Party at a demonstration once because they said that we were embarrassing them by being there." (1)
One of Bob's many lives was as an oral historian of the gay community in New York. He was connected to the street kids; he listened to them and understood them, just as he connected with activists and all types of social outsiders. He stood with his feet stretching across multiple generations of gay New York, and was an important community elder.
In the same oral history, Bob explains why dance parties were nessesarry fund raisers in the early days of the gay liberation movement:

"We would sometimes make as much as a thousand dollars, which was big money in 1970. Usually the money during the dance was kept in Sylvia's panty hose or in my back pocket. We used the money as bail. We'd get a call that two Black Panthers had been arrested. One of us would take the money, go down, and bail them out. Or women were striking at the telephone company and one was arrested and beaten up. Or someone wanted to start a youth organization. We'd throw a dance and give them the proceeds. What little money we had we'd keep under my bathtub because we were afraid of banks". (2)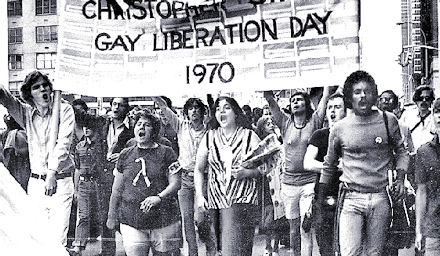 Fighters for human liberation everywhere morn his passing, although no one could accuse him of leading a short or unproductive life.
Bob Kohler, Presente!
(1) and (2) from Over the Rainbow: Lesbian and Gay Politics in America Since Stonewall Boxtree, London 1993