Posted December 11, 2007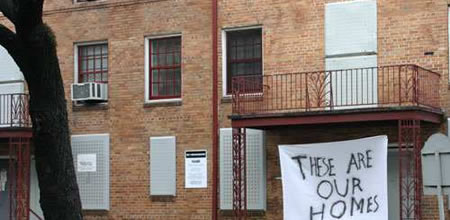 Image from New Orleans IndyMedia
Saturday December 15 will begin the official demolition process of some 4600 public housing units. Hundreds of activists- many from around the country-will be awaiting the crews that arrive for demolition preparations.
Less than a mile away from two of the housing developments, dozens of red tents blanket the green space of City Hall's Duncan Plaza, providing refuge for hundreds of the city's 12,000 or more homeless residents. The homeless population has more than doubled since Hurricane Katrina. Many of those who sleep on the city's streets, underpasses, in cars, and in parks had homes before the hurricane, while rents have more than doubled in the last 2 ½ years.
Meanwhile, thousands of former homeowners and their families are combing through want ads for housing from the cramped space of FEMA trailers, from which they will be evicted en mass in coming weeks.
Only a few days before Christmas, New Orleans is facing a housing crisis of epic proportions. The dire state of housing in New Orleans is owes much to decades of brutal economic and social policies which have played out in cities across the US. However, the particular intensity of the New Orleans crisis is the result of free market policies run amok: privatization, a lack of adequate transitional housing, and a failure to regulate rental costs in a city where 80% of the housing stock was damaged.

Over 100 activists pack city planning meeting
There is resistance. On Monday December 10, over 100 activists packed a city planning meeting to ask for a stay of city issued demolition permits for three of the four housing developments. This comes on the heels of rising militancy among housing activists. On Thursday December 6, dozens of public housing residents and their supporters disrupted a New Orleans City Council meeting, leading to the arrest of prominent human rights lawyer Bill Quigley. On Sunday December 9, 150 people marched on the home of Mayor Nagin to protest his lack of compassion, awarding him a lump of coal.
Civil disobedience training is being held for the activists arriving from out of town, but more importantly, local organizers are putting together coalitions that include influential public housing residents. How many residents will ultimately become involved in this struggle is hard to say, as many are still displaced. A serious concern among long-term organizers is a substitution-ism where mostly white youth with little connection to the city are arriving in droves, while residents have not yet shown up in similar numbers.

Long Decline and 2 ½ Years of Crisis
This is but the latest battle in a long fight against the destruction of public housing in New Orleans. Policymakers at the city and federal level (HANO and HUD) have been moving to destroy public housing as we know it for some time. These entities used the storm as an excuse to shutter public housing and put up large chain link fences and metal plates over doors, preventing residents from returning.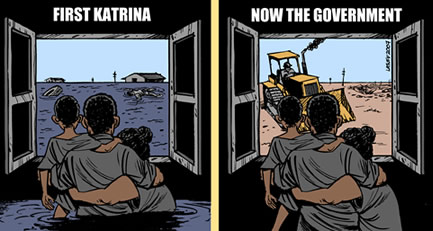 In June of 2006, HUD Secretary Alphonso Jackson first announced that the four developments would be torn down and replaced with "mixed-use" redevelopments. Since Katrina, a fledgling movement to re-open public housing succeeded in mobilizing dozens of public housing residents and hundreds of supporters on Martin Luther King day, January 15, 2007 to tear down a fence surrounding the St. Bernard housing development and a cleaning and symbolic moving in of residents. This lead to a ten-day occupation of a building in the complex by out-of-town white activists starting that day. A number of lawsuits have been filed since then, however to date the best these lawsuits have done is force HANO to open a limited number of units in certain projects slated for demolition and to spare less than 20% of the units in those four developments.
While many in the city see the need for public housing to be reopened as a temporary measure it does not enjoy enough broad public support. Public housing is still seen by many, white and black, as a haven for criminals and an unfortunate concentration of New Orleans' poorest. Negative stereotypes about public housing residents are common, many unfounded— such as the myth that most residents of public housing are unemployed drug dealers. In reality, of course, most are families headed by employed single mothers who earn poverty wages.
For updates, visit Justice for New Orleans, Defend New Orleans Public Housing, and New Orleans Indymedia