Malik Miah
Posted August 18, 2022
Solidarity joins the many civil liberties, progressive and anti-racist voices expressing outrage over the July 29, 2022 raid on the African Peoples Socialist Party. It is astonishing that this brutal invasion and theft of APSP's property and organizational records has been practically blacked out in corporate media coverage, including mainstream and liberal news outlets. Along with others, we demand the immediate return of what was seized from the APSP, its supporters, and cancellation of any pending frameup charges. We are posting this article by Malik Miah on the background of the situation and the menace it represents to all.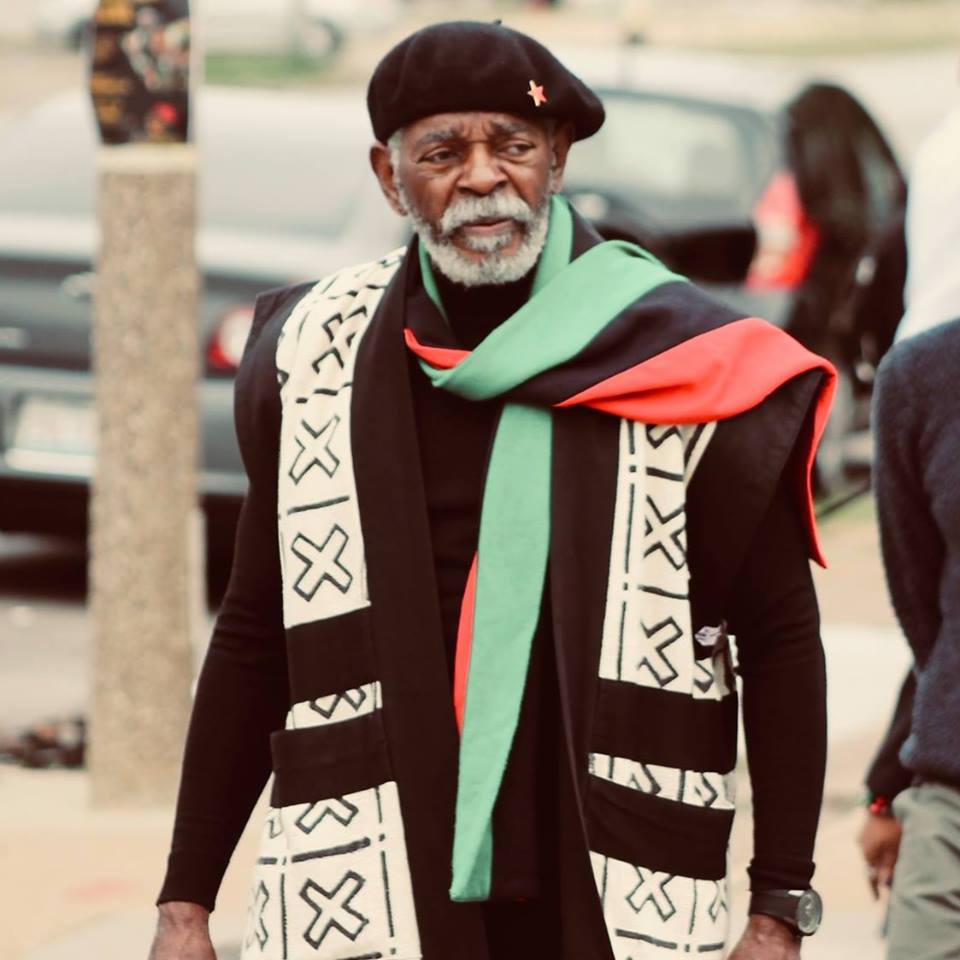 Outrage Over FBI Raid on APSP
On July 29, African People's Socialist Party leaders' homes and offices were raided by the FBI in St. Louis, Missouri and St. Petersburg, Florida. In contrast to the FBI's action at Donald Trump's Mar-a-Logo estate, conducted politely without violence or threats, the intruders used flash-bang grenades and drones in the early morning assault on the APSP.
Founded in 1972, the Pan-Africanist socialist group is a longtime advocate for reparations for slavery and a vocal critic of U.S. foreign policy.
The formal accusation is that the APSP supposedly is connected to a Russian, Aleksandr Victtorovich Ionov, who's accused of using U.S.-based groups to spread Russian propaganda and tampering with U.S. elections. Ionov lives in Moscow.
The APSP as well as several other unidentified political groups remain unindicted at this point. They are reportedly accused of having functioned as "co-conspirators" with Ionov and Russian intelligence in order to undermine the authority of the United States, sow division within the broader population, and "interfere" in U.S. elections.
The APSP's only activities noted in the formal indictment consist of holding rallies in various cities opposing the "Genocide of African People in the United States" and making public statements denouncing US-NATO involvement in the war in Ukraine, while expressing political sympathy for Russia.
The formal accusation is more than an attack on the APSP. It is against the constitutional First Amendment right of freedom of speech used by all opponents of the U.S. ruling class.
APSP does criticize and denounce racist policies. It promotes Black community empowerment. It is a vocal critic of U.S. policy toward Africa and other countries.
Mainstream media have said little about this attack by the government on a Black rights group. Most liberal groups have also been quiet about the raid, because it was done by the Biden Administration's Justice Department.
Founder Describes Terror
Omali Yeshitela, 80 years old and Chairman of the APSP, spoke to Amy Goodman of Democracy Now! on August 10. He explains in unusual detail what happened at his home and APSP properties. One can only imagine the response if any of this had happened at Trump's estate.
Here are some excerpts:
My wife and I were awake. We were sitting at the dining room table discussing how we were going to be moving for the day. She is responsible for, has organized a doula program to train African women, young women, in becoming doulas. This is in a city where in the first year of life, enough Black babies die to fill 15 kindergarten classes every year.

And then we heard this loud racket outside, this noise from loudspeakers demanding that the residents of this property should come out with our hands up and nothing in our hands. And as this was being said, loud flash-bang grenades were exploding all around the house and, I was later to learn, in the back stairwell of the house. So, I asked her to allow me to leave first, and to get on the phone to call people to let them know that we were being raided. And she tried but was unable to do it because they had jammed our phones.

So I went down the stairwell, and when I got to the bottom of the stairwell, these laser dots from automatic weapons were bouncing off my chest. And I heard these commands to move toward them, toward the light. There was a large armored vehicle in front of my house. There were camouflage-clad troopers, FBI agents, and I don't know who else, with flak jackets and automatic weapons.

My wife followed me down. And on her way down, a drone went past her head going up the stairwell into the house. So, I went outside and was zip-tied at the side of the house. There were — I don't know how many FBI agents there were, but there were a lot of them and a lot of different vehicles. And my wife came downstairs. She was handcuffed behind her back.

And I'm asking them "Why? What's going on?" They said that they had a search warrant for my house. And I asked them to see the search warrant. And they conveniently didn't have it on them, but it was somewhere in the vicinity, and they'd get it. We were told to sit on the curb, which we didn't comply with. And they said, "Well, you can sit in the backseat of the car." And we were saying, "I don't (want) to sit anywhere. I want to leave. I don't even want you here. I don't want to be here with you."

I said again, "Why are you here? Why are you attacking this house?" They took my cell phone. They said that they were there because later that morning there was going to be an indictment out of Tampa, Florida, against a Russian national, and should he ever come to the United States, he would be arrested, that somehow my name was involved in this indictment. And so, that was the basis they gave for the arrest.

I didn't know it at that time, but across town one of our offices was being attacked. This was an office of the African People's Solidarity Committee. And they used battering rams to go into that house, into that center. And upstairs there were two residents — these were white people — who were also handcuffed at gunpoint.

They had already knocked out the windows in the house, in my house. They had knocked some doors loose from the hinges. They had come to the back stairwell, as I mentioned. They used flash-bang grenades in the rear of my house, plaster all over everything.

And in St. Petersburg, Florida, 27 days after they had done what appears to us now to have been a test run with — on July 2nd, with someone pulling into the parking lot in broad daylight and from his trunk, car trunk, pulling a military-grade flamethrower to torch the 15-by-25-foot red, black and green flag that was on this 50-foot flagpole.

FBI, Homeland Security, local police came out. They refused to charge the guy with anything except some kind of misdemeanor mischief. They refused to characterize it as arson. And so, it's upon trying to understand that initially, it clearly suggested to us that it was not just some casual guy who just happened to have a flamethrower in his trunk, who didn't like us, who did this, but that the state was somehow involved."
The Double Standard
This treatment of Black nationalists, socialists and activists stands in sharp contrast to how white nationalist/supremacist are politely managed.
On August 8 the FBI with a warrant in hand entered Trump's Florida estate. No flash bang explosives, handcuffs or zip-ties, or physical threats were issued. Trump was not at home — he was at his New York City property (to give a deposition in the investigation of Trump Organization finances) — but he watched the search on a closed-circuit security camera.
Trump attacked the FBI and claimed along with Republican officials that it was the type of action used by "Nazi Gestapo" or "Third World dictators." He later claimed the FBI planted evidence against him. Then he demanded that they return it!
Trump refused to make public the warrant, which the Justice Department then released. The FBI by law had to give him or his lawyer receipts for everything it took. He lied about that and raised millions from his supporters.
Long History of Black Leaders Attacked
For decades African Americans have suffered at the hands from the FBI and other police agencies. Black people are often shot and killed for little reason. Investigations and warrantless raids by the FBI and cops have always been violent.
Pan Africanist and nationalist leader Marcus Garvey in the 1920s was harassed and finally deported. In the 1960s the FBI program was called COINTELPRO (1956-1971) where Black leaders of civil rights and Black militant groups were followed, harassed, and murdered.
Malcolm X was targeted by the FBI and assassinated in 1965. The civil rights leader Martin Luther King, Jr. was also assassinated in 1968 while supporting striking Black sanitation workers in Memphis, Tennessee. The government's role in both cases remains secret.
The radical Black Panther Party was infiltrated by the FBI and agent provocateurs. One of its most prominent local leaders in Chicago, Fred Hampton, was murdered while sleeping. Breonna Taylor in 2020 died when Louisville police, with a fraudulently obtained warrant for someone else, kicked in her door and shot her while still sleeping in her own bed.
The APSP sees itself as following these earlier Black leaders and organizers, and today's victims of police violence. It has received broad solidarity from the Black media, Black left and other organizations who don't necessarily agree with its ideology or programs.
The government, FBI and police always first attack Black leaders and groups, before hitting the rest of liberal and progressive groups. All of us must stand up for justice for the APSP.