Marian Swerdlow
Posted April 10, 2020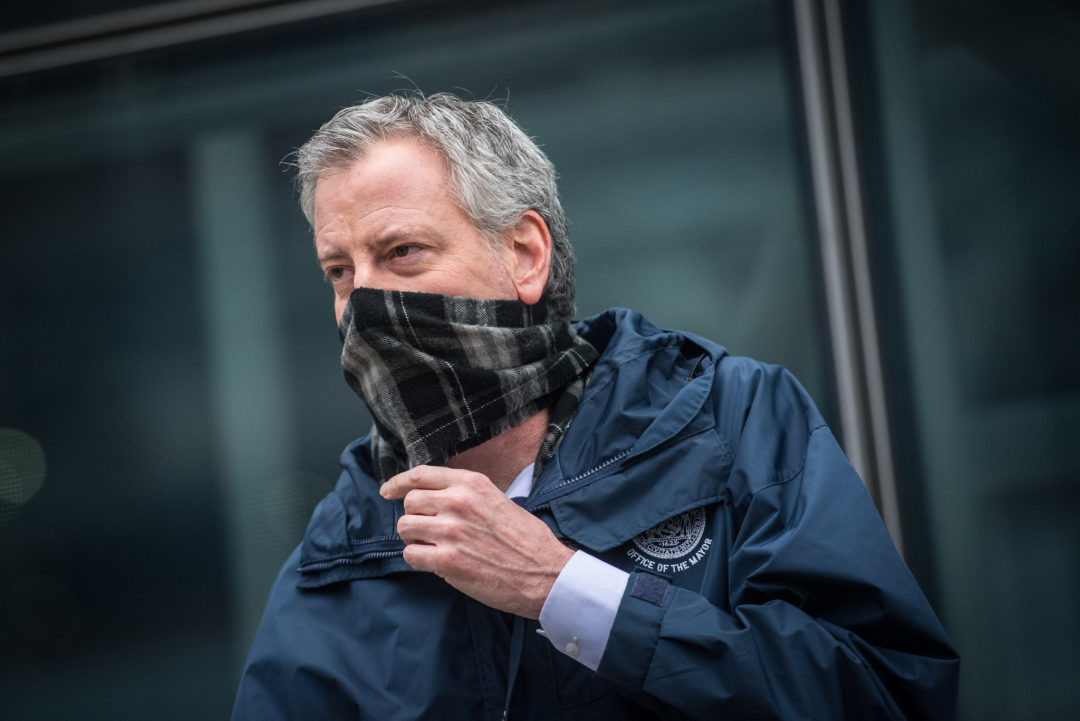 By March 8, it was obvious there was widespread community transmission throughout New York City. Teachers on social media and local elected officials were calling for the schools to be closed, but Mayor de Blasio refused to close the schools, saying not a single student had shown symptoms. Some teachers began calling in sick.
Momentum for closure grew over the weekend of March 14-15: plans for an organized sick out on Monday and/or Wednesday were taking shape on social media, active United Federation of Teachers (UFT) members received an email from their President, Michael Mulgrew, saying he had urged the Mayor to close schools, asking them to call or tweet at the Mayor. On Sunday, March 15, the Movement of Rank and File Educators (MORE), a UFT members' organization, held a video conference call to organize a sick out. 430 people participated. That evening, Governor Cuomo ordered NYC schools to close.
More than one million students attend New York City public schools K to 12, in somewhere between 1,500 and two thousand schools. The UFT has been led by the highly bureaucratized Unity Caucus for the 50 years of its existence, and Mulgrew has been its president for over a decade.
Besides teachers, the UFT represents paraprofessionals, secretaries, counselors and a handful of other titles, a total of more than 100,000 members in the Department of Education (DOE). Aides and food workers are represented by a local of AFSCME DC 37, safety officers by an IBT local, and maintenance workers by at least two other unions.
The governor's announcement was followed by some confusion, but it was finally decided that students would stop attending school immediately, but staff would report Tuesday, Wednesday and Thursday, ostensibly so teachers could be trained in remote learning and set up their virtual classrooms. Principals, given little guidance, followed their instincts, and some of them were very bad. Finding themselves on "unchartered territory" unaddressed by the contract, they came down hard on teachers.
In at least one high school, the principal forced teachers to set up their virtual classrooms in one rigid format, and give both the teacher's Assistant Principal (AP) and the Principal the ability to watch all teachers' every interaction with students, and even the power to change them, without the teacher's knowledge. All parental contact had either to be electronically shared with, or sent in a log to, the AP.
One teacher even heard that the Superintendent would make the tenure decision for teachers eligible for it based on his (unseen) observation of their remote teaching. Procedures were set up to hold teachers accountable for their students "signing up" for their virtual classes, even though most of the school's students are low income, very likely to lack home devices and/or Internet access.
Many other administrators demoralized their staffs, imposing duplicative procedures for reporting both teacher and student attendance, or trying to create regular bell schedules, despite an agreement between the UFT and the CSA, the bosses' bargaining association, that those are inappropriate for remote learning. Some administrators required the video recording of all student conferences, sending teachers reminders they see exactly when each teacher "enters" a "classroom."
Instruction in these new ways of teaching was haphazard, disorganized and frustrating, as one Math Teacher described: "First we were told to learn Google Classroom and Zoom. Many of us had never used these before. Then, after we became accustomed to Zoom, DOE said we were no longer allowed to use it."
In the same vein, a Special Ed Teacher wrote, "I think we've all done an amazing job with what we've had. But the lack of practical, useful, workable, guidance from the top has been infuriating." Another teacher reports: "Google Classroom is overrated. Some images and/or text worksheets transfer well while others do not."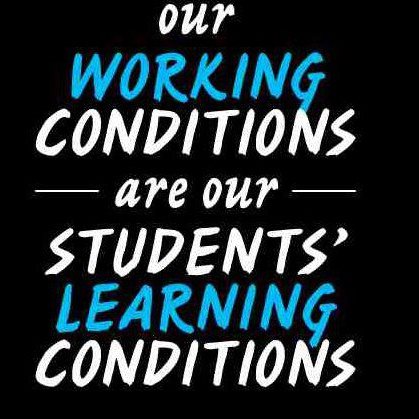 A major problem is that as many as one-third of all NYC public school students have no access to devices or Internet. From a Social Studies Teacher: "Students are supposed to be receiving tech/iPads/Chromebooks the first week. This means that some students are already a full week behind or more."
A Science Teacher says, "I have no idea what students have or don't have a tablet/laptop or Internet access to do work." From an English as a New Language (ENL) Teacher: "A large group of students don't have laptops, wifi, have to share laptops with their siblings and even have to learn how to use the computer because the only device they ever used was their phone. So our teachers are doing a tremendous job contacting the parents, students to help them apply for the device DOE promised to deliver to them, probably by the end of the quarantine and walking them through the steps how to sign up for Google Classroom, etc."
A similar problem from another teacher: "Students are not all computer literate." Another teacher agreed, "Some students do not know how to use these platforms for online learning."
In what may be a related problem, many students have just checked out. An English Teacher reports their students show a "complete disregard for assignments." A Science Teacher deplores that "it is impossible to get 100% participation. I have kids who sign on and do no work." Another Science Teacher worries that "I have students that have not completed any work."
Distance learning is less efficient or effective. It leads to additional student questions and problems that are harder for teachers to address than in the classroom: A teacher reports he receives "endless technical and assignment-related questions that could be answered with a simple Google search."
A Math Teacher says, "What can be accomplished in a real classroom in five minutes may need 15 minutes plus another 15 minutes preparing."
A Special Ed Teacher said, "I spent an hour outside of the typical live availability that I offer each of my classes, walking a student through what would otherwise be a 5 minute task. This wasn't even an instructional task…"
A Math Teacher concurred: "Now we need to call more students and spend more time to prepare for lessons. It is more time consuming and more demented."
A Special Ed Teacher reported "I got 43 emails in 2 hours while I was doing 'live' availability for students."
The work day has gotten longer. Teachers are on call 24/7. An English Teacher reports, "a barrage of work coming in at all the times of the day and night. I'm essentially working a 12-hour day with very few resources and support."
A Biology Teacher says "I have kids sending me work at night and on weekends." Another teacher reports, "Many of my students complete work as late as 3 or 4 a.m., and when I try to get in touch with them during my hours, 8 to 3 p.m., I cannot."
Many teachers are doing two full-time jobs: parenting and teaching. One says, "I am working at home as a teacher and at the same time I need to take care of my three boys, whose school is also closed. I am exhausted at the end of every day."
Another teacher said, "In the midst of preparing lessons for my students, I find my own children sometimes crying because their world has turned upside down." Wrote one, "The continual shifting focus and switching 'hats' between teacher, counselor, tech support, and parent has been mentally so exhausting and mentally straining that I have sought mental health services."
The bosses mostly make things worse. A Science Teacher wrote, "The administration is coming down on the Assistant Principals, complaining that we teachers are not doing enough. No one knows, and no one is guiding us, as to how much work is acceptable and how much to give. We can't get any information as to how grades are going to be given. The administration is more worried about keeping tabs on teacher attendance and the hours we are online than in whether actual learning is taking place."
Another Science Teacher agreed, "They want us calling houses and logging that and maintaining Google Classroom and recording grades online AND attendance."
An English Teacher says that their administration sends an "overload of emails that are not helpful or pertinent to the actual needs of students and staff; its decision-making is not transparent and communicated last minute and it is micromanaging teacher practice."
One chapter leader said that districts seem to be competing with each other to see who can utilize the most sophisticated — and most complex and burdensome — Internet platforms.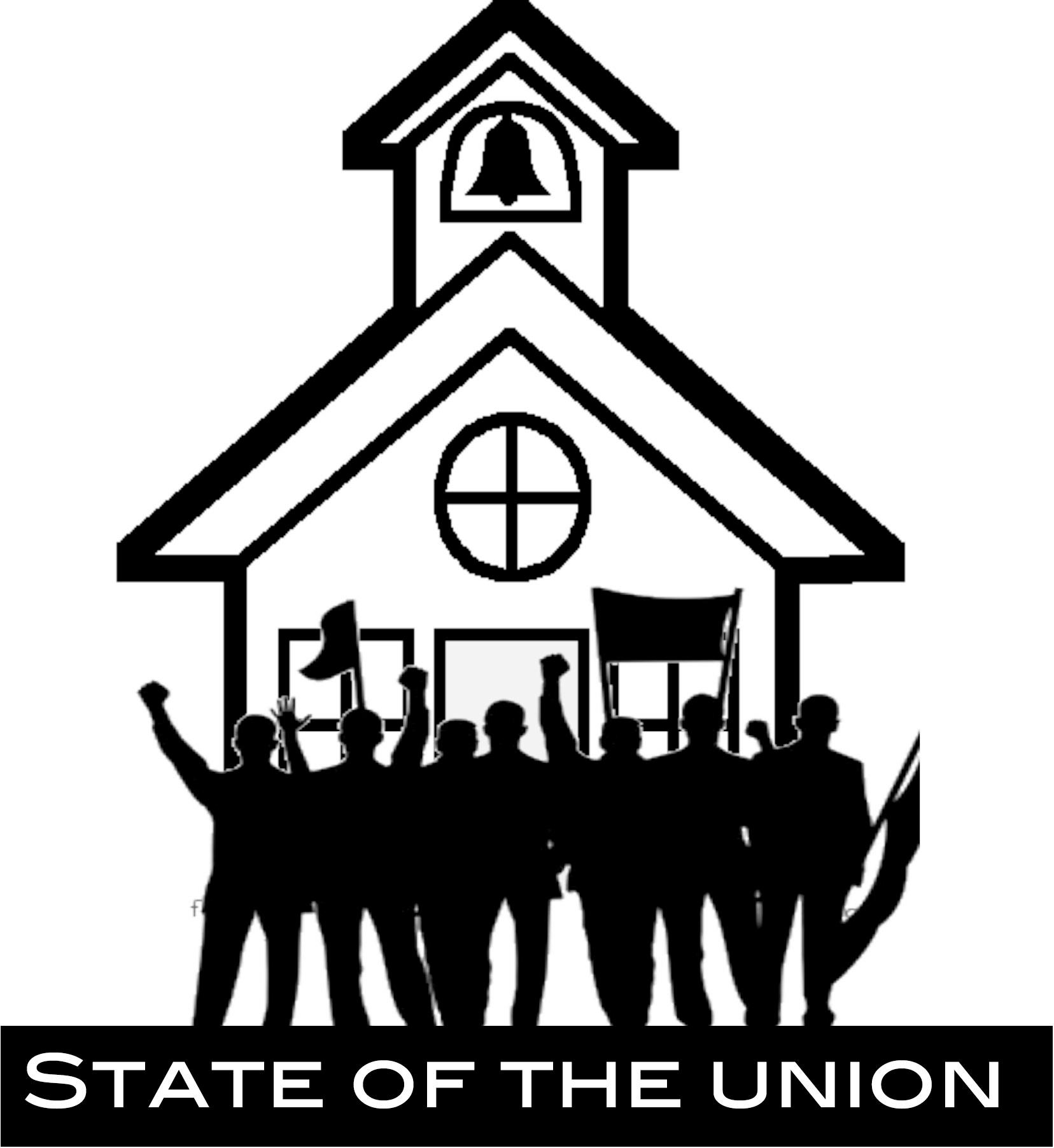 In at least one school, teachers have stood together and refused to grant administrators access to their Google Classrooms.
Additionally, some key questions remain. Can IEPs (the "Individualized Education Plan" customized for each Special Education student) truly be honored in a remote setting? How will observations be conducted and should they be conducted at all? How will teacher ratings for the year be determined? What will happen to teachers who were up for tenure this year?
All the UFT leadership has done in reply to these questions is write that they will be speaking to the DOE about these matters. The evening before virtual teaching began, President Mulgrew sent all teachers an email that began:
Tomorrow is not going to be easy. Like anything we try for the first time, we will sometimes stumble and make missteps. And always, when we are most counting on our technology to function, there will be glitches. Stay calm and centered, and be patient with both your students and yourselves. We will gradually get better at performing our work remotely as we learn from our mistakes and build on our successes. Remember that your students are feeling great anxiety and stress, too, and what they need most from you now is a sense of calm, stability and support.

The union is working hard with the Department of Education to get it to rein in principals who want to micromanage their staff. That kind of an attitude is so wrongheaded. Now is a time when we must trust each other that we all have the best interests of our students at heart. But if your administration is unduly intrusive or demanding this week, please tell your chapter leader so we can seek to resolve it quickly.
After so much stress, teachers were greatly looking forward to the annual spring break, from April 9 to April 18. Then, Governor Cuomo announced there would be no spring break: he was cancelling it by Executive Order. Adding insult to injury, Mulgrew emailed all members, supporting the Governor's decision, saying
Governor Cuomo believes public schools can play a critical role in keeping kids engaged in learning at home during this pivotal period so the virus does not have the opportunity to spread more widely in our communities. That is why he is using the emergency powers that he legally has to keep schools open during spring breaks throughout the state.
However, he reassured members that April 9th and 10th, Passover and Good Friday, would be non-instructional days. But by the end of the week, Mayor de Blasio announced instruction would take place on April 9th and 10th as well.
Although Mulgrew made little grunting noises of protest, with this last injury, teachers' dissatisfaction with their union leadership seemed to reach a tipping point. Commented one, "In the end, though, it has been the union leadership's lack of support that has been the toughest to stomach. We're still waiting for retro pay we earned from work we did 10 years ago, and now the governor can unilaterally decide we're working through the spring break, and the union won't talk to the DOE about compensation until we're back in the building?! By then, it's done. What goes next? Weekends? The summer? Teachers will 'step up' as Mulgrew said because they have no choice."
A Science Teacher complained, "Many feel the union is not doing enough to protect our rights as granted by our contract and are worried if the contract is already being violated, what to stop them from doing more? Many of us are afraid we will lose summer, our May raise, and final October retro payment."
An ENL Teacher wrote, "I didn't like the way union handled the whole situation, basically their response came down to, 'be quiet, be thankful you still have a job, there's nothing we can change now, blah-blah-blah.'"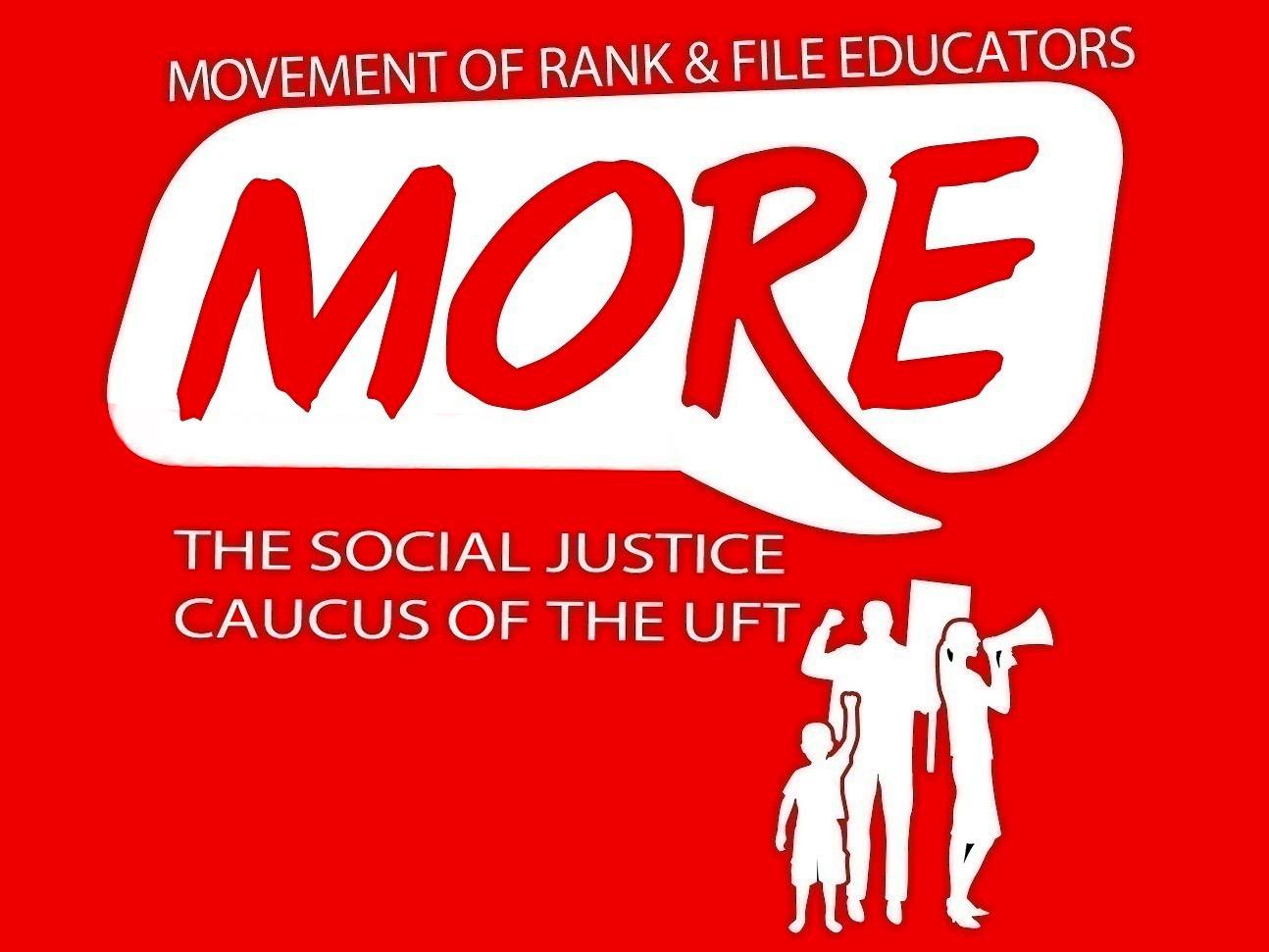 In light of these intertwined crises, the Movement of Rank and File Educators (MORE) caucus has been trying to pivot from mainly supporting progressive social justice causes of other groups like students and communities, to include organizing teachers.
This is a difficult moment to do this, because face-to-face discussions aren't part of the workday now. Few, if any chapters, have ever held virtual meetings. Although chapter leaders, who are elected by their schools, have most members' contact information, most chapter leaders belong to the Unity Caucus and will toe the Mulgrew line.
Still, MORE is working on a campaign to protect probationary teachers from getting terminated for failing to show adequate growth, arguing the shortened classroom year and the switch to a new form of teaching denied them the same chance to show development as they would have had in a normal year.
MORE is organizing teachers to file grievances, as groups where possible, to get DOE not to count the absences of members for the three days of setting up virtual learning after classes were cancelled, and to give those teachers who did attend during those days additional days in their reserve of paid absences, because the DOE failed to provide safe working conditions during those days.
It has emerged that during that week school officials were withholding information about colleagues who tested positive for Covid-19 from staff at their schools. By the second week in April, it was reported on local public radio that around 25 teachers have Covid-19. MORE has also called upon chapters to organize work slowdowns on what should have been spring break.
Finally, MORE is organizing a growing sentiment that the UFT needs to negotiate a new Memorandum of Agreement to govern working conditions in this new setting, instead of fabricating new rules as they go along, and that this should be subject to a membership referendum like any MOA.
The union leadership has implicitly acknowledged they have no de facto contract: when chapter leaders log on to the union website portal where they submit step 1 grievances, they get this message: "Due to the COVID-19 pandemic, the online grievance process is suspended. You are encouraged to attempt informal resolutions in the meantime." Just as everything else has gone online, grievances have gone off line, and, as far as the union bureaucracy is concerned, have disappeared.
Meanwhile, the annual budget process was playing out in a "social distanced" state capital, which led the legislature to completely abdicate its budgeting powers and pass a bill giving Governor Cuomo full powers to allocate state funds unilaterally.
Even before the pandemic, Cuomo had been talking about cutting state funds for Medicaid and freezing school funds at their already inadequate levels. Given inflation and growing enrollments, this amounts to cuts. Now, he has carte blanche, and layoffs of education workers cannot be ruled out.
Teachers have many immediate hurdles, hardships and anxieties. On the horizon are possible layoffs. But they are also aware that in the emergency, hurried accommodations have opened the door for permanent changes, not only the surveillance, but an increase of online learning.
Of course, in the public schools, this won't take the form of learning from home: for lower grades, schools provide day care for working parents, an important contribution to social reproduction of capitalism. The upper grades perform a social order function, keeping kids "off the streets and out of trouble."
No, it would take the form of rooms full of kids on screens, with a semi-professional monitoring them: deskilling of teachers. And in NYC, this looms in the context of a union leadership that shows far more interest in "working hard" to seek accommodation with the boss, than in organizing members to protect their interests as workers and as educators.