Chilean Trade Union Organizations
Posted November 11, 2019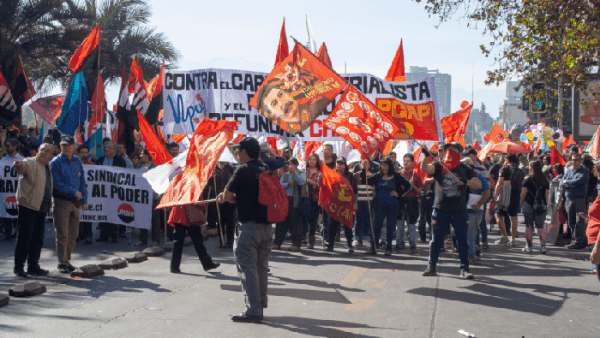 November 5, 2019
To Sebastián Piñera Echenique
President of the Republic of Chile
The undersigned trade union organizations announce that the world of labor has articulated, organized, and placed its will toward unity, over and above the concerns of any particular organization, in order to support the demands that the Chilean people have put forward in the streets during recent weeks.
The government over which you preside has a high responsibility in this social and political crisis, at the same time that it is an actor in a neoliberal model that has been indifferent to the real needs of the people. Therefore, we demand that the government face the people who today demand profound changes. It is time to be transparent in your political and social disposition toward the demands and requirements articulated in the List of the Workers of Chile.
We demand that you live up to the historical moment and demonstrate an understanding of the social movement, responding in writing, within a period of 5 days, whether you are ready to make the profound constitutional and democratic changes that the whole country is demanding today in the streets.
First of all, we demand that you withdraw from Congress the bills that deserve more democratic debate, with social and union organizations as protagonists. We are referring to the tax reform bill, the modernization of the Labor Directorate and the pension reform. In relation to the latter, we demand the separation of the bill, dealing separately with the [social welfare] solidarity pillar, and withdrawing everything that strengthens individual capitalization [privatization].
The central demand is the necessity for a New Constitution through a Constituent Assembly. We do not want the current congress to draft the constitutional text. We want the Chilean people to be protagonists regarding decisions about their destiny.
For the above, we have prepared a list containing an emergency plan. We want to know your disposition regarding the following proposals, which are detailed in the attached:
New Constitution via Constituent Assembly
Human rights: trial and punishment of those guilty of human rights violations
Minimum wage of 500 thousand pesos for public and private workers
Full recognition of trade union freedom: industry-wide bargaining, and effective strike
Minimum pension equivalent to the minimum wage we propose
Protection of basic services
Right to public transport
Reduction in the workday
Protection of social rights to health, education, housing
This list is developed in a document that was made public on Monday, October 28, and has circulated widely through social networks and media [The "List of the Workers of Chile"].
We inform you that we are going to intensify the pressure and organize a new General Strike to advance towards the Constituent Assembly and force compliance with the "Workers' List."
We await your response, in writing, within the next 5 days:
Coordinadora Nacional de Trabajadores y Trabajadoras No Más AFP
Central Unitaria de Trabajadores
Unión Portuaria de Chile
Unión de Sindicatos de la Minería
Sindicato Interempresa Nacional de Trabajadores de la Construcción y Montaje Industrial (SINTEC)
Colegio de Profesores
Asociación Nacional de Empleados Fiscales (ANEF)
---
5 de Noviembre de 2019
A Sebastián Piñera Echenique
Presidente de la República de Chile
Las organizaciones sindicales que suscriben vienen a notificar que el mundo del trabajo se ha articulado, organizado y ha puesto su voluntad de unidad por sobre cualquier consideración gremial, con la finalidad de respaldar las reivindicaciones que el pueblo chileno ha exigido en las calles durante las últimas semanas.
El gobierno que usted preside tiene alta responsabilidad en esta crisis social y política, a la vez que es un actor en un modelo neoliberal que ha sido indolente a las necesidades reales de la gente. Por lo anterior, exigimos que sean capaces de dar la cara al pueblo que hoy exige cambios profundos. Es momento que transparenten su disposición política y social ante las exigencias y necesidades que se han articulado en el Pliego de los Trabajadores y Trabajadoras de Chile.
Les exigimos estar a la altura del momento histórico y dar una muestra de entendimiento con el movimiento social, respondiendo por escrito, en un plazo de 5 días, si están disponibles a realizar los cambios profundos constitucionales y democráticos que todo un país exige hoy en las calles.
Antes que todo, le exigimos que retire del Congreso los proyectos de ley que merecen un mayor debate democrático, con las organizaciones sociales y sindicales como protagonistas. Nos referimos al proyecto de reforma tributaria, al de modernización de la Dirección del Trabajo y la reforma previsional. En relación a esta última, exigimos la separación del proyecto de ley, tramitando por separado lo referente al pilar solidario, retirando todo aquello que fortalezca la capitalización individual.
La reivindicación central es la necesidad de una Nueva Constitución a través de una Asamblea Constituyente. No queremos que el congreso actual redacte el texto constitucional. Queremos que el pueblo chileno sea protagónico respecto de las decisiones sobre su destino.
Para lo anterior, hemos confeccionado un pliego que contiene un plan de emergencia. Queremos conocer vuestra disposición respecto de los siguientes planteamientos, los que se encuentan detallados en el adjunto:
Nueva Constitución vía Asamblea Constituyente
Derechos humanos: juicio y castigo a los culpables de violaciones a los DDHH
Salario Mínimo de 500 mil pesos para trabajadores públicos y privados
Reconocimiento pleno de la libertad sindical: negociación ramal y huelga efectiva
Pensión mínima equivalente al salario mínimo que proponemos
Canasta de servicios básicos protegidos
Derecho al transporte público
Reducción de la jornada de trabajo
Protección de los derechos sociales a salud, educación, vivienda
Este pliego está desarrollado en documento que se hizo público el día Lunes 28 de Octubre y que ha circulado profusamente por redes sociales y medios de comunicación.
Les comunicamos que vamos a profundizar las medidas de presión y vamos a organizar una nueva Huelga General que avance hacia la Asamblea Constituyente y permita ir dando cumplimiento al Pliego de los y las Trabajadores.
Suscriben y esperan respuesta, por escrito, dentro de los próximos 5 días:
Coordinadora Nacional de Trabajadores y Trabajadoras No Más AFP
Central Unitaria de Trabajadores
Unión Portuaria de Chile
Unión de Sindicatos de la Minería
Sindicato Interempresa Nacional de Trabajadores de la Construcción y Montaje Industrial (SINTEC)
Colegio de Profesores
Asociación Nacional de Empleados Fiscales (ANEF)