Solidarity members and friends
Posted July 18, 2022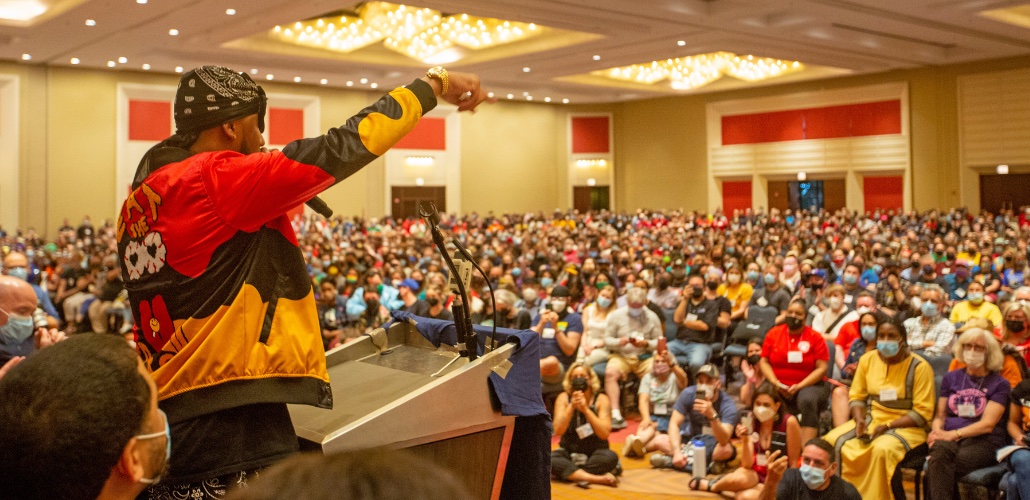 Workshop on Class Struggle Unionism
Joshua DeVries
The panel "Class Struggle Unionism" featured Joe Burns, author of the new book of the same title, Ryan Haney from the Dallas Teamsters, Krystal Gardner from AFSCME Council 31 in Illinois and Patrick Korte with Virginia CORE. Burns launched the session by drawing distinctions between the main school of labor unions, drawing attention to the fundamental difference in how they look at the employment relation. Business unionism holds high the motto, "a fair day's wage for a fair day's work. They can ignore unequal society and see a narrow role for the union. Class struggle unions believe "labor creates all wealth." They see every fight as a fight against a class, not just against one employer. They recognize that government is not neutral but that judges will interpret the law in the interest of the class they serve. Finally, they see that the working class must emancipate itself. Joe drew a contrast between the bureaucrats at the AFL-CIO convention held the previous weekend and the 4,000 rank and filers at Labor Notes, pointing out that if we want to win, we must have a movement capable of violating laws and injunctions, suggesting that only one of those conventions is capable of organizing that movement. He pointed out the two wings of business unionism, the old guard and the labor liberals who have partially replaced them since the late 1980s. Burns drew the essential distinction between class struggle unionism and the latter. The labor liberals think they will organize the workers. Class struggle unionists see it as going to war with the employer.
After his broad vision, the other panelists filled in with specifics from their experiences. Haney drew connections to the public support gained in the 1997 IBT strike against UPS under the slogan, "part time America won't work." He excoriated the younger Hoffa's using the idea of a strike against his own members, threatening that if they didn't vote for the concessions he brought forward, they would have to strike and lose pay, a far cry from the class struggle view of a strike is a tool we use against the employer. Krystal Gardner spoke approvingly but also emphasized that many workers aren't there yet and stressed the need to bridge those gaps, particularly in communities of color. Finally, Patrick Korte talked about how we make demands on leadership to fight. He discussed their union caucus and how they took to the shop floor, reminding workers that "the union is not a 1-800 number. It's not a web form to file a grievance that is handled behind closed doors."
In the discussion part of the workshop, a Brazilian unionist stressed that Lula is not the answer to workers' power. The Vermont Labor Council director suggested that labor councils might be able to shield union treasuries from the inevitable fines following the injunction violations Joe talked about. A UAWD member talked about having to fight both branches, the new liberals and the old Administration Caucus, which are on the same team to quash union democracy. Cherene Horazuk from AFSCME 3800 in Minnesota followed up on Gardner's points, noting that in the vote to reallocate police funding in Minneapolis, they only got 40 percent with some of the highest losses in Black neighborhoods.
On the trip home, one of the folks from Austin who went to Labor Notes for the first time this year asked me how it was different. Other than the sheer quantitative growth, I had to think. The basic structure hasn't altered much since I started going in the 1990s, but I finally realized one big distinction: words like "comrade" and "socialism" were a lot more common than I ever have heard at the conference.
Workshop on Chinese workers under the pandemic
Ivan D
My favourite panel of Labor Notes 2022, this 3-speaker report on "Chinese Workers Under the Pandemic" focused on the problem that those businesses that have been becoming increasingly important in global capitalism took the opportunity of the pandemic to surge ahead, at the expense of worker's rights, interests, and power. Researchers Junyue Qian explained that domestic workers, drawn from impoverished rural areas into the households of the growing urban middle class, were the first commodity to be discarded by their private, individual employers, the moment pandemic shut-downs put the squeeze on that middle class.
Aidan Chau explained that a similar trend took place on the meta level in the sphere of personal commodity distribution, where the delivery workforce increased from 300,000 workers pre-pandemic to 3.3 million workers today. As competition between delivery companies ramped up with the emergence of new major distribution companies like JNT Express, dropping prices, and therefore lowering wages the response from the government was anaemic. When the wage per delivery dropped from 1.7 yuan to 1.1 yuan, the government demanded an increase by just 0.1 yuan. And when that same competition, driven by pandemic demand for delivery services, increased work hours, the state accommodated the needs of business and consumers, creating and exception to the 40 hour workweek, allowing delivery drivers to work 160 hours per week without overtime pay.
Eric Chen, an organizer with a labor NGO in China, said that, corresponding with the attacks on workers has come a criminalization of labor organizers. "As organizers," he said, "the government treats us as an alien, invading force, as enemies of the state." Since 2015, in response to a government crackdown where 25 of his friends were arrested on charges of "picking troubles," labour NGOs like Chen's have rebranded as service organizations for migrant children and families and refocused on services rather than worker struggle. Three years ago there were about 50 labor NGOs in China and now there are only a couple left. Despite the bad news at every step of the way in this panel, the clear and uncompromising telling of that news from all three speakers invested it with a sense of determination, and even hope.
Rank and File Workers Gatherings by Sector
Higher Education Activists Gathering
Dawn Tefft
One of the highlights of the Higher Education meeting at Labor Notes this year was the historic number of undergraduate workers who reported on recent organizing. The Student Workers of Columbia-UAW, shared that they won their first contract this year after being on strike for ten weeks. Wesleyan Union of Student Employees reported that they achieved the first voluntarily recognized student union this year. Undergraduate workers at Grinnell fought to expand their existing union from dining hall workers to all student workers on campus. After compelling the employer to agree to a neutrality agreement, they won a wall-to-wall union. This fall, they start bargaining a contract for all student workers on campus.
Graduate workers were the most heavily represented at the meeting. Workers from the University of California system stated that a whopping 17,000 researchers unionized with UAW to form Student Researchers United during the pandemic. University of New Mexico graduate workers recently formed United Grad Workers of New Mexico, a union affiliated with UE, and asserted that graduate workers need to be paid better so that more students of color can afford to go to school and provide better education for undergraduate students. Non-unionized graduate workers at Marquette University, who were supported by the Emergency Workplace Organizing Committee, worked in coalition with faculty and undergraduates to stage a number of actions, including occupations and sick outs, in response to the Chancellor's announcement that 450 workers would be laid off due to lowered enrollment. Their actions prevented the layoffs of 400 of those workers.
Many adjunct faculty around the country lost some or all of their income due to lower enrollment during the pandemic, illustrating why the adjunctification of higher ed—which has turned a majority of full-time college teaching positions into part-time positions—hurts workers and their families. Adjunct faculty in CCCLOC at City Colleges of Chicago organized toward and threatened a strike, securing the highest raises in the history of their union. Adjunct faculty, who comprise 40 percent of the faculty at the University of Puerto Rico, talked about the book they wrote about adjunct experiences in order to illustrate why they need the same pay and conditions as full-time faculty. Fordham Faculty United reported on making extensive use of testimonies in organizing and bargaining.
Among the full-time faculty present at the meeting, United Faculty of Florida shared that seven new union chapters were created in the last five years and that one of their goals is to remove Governor DeSantis.
Although not present in great numbers, academic staff reported significant wins despite historically having harder fights than faculty and student workers. United Staff of Columbia College in Chicago organized a strike vote for the first time, which prevented the college from instituting a tiered healthcare system and which won the retroactive raises the employer had been trying to deny academic staff. Academic staff from United Campus Workers in Georgia and Mississippi reported that they won raises and a staff committee.
As higher ed workers from around the country spoke, it became clear that city, state, and federal funding of public higher education needs to be increased. To this end, the CUNY Rising Alliance, a coalition of student, labor, and community groups, are campaigning and building a campus action team to increase the amount by which New York City funds CUNY. Many campuses have campus coalitions dedicated to fighting for increased public funding, but seeing the need for national coordination, the Higher Education Labor United (HELU), a national committee representing higher education workers of all types, is bringing together faculty, staff, and student workers to work toward realizing education as a universal right.
Postal Workers Gathering
Jamie Partridge
About thirty postal workers from across the United States, Canada, France, Germany, Ireland and Spain gathered twice at the 2022 Labor Notes conference in Chicago the weekend of June 17-19. The bulk were rank-and-file union activists, mostly stewards, local or state officers, some full-time and a few national. A bunch of activist retirees were there as well.   The largest contingents were from NY Metro American Postal Workers Union (the country's largest local) and the Canadian Union of Postal Workers national office (Ottawa). Most were members of the APWU, only a few from the National Association of Letter Carriers and the National Postal Mail Handlers Union, none from the National Rural Letter Carriers Association.
The main topic was the campaign to Dump DeJoy (the postmaster general), which has been set back by DeJoy's victory lap around the Postal Service Reform Act, Biden's refusal to engage and our national union leaders' deal-making. Transforming our unions to be more militant and democratic was another hot topic, with the Canadians providing guidance. Postal banking and other non-postal services made possible by Section 103 of the PSRA has sparked some initiatives, especially in Utah, Oregon, and California. We discussed the need to fight the contracting out (privatization) of mail processing to secret Surface Transfer Centers and the looming real estate sell-off as DeJoy consolidates carrier units.
Bully bosses, sexual harassment and understaffing (long hours, overwork) were the focus of our discussions of local and shop floor issues. Examples of effective, collective direct actions were shared.
Despite this being the largest, most diverse Labor Notes conference ever, the postal worker contingent was smaller than in years past. About a third of us knew each other from the Rank-and-File Postal Organizer's weekly zoom calls, which have been organized with the assistance of Al Bradbury of Labor Notes since the beginning of the pandemic. Communities and Postal Workers United, a network of local coalitions founded at the 2012 Labor Notes conference, had a literature table where we sold "Dump DeJoy" t-shirts (about 15), gave out hundreds of "Dump DeJoy" stickers (both projects of the R&FPO), posters, newsletters, and signed up 130 allies from among the conference attendees. We also promoted DSA4USPS petitions to "Dump DeJoy" and "Demand Union-Made, Electric Postal Vehicles".
The conference had a strong showing of Dump DeJoy t-shirt and sticker wearers. Strategic conversations and connections were made at the CPWU table. Plans advanced for a rally and an electric vehicle caravan at the USPS DC HQ on Aug. 9. The campaign to move our national union leadership to get on the Dump DeJoy train took another step forward, especially looking toward the August national APWU & NALC conventions. Relationships and dedication to our movement were deepened. Onward!
Asian and Asian American Labor Activists
Promise Li
I'll give a few observations about the presence of Asian American and Asian labor panels and meet-ups.
I believe this conference marked one of the largest contingents of Asian and Asian American workers at Labor Notes, and there was lots of co-mingling between both in different gatherings and in panels. It was also Asian Pacific American Labor Alliance (APALA)'s first time at Labor Notes. APALA, the only national organization for Asian Pacific American union members, emerged from the AFL-CIO decades ago but remains pretty independent and even critical of it. They held a pretty large meet-up for lunch that overfilled the room. Hong Kongers, Chinese, and Japanese trade unionists attended that meeting, while Asian Americans attended the Asian Labor
The 2018 Asian Labor Meeting at Labor Notes was attended by mostly East Asian trade unionists, not the diaspora, but this iteration of it was dominated by Asian American diaspora workers, and I think it is clear that the priorities between the two groups are quite different. For example, in my personal interactions, Asian Americans tended to push toward discussions of anti-Asian racism, anti-Blackness, colonialism, etc. while Asians were more eager to inquire about how to revitalize rank-and-file labor movements and to exchange resources about the effects of neoliberalism and lean production in their respective milieus.
Both groups agreed they need a better understanding of each other's concerns and contexts moving forward and there was widespread interest in continuing to connect between Asian and Asian diaspora labor movements. Asian Americans are largely unaware of what the political landscape is like in Asia,
and vice versa—both sides wanted to learn more. It is more unclear what came out of that meeting, but other APALA members and I pushed for APALA to help convene a listserv and future meetings to continue connecting between everyone in the room.
Tech workers organizing
Rob Bartlett
For the past 2 years I have been a volunteer organizer with the Emergency Workplace organizing Committee and for the last 18 months I have concentrated on talking to tech workers at all levels from software engineers to tech support in a range of companies from 100,000 employees spread across the world to a few software people in a department of a logistics company. This preface is to explain why I attended every panel along with the interest group meeting for tech workers. The push to have a tech track came both from EWOC and parallel organizing efforts by CODE CWA and the News Guild. People from both worlds worked together to put together speakers at the panels and facilitated the interest group agenda.
The efforts succeeded beyond my expectation with between 80 and 100 people at the 3 events. There are several common themes that emerged from the meetings. First that people are organizing at all levels from people paid less than $15 an hour to software engineers who are very well compensated and despite the disparities all are interested in organizing "industrially" and not along skill or craft lines. Second, people who have gone through attempts to organize a workplace and have failed often went on to another job and repeated their attempt and in several cases succeeded. An example is the recent success of organizing the tech workers at National Public Radio, but it seems to be a trend that the issues that spurred the attempt to organize in the first place led to greater skills and a better understanding of how to modify earlier campaigns to give them a better chance at success. The third theme was the sense of solidarity among people across the tech spectrum and a confirmed belief that despite the power imbalance this is a project that is going to move forward.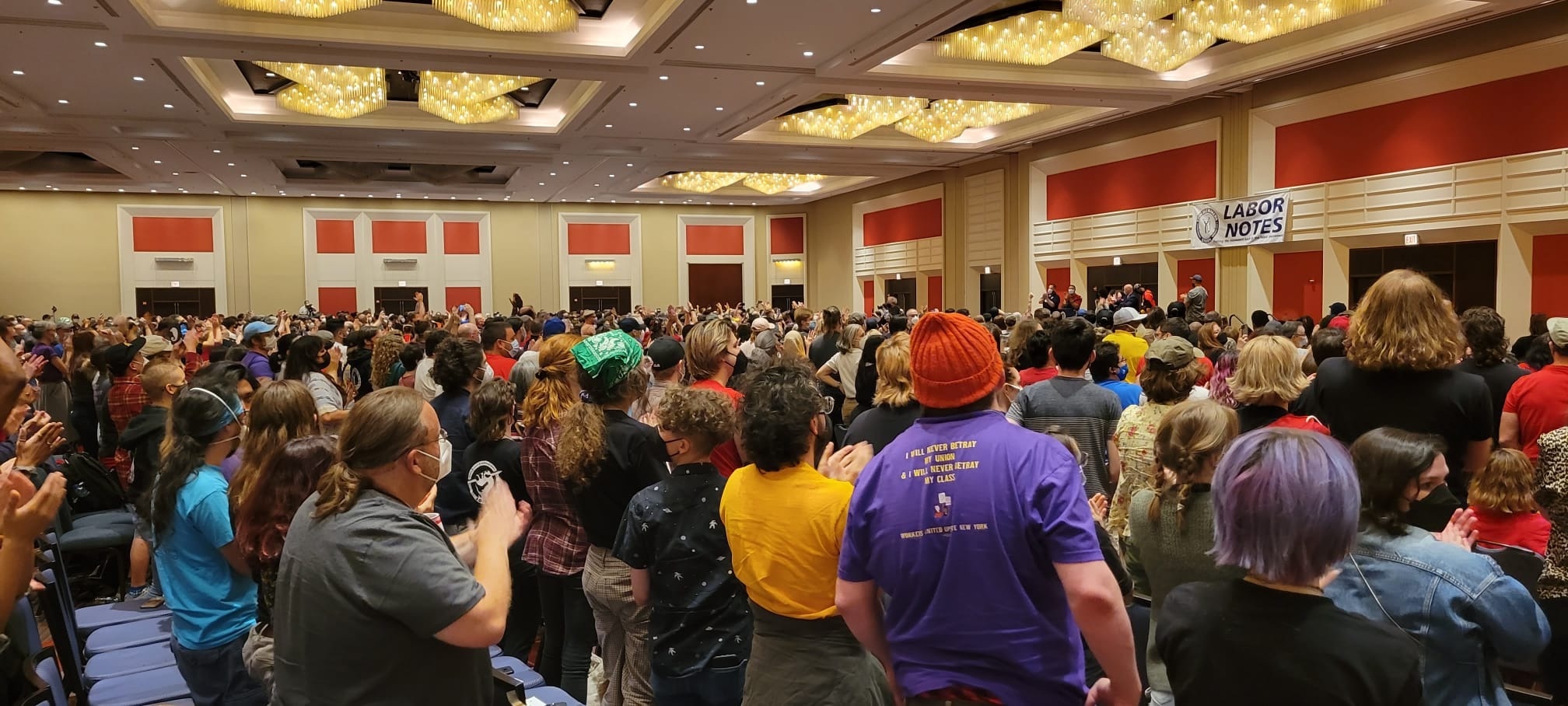 Reflections/Reports
Bill Balderston
Beyond the sheer numbers (over 4000), the LN conference was an event of great energy and importance. As always, there were countless opportunities for networking, which for me, was centered on education workers. Beyond more experienced LN attendees, there was such a presence of youth, many first timers, and many from DSA (perhaps 6-700).
There was a fairly decent racial mix, probably centered in certain activist unions; the Chicago Teachers Union was heavily represented (probably several hundred members, including Stacy David Gates, its new president (the outgoing president Jessie Sharkey, an old friend, was honored Saturday), who spoke at the Friday night rally, along with Chris Smalls of the Amazon workers, Michelle Eisen, of the Starbucks workers, Sean O'Brien, newly elected president of the IBT and others, highlighted by the final speaker of the night, Sen. Bernie Sanders.
Another plenary session on Saturday, focused on the linkage of anti-racist and labor struggles, with Steve Pitts, of Black Work Talk, chairing. The final plenary session was on Sunday, with one of the speakers being Israel Cervantes, a leader of the Casa Obrera del Bajio, GM Mexico.   I also attended the workshop at which he spoke, with other Mexican workers, about the efforts at building independent unions in Mexico (well covered in LN) and a workshop on the situation of Chinese workers during the pandemic, which included Eric Chen, and provided insights into stressful circumstances in the PRC.   
In addition to education/ teacher workshops (and a K-12 meeting), I focused on workshops dealing with labor and climate change (including one where teachers met afterwards and established a tentative network). I also attended a very informative one regarding progressively altering/ utilizing central labor councils (including the rather renown Vermont state council).  
Beyond DSA, there was a range of left groups visible, including Socialist Alternative, and its breakoff, Reform and Revolution, Socialist Resurgence/ Workers Voice, the Tempest Collective and others, with little sign of sectarian conflict.   This was an especially important event for the whole of the US workers movement, coming on the heels of the pathetic AFL-CIO convention. It was unfortunate, however, that it coincided with the Poor People's Assembly and march in DC. 
Dianne Feeley
The Labor Notes conference was impressively large, young and enthusiastic and a bit overwhelming with 4,000 people. There was a lot of networking, particularly among Amazon and Starbucks workers. Given the small Labor Notes staff, pulling off such a conference must have been daunting. I was disappointed that the International get together that typically happens after the Friday session simply didn't happen but I must say that the workshops began and ended on time, speakers and translators were well prepared. Solidarity had a brief check in meeting during lunch Friday. About a dozen Solidarity members and friends were able to make it, meet each other and speak with Au Loong-Yu.
I attended two workshops on China and its working class—one centered on mainland China, the other on Hong Kong. I also attended the session on repression of workers in which Au Loong-Yu talked about Hong Kong following the implementation of the National Security Law.
Hong Kong unions, including new ones who arose out of the latest upsurge, have been forced to de-register. While 20 years ago, workers' organizations were able to go to the rapidly industrializing cities in China's south and distribute information about on-the-job safety conditions and even help set up workers centers, that's been wiped out. Today workers in China and Hong Kong face similar problems under an increasingly repressive state. Interestingly enough the most successful Hong Kong strike that has emerged during this repressive stage was one led by immigrant workers who, although more vulnerable, have less to lose by striking.
I attended another session on Mexican unions, where a journalist who has been on strike against a state agency for more than two years spoke. But an autoworker fired from a GM plant outlined how he and others had been able to win an independent union there. I was particularly interested because I retired from American Axle, which has a plant nearby.
I also attended a workshop with UAW autoworkers discussing the history of concessions and how we need to fight against them. There I was pleased to see that current and retired autoworkers were on the same page. The UAW meeting itself was much larger than usual because many younger workers are now affiliated with the union. A few are autoworkers but many are graduate students. Both face massive restructuring in our sectors.
Ron Lare
For me, the most useful workshop featured Stellantis/Chrysler, Ford and UAW speakers. They were UAWD International Executive Board candidate Lashawn English as facilitator, plus Tim Thomas, Jessie Kelly, and Bill Parker.
At the United Auto Workers Meeting, Scott Houldieson kept bringing the subject back to international solidarity, which I much appreciated. I also attended a meeting on One Member, One Vote led by Scott Houldieson of UAWD and Ken Paff of TDU.
At a meeting of international workers, I met a Polish woman who does cross border support for Ukrainian workers fighting the Russian invasion as well as opposing the anti-labor Zelensky government.
"An Organizing Approach to Grievances" was useful, as my main work with UAW Local 600 workers involves current grievances.
My daughter, her girlfriend and I attended a workshop on trans and gender non-conforming leadership.
I spent much time with a worker from OKG, the Labor Notes sister organization in Germany (a connection set up by the German Left Party (Die Linke).
I traveled by train with a Detroit Teamster new to Labor Notes as well as my daughter, and by chance several of the Detroit Great Lakes Coffee strikers.
David Finkel
I attended two informative workshops on the suppression of unions and the popular uprising in Hong Kong, with activists directly involved in the struggle, and on repression in Palestine, Hong Kong and Brazil (featuring our friends Rabab Abdulhadi and Au Loong-yu, and a Brazilian revolutionary union activist). Translation appeared to go very smoothly. I learned among other things that there are now 100,000 Hong Kong expatriates living in Britain. Regarding the internationalist discussions at the conference, I was glad that there weren't "campists" or at least I didn't see them.
I spent a fair amount of time at our Soli/ATC lit table, promoting our new pamphlet among other items. There was interest from younger folks who said it was their first LN conference, and amazement when I recalled the first one in 1981 where we were stunned that 700 people turned up.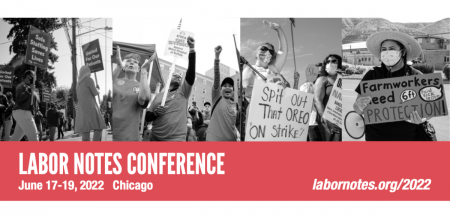 Summary of workshops on Medicare for All, Unions Fighting Climate Change, and Workers Facing Political Repression
Linda R
Bringing The Fight for Medicare for All (M4All ) into your Workplace — UE (United Electrical) union doing a lot of education for their members. Have a very good calculator on their website so that members see how much they are currently spending on health care. Importance of taking health care benefits off the bargaining table and not letting the boss control one's health care coverage (like cancelling it during a strike or pandemic). Latest Medicare privatization scheme called ACO-REACH (Accountable Care Organizations — Realizing Equity, Access and Community Health). Sounds good but actually very dangerous in forcing some Medicare members into these entities which are private profit and allowing them to cut care and keep the profits. M4All won't be possible if it becomes private for-profit. Importance of just transition language in bills for workers that will be displaced if M4All ever implemented. Debs, Jones, Douglass Institute funding some efforts for M4All.
Climate Demands in Legislation and Bargaining — United Teachers of Los Angeles — UTLA example of Reclaiming Our Schools Coalition that they are a part of. California SB 1173 proposed legislation to divest pensions from fossil fuels. Many young people say the scariest TV program is the weather report. BIPOC Environmental Justice Organization. New York City Labor Council Climate Jobs program. Cornell University producing useful climate reports for activist's use. Giant off shore wind turbine project for New York and New Jersey. New York Renews program needs just transition language/protections. Climate Jobs National Resource Center.
Workers Affected by Climate Change — Familias Unidas por Justicia — union in Washington State of mostly immigrant farm workers. Go to their website for info and to assist their organizing. Last year's extreme heat and smoke from fires with employers not providing appropriate protective measures. There are rules but no enforcement by the government. Amazon — quotas over worker's health despite claiming otherwise. Postal truck replacement controversy, Several state's Attorney Generals are suing postal service since no real environmental review before contracting for gas guzzling vehicles. Trade Unions for Energy Democracy (TUED): Demarketize Public Energy systems. Stress on Public Energy since it can do long range planning and short term profits aren't the main driver of policy/services. US military largest single emitter of green house gases. Neo liberal policies a nightmare for trying to transition to a clean renewable energy system. In 2020 Macron in France wanted to privatize the public energy company there but resistance forced him to back down. Mexico passed a good policy but some environmental NGO's were confused about it and not enough education/communication done about this legislation. Need for federal spending such as the Green New Deal which is stalled. In Brazil "natural" disasters up 70 percent. Covid pandemic due to climate change. Forest protectors and environmentalists being targeted. Unfortunately, Lula when president also supported the large land owners. China buying up land in Brazil and Africa and burning forests for agricultural use. Eco anxiety increasing and importance of saving old growth forests as important carbon sinks. Reconstruction following disasters has become a big business. 
Unions and Workers Facing Political Repression — National Security Law passed in Hong Kong attacked labor first by forced disbanding of unions. Targeted 10 Labor NGO's that were Hong Kong based to assist mainland China workers. China has a 996 program for many workers. Work from 9 a.m to 9 p.m. 6 days a week. Example of one more recent labor action in Hong Kong which was a strike by Food Delivery Workers. Many of these were young and from South East Asia and didn't have the fear that many in Hong Kong or mainland China have of the government. Importance of getting to know these workers better since their action surprised many activists. They live and organize differently. AFL-CIO buys Israeli bonds which is used for settlement expansion. NSO — Israeli "security" organization being used by other Governments to spy on their own citizens/workers. Organization in the US called No Tech for Apartheid. Brazil CSP-Conlutas doing interesting labor and community organizing. App. based young workers are organizing. Government inaction and misinformation has been a disaster for the Brazilian people. One young teacher who stopped by the Solidarity table afterwards to buy Au Loong-Yu's book about Hong Kong uprising(s) said this was the best workshop he had attended so far.
Climate Change Meeting — Labor Network for Sustainability (LNS) and TUED went over their organizations' projects. Common Defense — veterans organization. Importance of moving away from car culture and towards mass transit where feasible. Electrification of trains part of climate solution. Fact that number of climate refugees increasing all over the world. One participant noted he spoke to his father in Karachi Pakistan and it was 130 degrees so they expect that area to be unlivable for humans within 10 years for large parts of the year. Link militarism and immigration to climate change. Chicago teachers Union CTA — Green schools campaign. Green Workers Alliance — workers in renewable energy. One worker for the Army Corps of Engineers is building out solar energy on army bases and felt the skills of the Corps could be of value to surrounding communities as well. Regenerative Agriculture movement as part of the solution to Climate Change and importance of good paying jobs in agriculture.
Medicare For All meeting — Labor Campaign for Single Payer organized the session. Besides the excess deaths in the US due to the pandemic, 200,000 people die each year due to lack of health care. Costs in the private health care system are kept a secret. M4All coalition is in N. Carolina and UE 150 in Charlotte participates. Health over Profit for Everyone — Based in D.C. Fact that some unions do not want to admit how much their members pay for health care (they think it will make them look bad as a union that they can't really control the costs of health care within the current system) rather than be open about it and fight for single payer/M4All type of system. Importance of educating and mobilizing members for M4All. Fact that racial health disparities lessened with single payer. Covid revealed the deep inequity and ineffectiveness of current employer-based health care system when masses of people lost their jobs.
Climate Action: Creating 21st Century Jobs and Justice — UE organizer on the environment Kari organized meeting. Instead of arguing about the science of climate change with members better approach talking about their lived experience and how things have changed and how these changes now and in the future will affect their jobs and communities. Issues such as food and alcohol are affected by higher heats (coffee, wine and barley/hops for beer). POC and poor more affected by extreme weather. Utility costs up. San Diego CA trying to municipalize energy system. Changes which would have the most impact: 1. Public Power using renewable energy. 2. Public transportation using renewable energy 3. Regenerative Agriculture instead of big industrial agriculture. Urban Farms. 4. Retrofit buildings so they do not require fossil fuels. 5. Decrease the military (use the funds for socially useful programs). 6. Reuse of products, bargaining for reuse and the "right to repair". 7. Low carbon jobs such as care, service and education jobs. Bargain for more time off. 30 hours work for 40 hours pay. Pension divestment from fossil fuel, should point to where the money could be invested instead. Answer to right wing attack that climate solutions are Job Killers: How worker already has the skill and can use in more socially useful way. Focus on people's lived experience. How transition needs to be union/worker centered. No to false solutions. China's fossil fuel emissions are up but they are in many cases creating products for the USA market. Example of electric cars. Estimated there is enough lithium in the world to build 1 billion cars and currently there are 1.5 billion cars so how does that work? Mining and resource extraction pushes the burden onto the people/workers of other countries. Tech fixes — who will control it? Big business or the workers?
Thoughts on strategies for workers between and at the margins of unions at Labor Notes 2022
Ivan D, Vancouver BC
I had two big takeaways from Labor Notes 2022, which, like for most participants from Canada, was my first time at a Labor Notes conference: 1)the youth of many of the 4,000 participants, and 2) the strategies many class struggle fighters use to empower workers between or at the margins of formal unions.
First was the most obvious and commented on observation, that there were a lot of young people there. I think this is worth thinking about carefully because it is, of course, a good thing, but I think we have to consider that most of these young workers seemed to be drawn from a narrow social, subcultural background – kind of alternative-ish, mostly white, many queer or queer adjacent, and nearly all seemed to be associated with DSA in one way or another. In assessing the political character of what could be the entry of a new, inchoate generation of labour leaders, I think this emergent group needs to be analysed with some care. I don't think there is enough evidence to be clear enough to be definitive about the meanings of this group's participation, but it sure was significant.
I'm more interested in my second big takeaway, the strategies to work between and at the margins of formal labour unions. The big recent successes applauded at Labor Notes were made of such adaptive and creative class struggles, including the Amazon Labor Union, an independent union started from the shop floor up, and Starbucks United, which, while a project of SEIU, was driven by spontaneous cooperation between previously disconnected and geographically disparate Starbucks shops.
The testimonies of the organic leaders in the Starbucks United movement showed that, while they used the infrastructure and funding from a formal labour union, the motor force of this union drive was something more culturally and historically unique and hard to clearly pin down. Immediately after a successful vote at a particular shop, they'd get flooded with calls (and DMs) from workers at Starbucks on the other side of the country or down the street, hearing about it though social media and feeling able to reach out by a sense of having a common enemy, and also of having a common social identity – as workers, yes, but also because of that other hard to pin down shared culture that I pointed to above. Both Starbucks United and the Amazon Labor Union use traditional union structures, but are animated by a social-cultural consciousness that includes class consciousness.
The second form of inter-union cooperation I noticed was between unions that have not historically worked together, or which have even worked against each other. At the panel about organizing across unions, Brandon Mancilla from the Harvard Graduate Students Union called this an "ecosystem of unions," and said their successful struggle depended on direct cooperation and coordination with the more experienced and militant cafeteria union, and with a more passive but still important coalition with library, security guard, and cleaners' unions on campus. Ron Kaminkow from Railway Workers United said that recently the 12 unions that have historically gone so far as to scab on each other on the railway system in North America recently formed a unity agreement for the first time, which he bets will lead to the first united railway strike in decades. In conversation outside of any panel, members of the LA Teachers Union told me that their schools are split up between 8 different unions, and their unity is what produced their important victory in 2019.
Finally, the third form of work between and at the margins of formal unions was of workers centres like the Naujawan Support Network in Brampton Ontario, labor NGOs like those Eric Chen said supports spontaneous workers action in China, and which support the self activity of delivery drivers in New York and non-status workers in meat packing plants in Texas, and workers organizations, like Amazonians United. Some non-union workers organizations have a middle class service organization feel, where the protagonists of struggle are the paid staffers who speak out on behalf of workers. But others are the only way that workers can organize in political climates where unions are criminalized, like in China, or workers are barred from forming them, as is the case for non status workers in the US and for temporary foreign workers and international students in Canada, or not yet possible to form because of the irregular or isolated character of labor, like with drivers working under Amazon DSPs or delivery drivers who work under an app like Uber Eats. The question of whether the worker organization is a middle-class service group or an instrument of and for workers determines whether it is a class struggle organization or part of a welfare apparatus.
One of the problems socialists face today is the fragmentation of the working class into the employment of ever more sub-contracted companies, across borders into international areas of production and distribution, and into independent sub-contractor jobs organized by app-based corporations that, officially speaking, have no employees. The trend that showed at Labor Notes 2022 of creative organizing between and at the margins of formal labor unions shows that class struggle fighters are sensing these changes and adapting to continue struggle on these new, uneven grounds.