Posted October 8, 2007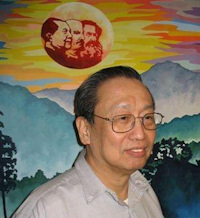 As an anti-imperialist and non-sectarian socialist organization Solidarity wishes to draw attention to the dangers raised by the recent arrest and detention of Jose Maria Sison in the Netherlands. Sison was arrested on August 28th, and released on September 15th after a Dutch court ruled that there was insufficient evidence to continue to hold him in detention. The Dutch government arrested him, under suspicion of his having ordered the assassinations of former Communist Party of the Philippines (CPP) leaders, Romulo Kintanar and Arturo Tabara. Despite this, Dutch police plan to continue their attempt to prosecute him for these murders. Sison has been living in the Netherlands as a political refugee for many years now. He is the founder of the CPP, and the leading figure of the movement associated with it. At the time that the murders of which he is accused took place Solidarity issued a statement condemning them, as well as the overall campaign of threats and assassinations by the CPP. We believe that Sison bears some level of responsibility for these murders. At the very least he does so in having lent his influence and prestige in publicly justifying them at the time they took place. This was done in part on an erroneous basis that deliberately distorted facts.
Despite this we recognize that there can be no recourse to justice through the agencies of the Dutch government which was not among the wronged parties in this instance at any rate. This move on their part is part of the shift to the right in European politics, and the rise of anti-immigrant xenophobia. It takes place in the international context of the US led war on terror, the listing of the CPP as a terrorist group, and of Sison as a terrorist by the US and EU. This is due not to its sectarian attacks on others on the left, but to the role that it has played in the Filipino national liberation struggle. Following the arrest US ambassador to the Philippines Kristie Kenney lent credibility to the action against Sison by pointing to the listing of the CPP, and its armed wing the New People's Army as terrorist organizations. It is clear that they will use this latest round of arrests not to bring justice, but to intensify repression. The overturning of a decision by the Council of the European Union to maintain the classification of Sison as a terrorist preceded this most recent arrest. The Dutch police will not let up because of this decision to release him, as he and others associated with the CPP leadership, have long been targets for them. It is in that spirit that we urge vigilance with respect to the ongoing attempt by the Dutch police to prosecute Sison.