Chris Brooks
November 15, 2018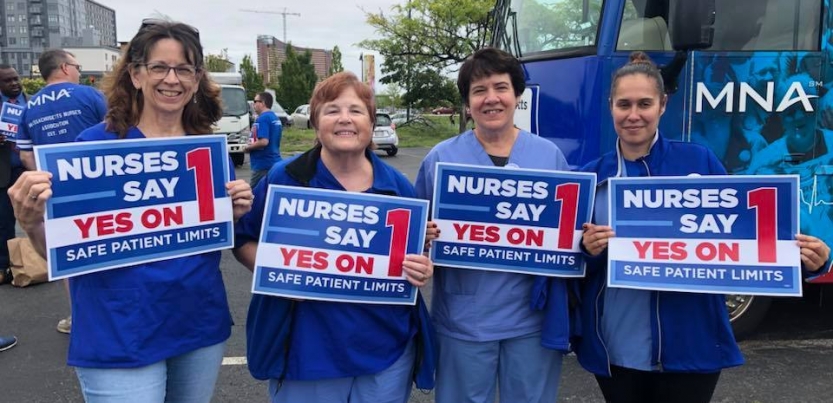 Massachusetts nurses suffered a devastating defeat at the polls yesterday as a union-led ballot initiative, Question 1, lost by more than 2 to 1.
Question 1 would have improved hospital care by limiting the number of patients that bedside nurses could legally be assigned.
The ballot question was shepherded by the Massachusetts Nurses Association, which represents nurses at 70 percent of the hospitals in the state, including 47 private and five public hospitals.
On the face of it, the appeal of Question 1 seems obvious: Would you rather be cared for by a nurse who has three other patients, or a nurse who has seven other patients?
Safe patient limits are the Holy Grail for nurse unions. While many union contracts establish nurse-to-patient ratios (see box), only in California have nurses won universal ratios at the legislature.
The results speak for themselves. "In California they have lower instances of avoidable readmissions and their patient outcomes are better," said Nora Watts, a 43-year nurse at Newton-Wellesley Hospital outside Boston. "The morbidity and mortality rates from hospital-associated problems are decreasing faster than anywhere else in the country."
So how did employers persuade the public to vote no? The Massachusetts hospital lobby spent upwards of $30 million to drum up fear and confusion in a campaign that strongly resembled an anti-union drive.
MASS CONFUSION
Question 1 pitted MNA's ground game against the deep pockets of the state's $28 billion hospital industry.
"We did a huge amount of behind-the-scenes research, polled our members, developed literature, developed a pool of speakers who went all around the state in forums we organized," said Katie Murphy, a nurse for more than 40 years.
"We made posters. We organized constant phone banks, pumped out social media. We wore buttons on the job, planted lawn signs in our yards, made legislators sign pledge cards, and we knocked the doors of our neighbors."
But in the end, it wasn't enough.
"We have been outspent three to one," said MNA Executive Director Julie Pinkham, "and the hospital lobby was effective enough in confusing and scaring people to the point that they didn't know how to vote to support nurses."
Banners and yard signs opposing Question 1 intentionally resembled the MNA's. An employer-financed television ad featured a statement from the American Nurses Association, a manager-dominated professional association with anti-union roots.
"Everyone wants to support nurses," Pinkham said. "The opposition has done an effective job in dressing up non-staff RNs in scrubs as the front of their campaign."
TERROR AT WORK
In the hospitals, the employer campaign mimicked an anti-union drive.
"I've seen co-workers in tears," said Mark Brodeur, a nurse from Berkshire Medical Center.
"They have group meetings where they told the LPNs [licensed practical nurses] that if this goes through then there won't be a job for you," he said. "In every outpatient office there are pamphlets all over the counters claiming that unless everyone votes no, hospitals will close and services will be eliminated. Administrators are creating terror."
"There are lots of non-union nurses who helped us in this campaign," said Karen Coughlin, a 34-year nurse who retired last month to work full-time on the Question 1 campaign. "They've knocked on doors, made calls, and been out with signs at the polls—and they've been through hell at work.
"They've been forced to have one-on-one conversations with their supervisors who tell them to vote no on 1 or they will close their unit or change their hours."
The MNA established a hotline for patients and health care workers to report intimidation by administrators. Patients called to say they had received envelopes from Baystate Health, stamped "TIME SENSITIVE" in red ink. The envelopes contained "No on 1" pamphlets.
The union also received reports that patients undergoing treatment were told that the services they were receiving might end if Question 1 passed.
Many health care workers are represented by mega-local SEIU 1199, which partnered with the MNA to write the ballot initiative, but then chose to remain neutral on Question 1.
"It is concerning that SEIU members were being threatened but the union didn't take a public position on this legislation," said Brodeur.
CONFRONTING UNDERSTAFFING
Constant understaffing is a serious concern for hospital nurses everywhere. It's a major union priority in contract negotiations.
Had the initiative passed, the maximum number of patients per nurse would have varied by department. These numbers were chosen based on research and guidelines from organizations such as the Association of Women's Health, Obstetric, and Neonatal Nurses, said Susan Wright Thomas, a nursing instructor who works at Cambridge Hospital.
For instance, nurses treating mothers in labor or who had just given birth would be assigned only one patient. In a step-down unit—where the severity of the patient's condition is one step down from intensive care—the limit would be three patients per nurse.
The MNA has been trying to pass a law mandating safe patient limits for years. The closest it came to success was in 2014, when a similar ballot initiative was withdrawn in exchange for a legislative compromise that set a limit of one patient per nurse in intensive care units.
Some nurses contrasted the failed campaign with the Massachusetts Teachers' successful 2016 campaign to shoot down the business-backed Question 2, which would have lifted the cap on the number of charter schools in the state.
The charter school measure "had a lot of money from business behind it," said Katie Murphy, who has been a nurse for more than 40 years. "But school administrators weren't publicly threatening teachers with school closures and layoffs."
---
Striking for Safe Staffing
Suzanne Love is a nurse in the emergency department at Baystate Franklin Medical Center in Greenfield. She and her co-workers won their first union contract in May. She describes the fight to win safe staffing:

"I work for a small community hospital that is owned by Baystate Health, a huge corporation that employs over 12,000 people across the six hospitals it owns. It's the largest private employer in the region.

"At Franklin, we have a good nurse staff ratio because we won language in our contract saying the hospital will hire enough people.

"Before, they would put out a schedule and there would be hundreds of holes in it because they wouldn't hire enough people. Instead they would pressure nurses to come in and work more shifts, to work overtime, or work understaffed.

"We had to go on strike twice to get them to hire enough staff to properly staff the place. Those strikes were June 2017 and April 2018. It was only after those strikes that the hospital finally agreed to our safe staffing language.

"As a result, the hospital hired 25 full-time nurses. We only had 200 nurses to begin with, so that is a pretty big jump.

"Having the ability to negotiate with management makes a huge difference. Non-union hospitals have the worst patient and staff ratios."
This was originally posted on Labor Notes.