Dan Clawson and John Fitzgerald
May 8, 2018
Educators for a Democratic Union (EDU) is the progressive caucus in the Massachusetts Teachers Association in which several Solidarity members are active. Four years ago, EDU ran a candidate for president largely as a vehicle to make connections with those we couldn't easily reach. As a result of an effective campaign, an unsuspecting old guard, and a disgruntled membership, Barbara Madeloni won a two-year term. She ran for re-election in 2016 with a running mate; she won again, but her running mate lost. Since then our union has been in the process of becoming a more progressive and militant union.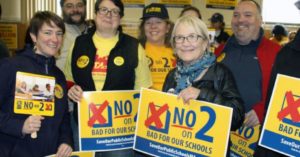 In the fall of 2016 we defeated a ballot question that would have raised the cap on charter schools in the state.  The pro-corporate forces to expand charter schools (and thereby remove public control of schools), spent $26 million.  In March of the ballot year they were up in the polls by 25 points; the governor (the most popular in the country) and the state's largest newspaper strongly backed the charter forces.  Our union, together with community and labor allies, organized teachers to go door to door; we eventually WON the measure by 25 points (that is a 50 point swing).
This was a really enormous victory that shocked the corporate ed reformers (see this leaked report commissioned by the Waltons analyzing what went wrong in which they specifically point to a transformed MTA) and has been part of the emerging and growing teachers movement that's been taking place since the Chicago Teachers Union lead the way.
Barbara Madeloni is terming out. EDU organized essentially a primary to choose our candidates for president and vice-president, choosing Merrie Najimy and Max Page. The vote was May 5 at the MTA's Annual Meeting (where delegates vote for these positions) and our candidates won a decisive victory. This victory reflects a really well-run campaign as well as a leftward drift of the membership that's clearly been inspired by our victories under Madeloni as well as by the national walkouts.
This year we (together with numerous allies) have put on the ballot a measure to increase taxes on incomes over a million dollars a year.  That will bring in up to $2 billion a year, which is designated to be spent on education and transportation.  (Comparison:  Massachusetts now appropriates less than $5 billion for K-12 education, and about $1 billion for higher education.)  Our opponents inside the Massachusetts Teachers Association oppose spending any money to promote the ballot question, arguing that since it is up in the polls, it is sure to win without our committing resources.  (Seriously — that's their argument.)
Had the EDU candidates for president and vice-president of the union been defeated, that ballot question would surely have been lost, as would the transformation process in the union.  Besides the members, a lot of labor and community groups in the state are very happy that EDU won this election and won big.