Detroit Coalition For A Green New Deal
January 16, 2019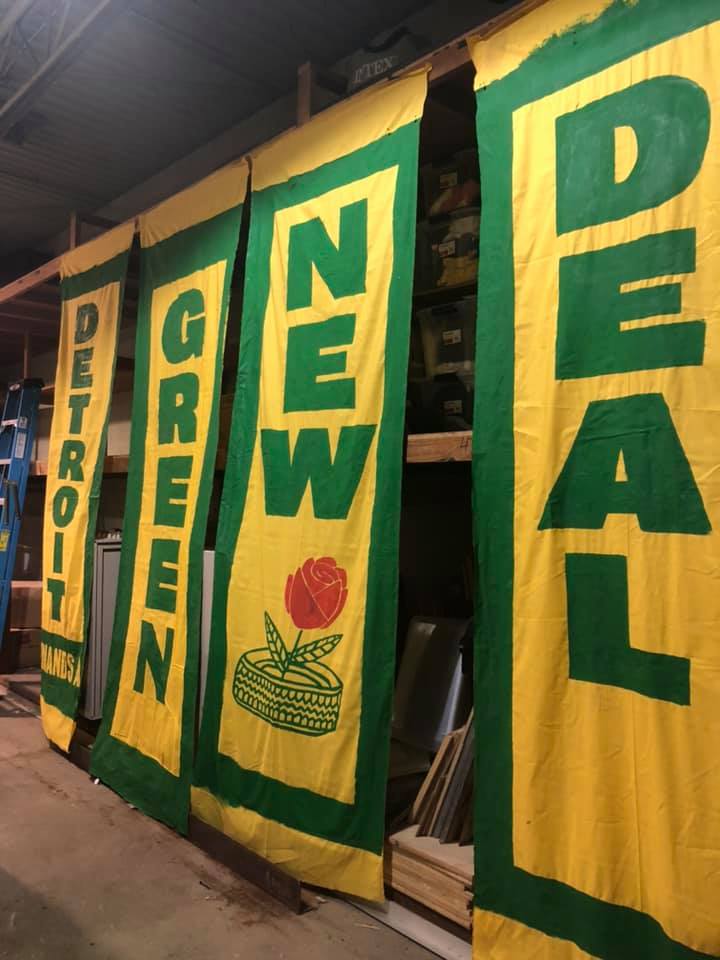 GM recently announced that it plans to close five North American manufacturing facilities, including two in Metro Detroit. This shameful announcement comes at a time when the company is reporting record profits and its CEO, Mary Barra, makes $22 million a year. Meanwhile, as GM proclaims its commitment to a "zero emissions" future, it has decided to pull the plug on the hybrid Volt, which is manufactured at the Detroit-Hamtramck plant, so it can focus on gas-guzzling pickup trucks and SUVs. GM has no right to displace over 14,000 workers, their families, and their communities. These facilities are not just the "property" of a corporation. They belong to the workers who have contributed their labor, and the taxpayers who have provided enormous tax breaks, public subsidies, and bailouts to GM.
We are launching a coalition of labor, environmental, and community groups to resist this outrageous action, and push for a just, green economy, starting here in Detroit. Our first planned protest will be held at the International Auto Show (at Cobo Hall in Detroit) on Friday, January 18, from 5:30-7:30pm. Our rallying cry is "Make Detroit the Engine of Green New Deal." Our list of demands is as follows:
1. GM must honor its labor contracts and its legal and moral commitments to the places in which it has done business. This means keeping all the plants open, creating more union jobs, and ensuring they contribute to the building of a green economy.
2. If GM does not agree to keep the plants open, we demand that they be seized via eminent domain and put to public use. If eminent domain was used to take property from the residents of Poletown in the early 1980s to build the Detroit-Hamtramck plant, it can be used today to take the assets back. Public hearings on this issue are vital.
3. We demand a Green New Deal that takes us on a path to rapid decarbonization of the economy, implements a federal union jobs guarantee, and ensures a just transition for workers, people of color, the poor, and other marginalized groups.
Current List Of Co-Signers:
Rashida Tlaib, U.S. Representative, MI 13th District
Raquel Castañeda-López, City of Detroit Council Member, District 6
Detroit Democratic Socialists of America (DSA)
The Autoworkers Caravan
Sunrise Michigan
The Boggs Center
Good Jobs Now
East Michigan Environmental Action Council (EMEAC)
Breathe Free Detroit
Green Party, Detroit
We the People, Michigan
SE Michigan Jobs With Justice
OneHamtramck
Detroit Jews for Justice
Soulardarity
Detroiters Working for Environmental Justice
We Want Green Too
Detroit League of Revolutionaries for a New America
Detroit Eviction Defense
Detroit Community Wealth Fund
East Ferry/Warren Community Association
LP-Indivisible (Lafayette Park, Detroit)
Indivisible Fighting 9
Unifor Local 222 Political Action Committee (Canada)
Unifor Local 222 Retired Workers' Chapter (Canada)
Swords into Plowshares Peace Center & Gallery
Detroit IWW Solidarity Committee
Detroit Solidarity