Robert Caldwell
September 26, 2018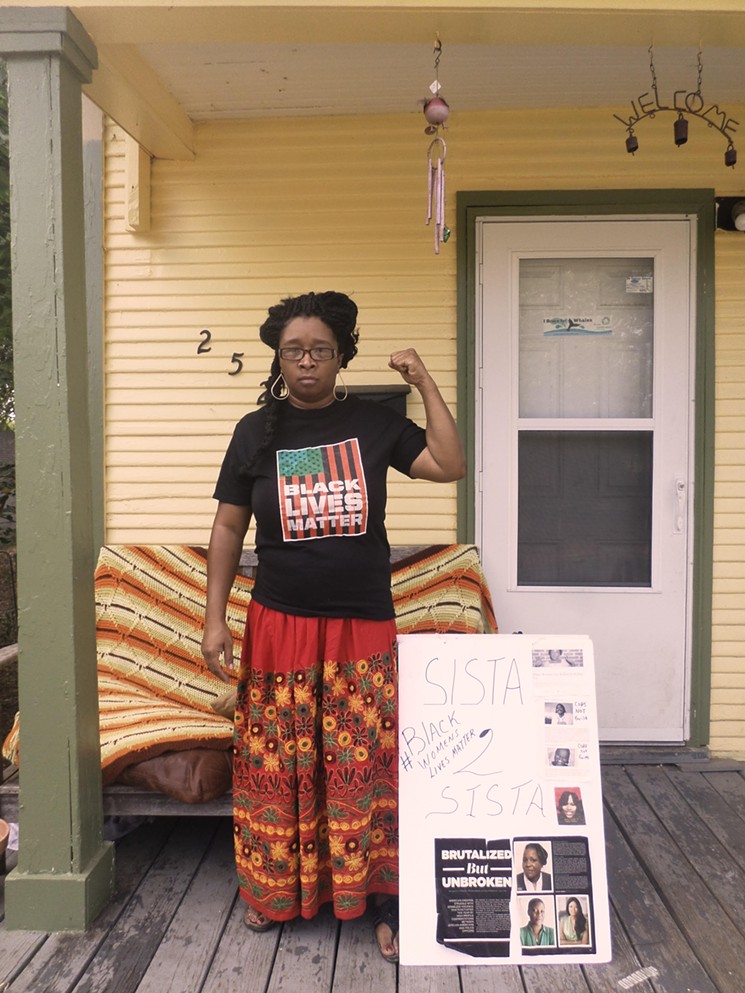 On September 6 Dallas police officer Amber Guyger shot to death Botham Jean, a neighbor in the housing complex where she lived.  Recently, Robert Caldwell interviewed Olinka Green, regarding the murder and the community response in the weeks since.  Olinka Green has been a community activist for the past thirty years, fighting against racism, police abuse and brutality and environmental racism. She is a member of DALLAS ACTION coalition, the NORTH TEXAS ACTION committee and the DEMOCRATIC SOCIALISTS OF AMERICA (DSA).
Robert Caldwell (RC):  What were your immediate reactions when you heard about the police murder of Botham Jean?
Olinka Green (OG):  I kept hearing this name… and immediately I felt confusion; anger. How could something so bizarre happen? I wanted answers and to know what really happened to this Black man from St. Lucia.  At first lots of different stories were coming forth [in the media] but the stories changed. There was an attempted cover-up and character assassination of Botham Jean by the police.  This is like an onion: you have to peel back layers to get to core of what happened.
RC:  What has the community response been?
OG: People in the community have pushed for answers. Community members went to the apartment complex and saw the blood, saw the crime scene.  They protested at the Dallas Police Department and young people blocked highway traffic.
No answers were coming from City Hall, so protesters took to the city council meeting.
There have been prayer vigils by Black Pastors Coalition (also known as the African American Pastors Coalition with Freddie Haynes and Michael Waters).
Ministers also brought the protests outside a Dallas Cowboys home game at AT&T Stadium in Arlington, carrying two caskets (one for Botham Jean and another for a young man, Oshea Terry killed by Arlington Police during a confrontation). Young people broke off and stopped traffic, and nine of them were held for multiple days in Arlington before being released.
Caskets and a hearse also marked a mock funeral outside the Dallas Police Association.
RC: Do you think the response would have been different at the peak of the Black Lives Matter movement?
OG: We would have had at least 900 in the streets because the social networking and level of the organization was higher then.  Most of the recent protests are militant but only around 75-100 people.
RC:  Who and what organizations are most involved and what are their demands?
OG: The organizations involved are:
Dallas Action, which focuses on protests rather than policy
NGAN (Next Generation Action Network), led by Dominique Alexander, is calling for a Citizens Review Board
African American Pastors Coalition who are calling for justice and an end to police killing
Botham Jean's family has demanded that Guyger be fired.  They want her to tell his mother the truth about what actually happened.
MAPB- (Mothers Against Police Brutality) does not mobilize people but is focusing on advocacy, policy, and systemic change, including installing a Citizen's Police Review Board.
RC: What stands in the way of a bigger, broader mobilization?
OG: There is no clear directive. The organizations need to come together to better coordinate and mobilize. They need to be more involved in all ways and bring more into the movement.  During the height of the Black Lives Matter, a lot of actions were spontaneous and organized through social media.  Now, people are getting tired. People are weary, we need to readjust and re-energize and to think about how to keep this going.
RC:  Amber Guyger was arrested on manslaughter but released in less than two hours. Recently she was fired.
OG: She is still out.  What conditions does she have? Can she still drink, carry a gun, does she wear an ankle monitor? Does she still keep her passport? What is her curfew? Is she on house arrest?
There are ongoing protests. There is a major action planned for September 29 (Jean's birthday) and on September 30 (at Fair Park, also focusing on the issue of cash bond).
Robert Caldwell is a member of Solidarity.