Posted November 4, 2019
Forward to the General Strike for the Constituent Assembly
The undersigned trade union organizations have come together in a historical meeting whose purpose was to show unity in the face of the indolence and unwillingness of the government, business and parliament to listen to, pay attention to, and act on the demands the Chilean people have expressed in the streets in recent days.
In this context, we set as our strategic objective the drafting of a New Constitution that allows establishing the political and economic bases for the social rights that were taken away in the dictatorship and that for 30 years no government has had the will to restore.
For this New Constitution, the workers consider that the only legitimate way is a CONSTITUENT ASSEMBLY to return the leading role to the Chilean people as a whole, making them part of the decision-making that affects the whole society.
To advance in this and in the set of demands that the social, popular and trade union organizations have raised, as a faithful reflection of what the street demands, we have agreed to establish a STRIKE COMMITTEE to pave the way to an effective stoppage of all sectors and to advance towards a General Strike which demonstrates our strength and conviction to transform Chile forever.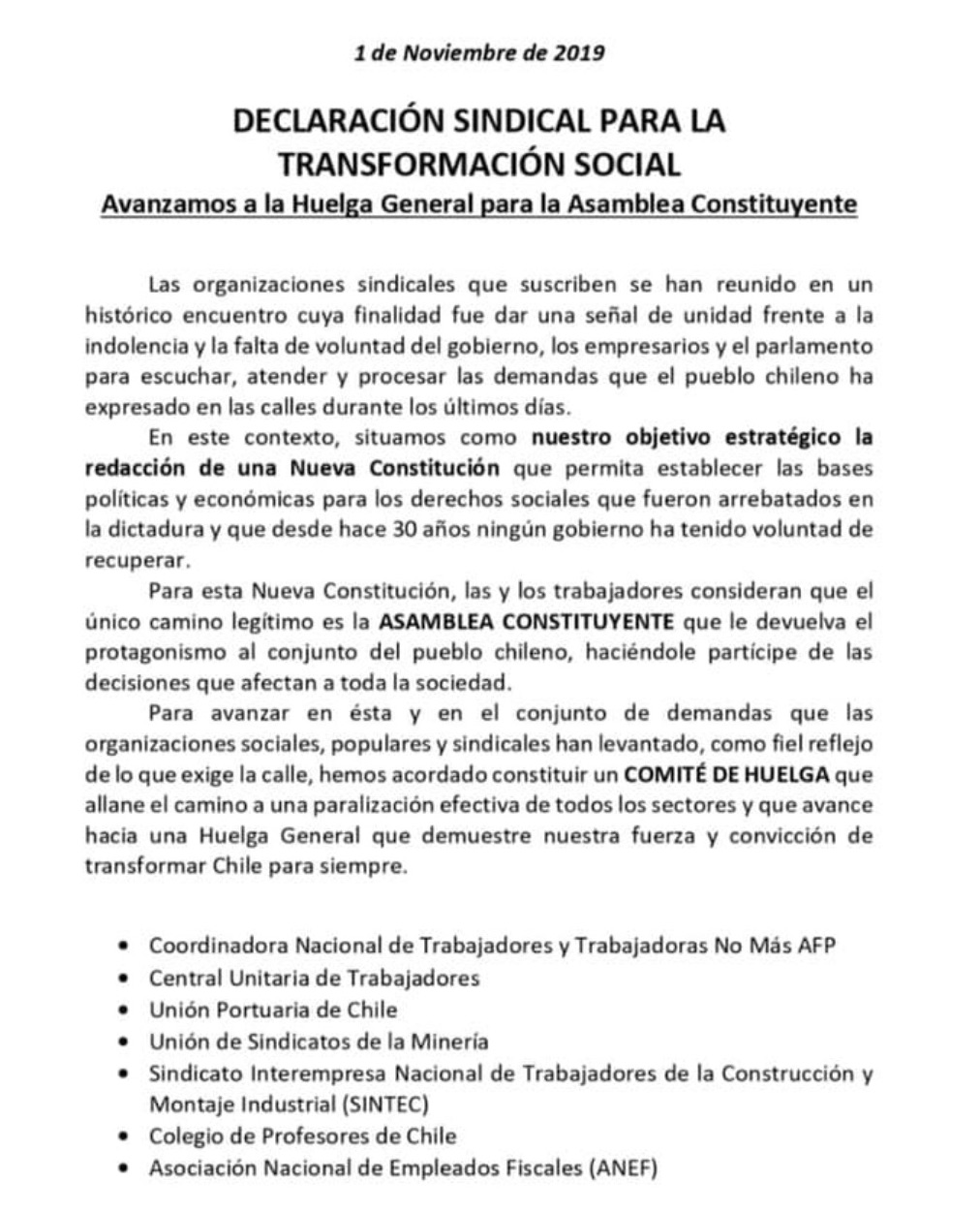 Coordinadora Nacional de Trabajadores y Trabajadoras No Más AFP
Central Unitaria de Trabajadores
Unión Portuaria de Chile
Unión de Sindicatos de la Minería
Sindicato Interempresa Nacional de Trabajadores de la Construcción y
Montaje Industrial (SINTEC)
Colegio de Profesores de Chile
Asociación Nacional de Empleados Fiscales (ANEF)
November 1, 2019