Posted March 31, 2010
Order these eye-catching buttons to spread the demand for social and economic justice. If you don't have paypal, email us!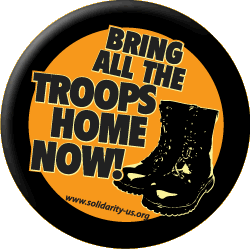 Brown and black buttons demand: "Bring all the Troops Home Now!" Wear one everywhere to start a conversation about why US occupation can never be a force for liberation, and people's needs should come before the massive military budget.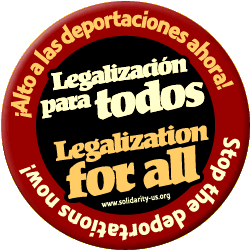 These 2 1/8″ buttons read, in Spanish and English: ¡Alto a las deporaciones – Legalización para todos! Stop the deportations – Legalization for all!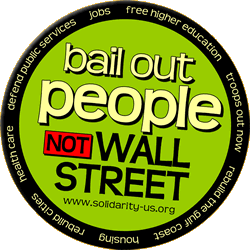 Reads Bail out People, not Wall Street!. Around the edge, these 2 1/8″ buttons read "Free Health Care," "Defend Public Services," "Living Wage Jobs," "Free Higher Education," "Troops Home Now," "Rebuild the Gulf Coast," and "Affordable Housing."