by Alex Greene
August 9, 2015
A year ago today, Michael Brown was murdered by a police officer in Ferguson, MO–one of a thousand or more victims of police violence in 2014. In the time since then, Black Lives Matter has grown from a hashtag and rallying cry to one of the most important social movements this country has seen in many years, a movement which has mobilized and radicalized significant new layers of young people of color, developed and promoted the leadership of young women and queer people, made a number of important tactical innovations, and in changed the whole conversation around race in the U.S. Today should be a day of mourning for the hundreds of innocent lives taken by police each year, as well as a day to acknowledge and take action for the movement that has grown in response to this violence.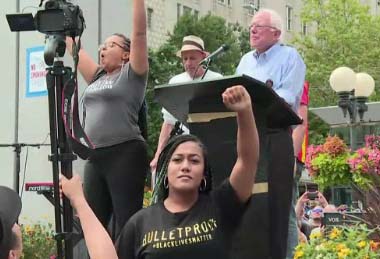 Black Lives Matter activists interrupt a Bernie Sanders speech in Seattle.
And for many, it will be both of those things. How disappointing, though, that for so many white leftists and progressives in my social media feed, today has instead been a day to criticize if not outright condemn this movement and its activists for staging an action that interrupted Bernie Sanders at the start of his presentation at a rally defending Social Security. These responses have ranged from questions which, while perhaps coming from a well-intentioned desire to understand, betray a fundamental ignorance about the movement and its politics and structures, to proclamations about the problems of the movement and what it should be doing better, to outright racist and sexist attacks on the two young women who carried out the action, to claims that they are operatives working for the Clinton campaign and deliberately trying to sabotage Bernie for her sake.
I am white, and I am primarily concerned here with the attitudes of other white activists. Rather than just shaking my head at the responses I'm seeing, I want to appeal to white folks to think this through and do better.
As white people, our response here should focus primarily on the problematic ideas and attitudes and gaps in understanding that we are seeing among white people (including in ourselves), rather than on the tactics that Black activists chose or what we think they should have done instead. That so many white liberal supporters of Bernie Sanders have been dismissive of Black Lives Matter, and that some have said racist and sexist things about the Seattle activists, is sad, if not terribly surprising (this is part of how whiteness operates). But that many white revolutionaries are responding to this incident primarily with criticisms of the tactic and of BLM as a movement is more of an unfortunate surprise. We ought to know better.
Surely it is more important to consider and respond to the deeply flawed race politics (or lack thereof) we are seeing from countless white activists around the country than to draw up a balance sheet on the tactical choices of a small handful of young Black activists in one city. Rather than blaming BLM activists for provoking these problems, we should encourage collective education and reflection around race and white supremacy and hope that people can develop a deeper commitment to racial justice and come to understand why Sanders has so much criticism. That Sanders has responded by adjusting and expanding his campaign message around racial justice, to some extent, is laudable, but this shift was in response to previous disruptive pressure from BLM activists, which suggests there was something successful about their approach. (And today, a day after the second disruption, the platform on his website has a brand new section on racial justice.)
We need to learn about and understand movements led by people of color in more than a cursory way. Some white radicals, including revolutionaries with many years of experience engaging in and analyzing movements, have responded to the Seattle incident in ways that make clear they have not followed this movement closely, don't know who is in it or leading it, don't know how it's structured internally, and really don't even know what its basic politics are. For example, I don't think anyone who has followed this movement closely could seriously suggest that BLM is targeting Sanders because it supports Clinton, when the movement has consistently rejected the presence even of Black Democratic politicians at its events and when so many of the movement's visible leaders are consistently, publicly, and explicitly critical of Clinton and the Democratic Party. Further, I think anyone attuned to this movement understands that it is loosely structured and heterogeneous, and has a large degree of local autonomy, and therefore that reading a broad strategy or politics into one action from one small local group makes little sense without carefully establishing the context (and the context, in this case, appears to be confusing even to active participants in BLM).
When we are ignorant it's our job to learn, rather than jumping straight to ill-informed speculation (let alone ill-informed confident proclamations, a hallmark of white male leftism). And we should take it as our own responsibility to educate ourselves, rather than waiting until we see something that confuses us or that we find objectionable and then demanding answers. I couldn't count the number of times in the last year I've heard Black activists complaining about white people constantly asking them for explanations about the most basic stuff, and can only imagine how tiring that must become–and how frustrating it must be when the white interlocutor decides they disagree with something they've just heard for probably the first time, and the request for an explanation becomes a demand to defend political ideas on behalf of an entire community and movement.
If we took responsibility for our own self-education–by listening to the words of movement activists in articles and blogs and social media accounts, by paying close attention to activities of the movement all over the country, by showing up to events and meetings wherever possible to listen and participate, and however else–we wouldn't have to ask the vast majority of questions we ask, and the questions we did still have would be relevant ones that didn't force people of color to take responsibility for white ignorance.
We need to carefully understand movements like Black Lives Matter not so that we can make more informed criticisms, but so that we can know how to get involved and concretely support the work. This means directly supporting BLM work as allies or co-conspirators (and this is possible even in places where actual membership of local groups is exclusive to Black people) but it also means bringing support for the movement and its politics to other political spaces–including, for example, our unions and community-based organizing and also, for those active in it, to the Bernie Sanders campaign. This might mean pushing Sanders to do better on race and immigration; it might mean pushing his supporters to show up for Black Lives Matter actions and other social movements to support them in good faith.
None of this is to say that there can be no criticism of BLM actions, or even that the Seattle action was on balance a good idea. But critical analysis, to be productive, should originate from people active in the movement. And I imagine it will: I see plenty of evidence that folks in this movement are engaged in vibrant and creative debate and have a range of views. BLM is full of brilliant and radical organizers who don't need casual outside objections from white folks to tell them what is or isn't working. It isn't that white people aren't allowed opinions or that nobody should listen to them, or that we have to uncritically accept whatever we're told–after all, if different movement leaders are saying different things, where would that leave someone who couldn't think critically and form their own opinions? But the long tradition of white supremacy and the historical limits of white support for racial and national liberation means that the right to have anyone care about or engage with our opinions in a situation like this must be earned.
If you complain and criticize without doing the work or even understanding the politics, folks will be entirely justified in being upset with your attitude and naming it as part of a pattern that reinforces white supremacy. But if you listen more than you demand to be heard and do work in a principled and productive way, I think you'll find that your ideas are taken seriously and that folks are willing to engage with you positively. So, rather than asking Black folks to stop criticizing our spaces and our work, let's seek to understand the criticisms and ask ourselves what we can do to support the struggle for Black liberation.
Alex is a member of Solidarity's National Committee and lives in Knoxville, Tennessee.