Wendy Thompson
July 26, 2018
This is the first of occasional memoirs relating to the 50th anniversary of 1968.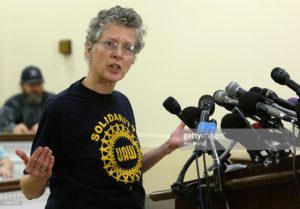 At the beginning of 1968, I was a sophomore at the University of Southern California (USC) in Los Angeles. I had grown up in Evanston, Ill. But my parents were from California so I was drawn there by my family ties but also by politics. California colleges had a reputation for radical politics. My parents were active in the Civil Rights movement and I began marching for open housing at the age of twelve, the same year my father was arrested trying to integrate churches in Jackson, Miss.
I thought every college in California was radical and liked the fact that USC was in South Central Los Angeles, a black community next to Watts where there was a large Rebellion in 1965. I did not know that USC almost decided to build a wall around the campus to protect it from the community or that this is where the ruling class of southern California went to school. I wanted to leave but was convinced to stay and be a part of an independent study program called the Urban Semester. I also became active in the Young Democrats which organized the first anti-war teach-in at USC jointly with SDS (Students for a Democratic Society). I brought the first black power community activist to campus as a speaker.
In the Urban Semester we studied urban life and my chosen project was to establish contact with a local high school with a black student body that was fighting to get rid of a racist white principal and get a black one. The students, teachers and community were all organized and I became a part of the struggle. All sides came to present their views to the participants of the Urban Semester including the principal! I realized, however, that the orientation of those running the program was to convince the students to become a part of the capitalist system and that I was the only one at the end that rejected it.
I moved off campus in my sophomore year to a house in the community with other students which had a big sign above the porch saying "Ellis Island". I was riding a city bus filled with African Americans the day Martin Luther King was killed and will never forget how they all looked at me with anger and hatred.
I would have left USC at the end of my second year except that I was a French major and could spend my junior year abroad. What luck to have 1968 in France for this project!  I began hearing about the uprising there and bought a pamphlet on the events of May in France while protesting at the Chicago Democratic Party Convention in August 1968. I had come back to Evanston for a summer job. The Convention convinced me to leave the Democratic Party. I decided that I was an anarchist.
I went down to Chicago to join the protests. At a certain point, I realized that I had to stop to avoid the possibility of arrest since I was very soon leaving the country. I missed many important experiences in the U.S., but France totally changed my life. I thought about the slogan "Love it or leave it" at the time and seriously considered leaving for good. I did not study in Paris, but rather near Marseille in Aix-en-Provence at an American Institute. I hated it, since many students were there to ski in the Alps on the week-ends. But I was able to take an exam which allowed me to study directly at the French university. I found a French roommate and thereafter had zero contact with any Americans. My roommate and friends were activists in a small group organized at the Law School as a part of the Unified Socialist Party which was trying to build a formation to the left of the Socialist and Communist Parties. They worked closely with the Revolutionary Communist League.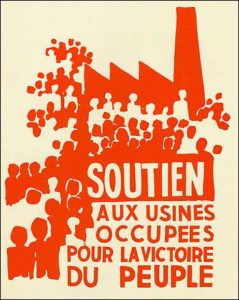 My best friend grew up in Morocco because her father had been an anarchist in the Spanish Civil War and had gone into exile. Her mother was French and her family had been active in the Resistance. I became a socialist in France. My first meeting was a class on the Labor Theory of Value and I had a hard time seeing the relevance. I also felt the importance of racism was underestimated. However, when I saw the numbers of people who were involved, I became convinced that socialism was actually possible and this was what won me over.
I was particularly impressed by the close relationship the student movement had with labor struggles. Strikers would come to campus to speak and students would fill the auditoriums to overflowing. We would go leaflet at the factories. One time a bus of workers saw us and stopped. A worker got off the bus and ran over to us to get a pile of leaflets to take into the plant. I was surprised. I had not had contact with unions in the U.S. I knew I didn't like George Meany, President of the AFL-CIO and heard about construction workers harassing anti-war protesters.
Since the south of France is more conservative than Paris, the height of events there was in May 1969 and I was there. We disrupted exams banging on windows and forming gauntlets. When I told my friends I was considering not returning to the U.S., they encouraged me to go back to the belly of the monster and try to change it. I was won over and went back to the U.S. looking for socialists.
I joined the International Socialists in the fall of 1969 almost immediately upon my return. Instead of becoming a French teacher in inner city schools, I moved to Detroit and became an autoworker. It's ironic that teachers turned out to be more relevant to the struggle than I had originally thought they would be. But I do not regret becoming an autoworker. I went to International Autoworker Conferences in Europe in the 1980's and '90's and also developed ties with Quebec unionists so French language was still relevant. My friends in France from 1968 have been for a lifetime. As a retiree, I help Labor Notes get international guests to their conferences and have expanded my language interests to Spanish, Portuguese and Italian. 1968 brought me to where I am today.
Wendy Thompson is a retired United Automobile Workers (UAW) local president, an activist with Autoworkers Caravan, and a member of Solidarity.