Johanna Brenner
Posted February 18, 2021
A union organizing drive at Amazon's new fulfillment center (BMH1) in Bessemer, Alabama, a majority Black and working-class city adjacent to Birmingham, began in the late summer of 2020, when a handful of workers, fed up with stressful working conditions, intrusive monitoring and lack of safety during the pandemic, contacted the Retail Wholesale and Department Store Union. The union has a high profile in the region, where it has organized poultry workers, many of whom are African American, as are around 85% of the BMH1 workers, and over the last year publicly and successfully protested unsafe working conditions at poultry plants. The union had trained unionized poultry workers for a campaign to organize more poultry processing plants. But when Amazon workers contacted the union, RWDSU pivoted to bring those poultry workers to the Amazon fight.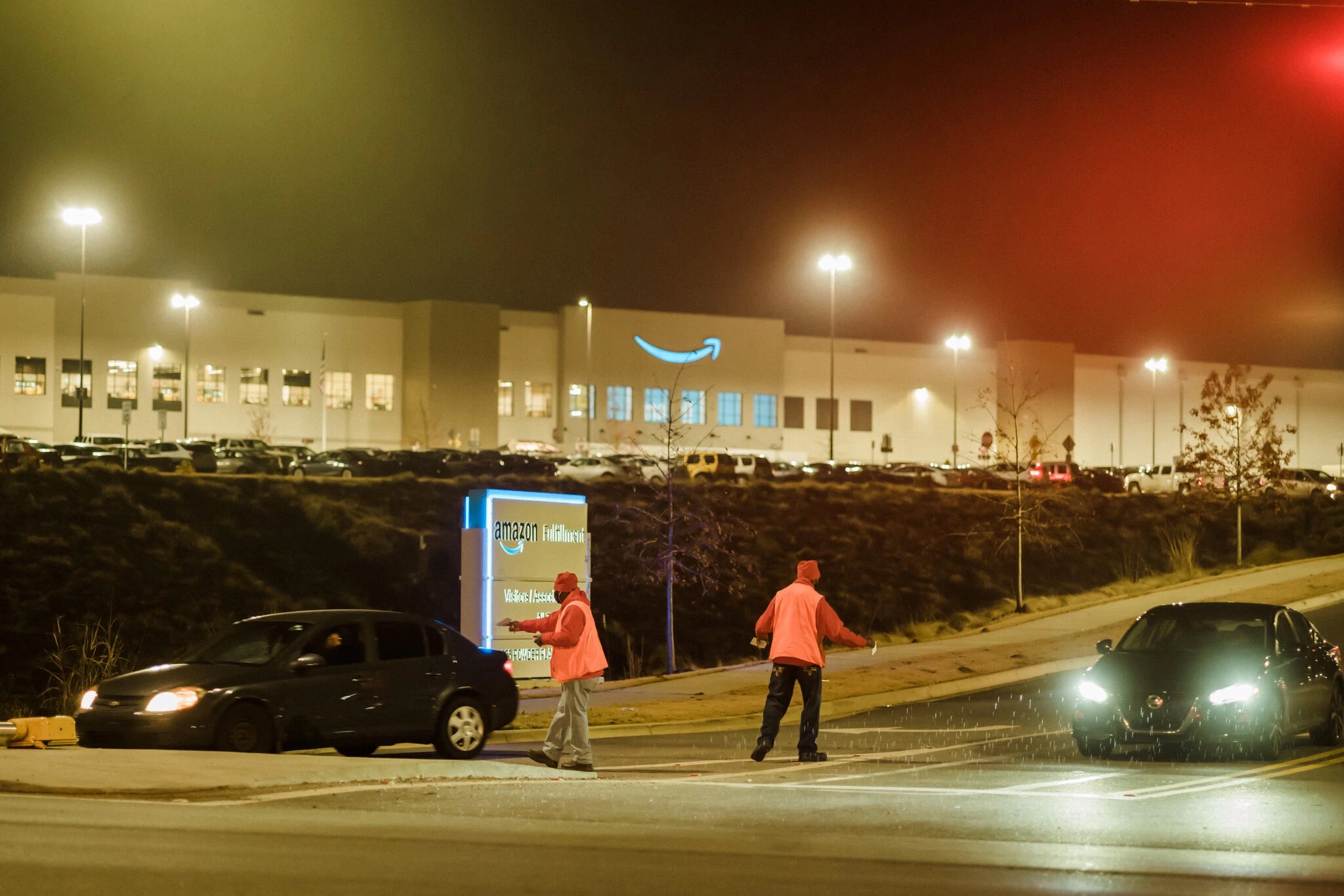 From the beginning, Amazon mounted a massive anti-union propaganda campaign that included mandatory captive audience meetings, an anti-union website, and posters and stickers throughout the plant, including in the bathrooms. To guide its intimidation effort the company hired Morgan Lewis, the largest union-busting law firm in the country. Amazon's major claim is that workers will have to pay high dues; but the dues are not high relative to the benefits, and Alabama is a so-called "right-to-work" state, so dues-payment is not compulsory.
The union on the other hand is highlighting the benefits of a union contract that provides "just cause" employment–a grievance procedure and arbitration– as well as safer working conditions and regulated break times, offering protection against Amazon's hated "time off task" system through which workers can be punished for taking breaks and failing to meet quotas that change from day to day.
In spite of Amazon's efforts, by November, more than 2,000 workers (out of close to 6,000) had signed cards, and the union filed for an election with the National Labor Relations Board. This will be only the second union election at an Amazon facility in the U.S. (In 2014 a group of technical workers at a Delaware warehouse voted against joining a union).
Amazon has done everything in its power to drag out the process and undercut the campaign's momentum. The company also fought to require "in-person" voting, rather than a mail ballot; however, it lost that argument at the NLRB and ballots were mailed out on February 8. Voting ends March 29
It goes against stereotype that the first major union election at an Amazon warehouse is in the South. But Birmingham and its surrounding area has a long history of unionization and strong connections between civil rights struggles and Black union workers. The workers at BMH1 see their struggle as an extension of the Black Lives Matter uprising this summer. At a rally to support the campaign, West Alabama Labor Council President James Crowder told the crowd:
We started with a dozen workers in Bessemer, and we grew to thousands. And it happened fast, and it happened because people like you supported them. People in Bessemer came together… I can't tell you how many times we heard, 'My mother told me if I don't sign this card she's going to kick my ass.' We heard that from uncles, grandparents and cousins. That's the spirit of Bessemer. This is a union town. It's always been a union town and it's going to continue to be a union town.
The union of course is up against a vicious corporate giant who will continue to pull out all the stops in its campaign of intimidation and slick propaganda. Amazon knows that a win here would be an incredible shot in the arm for the many Amazon workers around the country who have challenged the company through petitions, protests and walkouts.
The AFL-CIO and other unions have provided organizers to support the union drive, while several community groups have joined the fight to democratize the Bessemer facility. Workers around the country are organizing solidarity actions for February 20 and meeting to discuss how they might help.
The union has set up a website to collect messages of solidarity and support that will be delivered to the workers. Please share this widely with your friends, family, co-workers and comrades!