Tuesday, October 25, 2022, 8PM EDT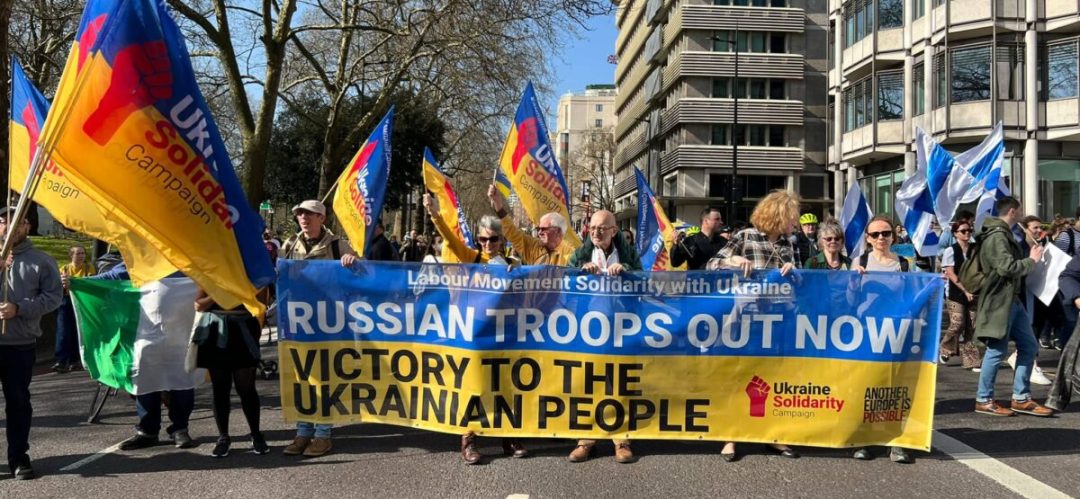 March for Ukraine, London.
SOLIDARITY INVITES YOU to a discussion on "War in Ukraine and its Consequences" to be held by Zoom, TUESDAY, OCTOBER 25 at 8:00 pm eastern time. We'll discuss the Russian invasion, Ukraine's war of defense, the role of the United States and western powers, and the implications for the world.
Participants will include Denys I. Bondar, a Ukrainian activist supporter of the socialist group Socialny Rukh and expert observer of the unfolding crisis at the Zaporizhzhia Nuclear Power Plant; Peter Solenberger, who's closely following the military situation and what it portends for the future of Ukraine and Russia; and Ashley Smith, a member of the Tempest collective and organizer of a Ukraine Solidarity Network in formation following a meetup at Socialism 2022.
For some background:
* Read the interview with a prominent unionist Pavlo Oleshuk from the Atomprofspilka of Ukraine about the situation on the Zaporizhzhia Nuclear Power Plant from the Bulletin of the Atomic Scientists:
Zaporizhzhia on the brink: How deteriorating conditions at the nuclear power plant could lead to disaster
* Read the forthcoming Against the Current editorial statement posted at:
A Letter from the Editors: Clarity on Ukraine – Against the Current