THURSDAY, NOVEMBER 30, 2023, 8:00 pm EDT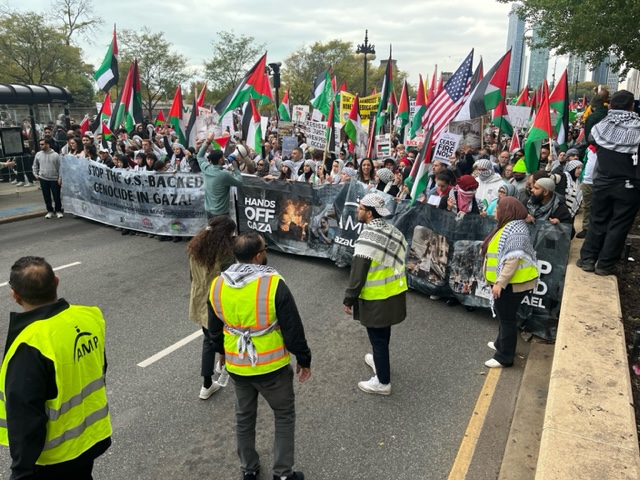 Chicago, October 21st demonstration of 10,000 calling for a ceasefire in Gaza as the Israeli embarks on murderous invasion.
YOU ARE INVITED to a Solidarity members' and friends' discussion…
The New Palestinian Catastrophe:
Israeli Apartheid on the Road to Genocide
THURSDAY, NOVEMBER 30
8:00 pm EST
Since the Hamas raid October 7, Israel's war against Hamas has produced the incineration of Gaza with more than 12,000 Palestinian deaths, half of whom are children. The civilian infrastructure, including critical medical services, have collapsed. Over a million and a half people are already displaced and the bombing continues.
Meanwhile Israeli settler and military assaults on West Bank Palestinian villages have escalated under the auspices of the far-right Jewish Power and Religious Zionism government ministers in Israel's ruling coalition.
Millions of people around the world are pouring into the streets demanding an immediate ceasefire and the end of the genocidal Israeli war.
What led to the Hamas raid, the killing of an estimated 1400 Israeli citizens, and the outbreak of war?
How can the movement respond to the wave of censorship and criminalizing of pro-Palestinian advocacy in the United States? Join us for this discussion for Solidarity members and friends.
Panelists include:
DAVID FINKEL, chair
Editor, Against the Current
longtime Jewish Voice for Peace activist & Solidarity member
HUWAIDA ARRAF
Detroit area Palestinian American lawyer and activist,
Co-founder of International Solidarity Movement
participant in the Gaza Freedom Flotilla
JAKE EHRLICH
Detroit Jewish activist and participant-organizer of vigils at congressional offices
demanding ceasefire in Gaza
LAURA KRAFTOWITZ
2003 site coordinator in Gaza with the International Solidarity Movement
returning in 2009 to work for Al-Mezan Centre for Human Rights
her writing has appeared in many publications
Please register for this event and invite co-workers and friends to register and participate as well.