THURSDAY, SEPTEMBER 28, 2023, 8:00 pm EDT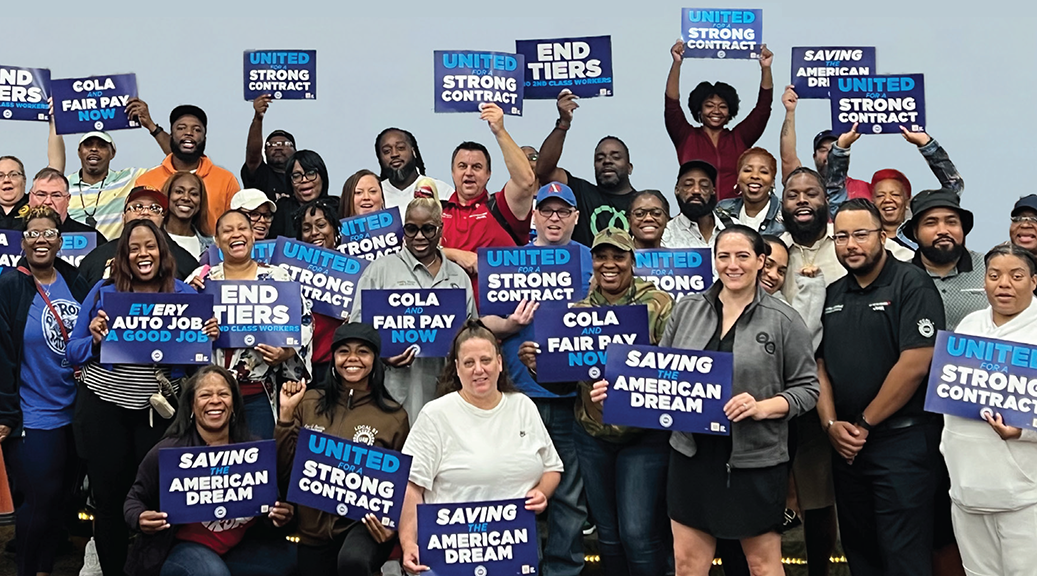 UAW members taking action to show the corporations they demand economic justice.
YOU ARE INVITED to a Solidarity members' and friends' discussion…
The UAW strike is now in its second week, expanding from one plant at each of the Big Three to 38 part distribution centers owned by Stellantis and General Motors. Parts distribution is considered the "cash cow" of these corporations but suddenly parts delivery is halted.
Over the last week Ford began serious negotiations so workers at their 20 centers did not go out. Negotiations at all three continue. Meanwhile a majority of UAW members are reporting to work but rejecting voluntary overtime. They continue to organize and be ready to join those already out on strike if needed.
United Auto Workers president Shawn Fain maintains: "Record profits mean time for a record contract." After three decades of bitter union concessions, workers are striking to win their demands:
• ELIMINATE TIERS – No worker is second class.
• BIG WAGE INCREASES – Big Three CEOs saw their pay spike 40% on average over the last four years. UAW members are worth the same and more.
• RESTORE COLA – Cost of Living Adjustments (COLA) was lost during the bailout a decade ago.
• DEFINED BENEFIT PENSION FOR ALL WORKERS – All workers deserve the retirement security UAW members had for generations.
• RE-ESTABLISH RETIREE MEDICAL BENEFITS – That's just as essential as a solid pension.
• RIGHT TO STRIKE OVER PLANT CLOSURES – The Big Three have closed 65 plants over the last 20 years. That's devastated our hometowns. We must have the right to defend our communities.
• WORKING FAMILY PROTECTION PROGRAM – If companies try a shutdown, they'll have to pay UAW members to do community-service work.
• END ABUSE OF TEMP WORKERS
• MORE PAID TIME OFF TO BE WITH FAMILIES – 32 hours work for 40 hours pay.
•SIGNIFICANTLY INCREASE RETIREE PAY – There hasn't been an increase in almost 20 years.
A panel of UAW activists, including members of Unite All Workers for Democracy (UAWD), will discuss this struggle to reverse the decline of union power and the deterioration of pay and working conditions in the auto industry – and beyond. following initial presentations we'll have an open discussion.
Please register for this event and invite co-workers and friends to register and participate as well.