Date/Time
Date(s) - June 30, 2018
8:30 am CDT to 4:30 pm CDT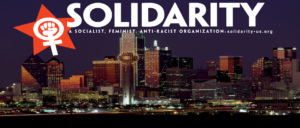 Solidarity June Day School at Meadows Conference Center in Dallas. Advance Registration required. Solidarity, founded in 1986, is a revolutionary socialist organization dedicated to forming a broad regrouping of the U.S. left. We include activists from many long-standing socialist traditions, as well as younger members from newer movements. We do not attempt to put forward a monolithic platform which we all have adapted to; rather, we rely on the richness of our traditions and the creativity and newer experiences of our younger members to foster and develop a forward-looking socialist thought.