Date/Time
Date(s) - February 19, 2021
5:00 pm EST to 7:00 pm EST
Join us as we are co-sponsoring with Lausan Collective the Feb. 19 discussion with Hong Kong socialist and labor activist Au Loong Yu.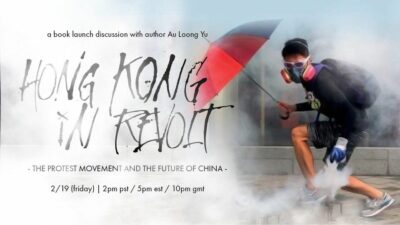 Lausan Collective, Solidarity (U.S.), Internationalism from Below, and Critical China Scholars present a book launch discussion for long-time Hong Kong socialist and labor activist Au Loong Yu's new book, Hong Kong in Revolt (Pluto Press, 2020).
Au is one of the founding members of labor NGO Globalization Monitor and community collective and publication Borderless Movement, with decades of experience in organizing and writing about Hong Kong and Chinese labor and social politics.
In this discussion, Lausan Collective will interview Au about his text, which offers a definitive left-wing analysis of the tumultuous movement of 2019-20 and its contradictions. How can we make sense of this struggle at the flashpoint between two global superpowers? What's next for the movement after its downturn, and what are the stakes of Hong Kong's liberation struggle for world geopolitics and the international left?
Register Here.